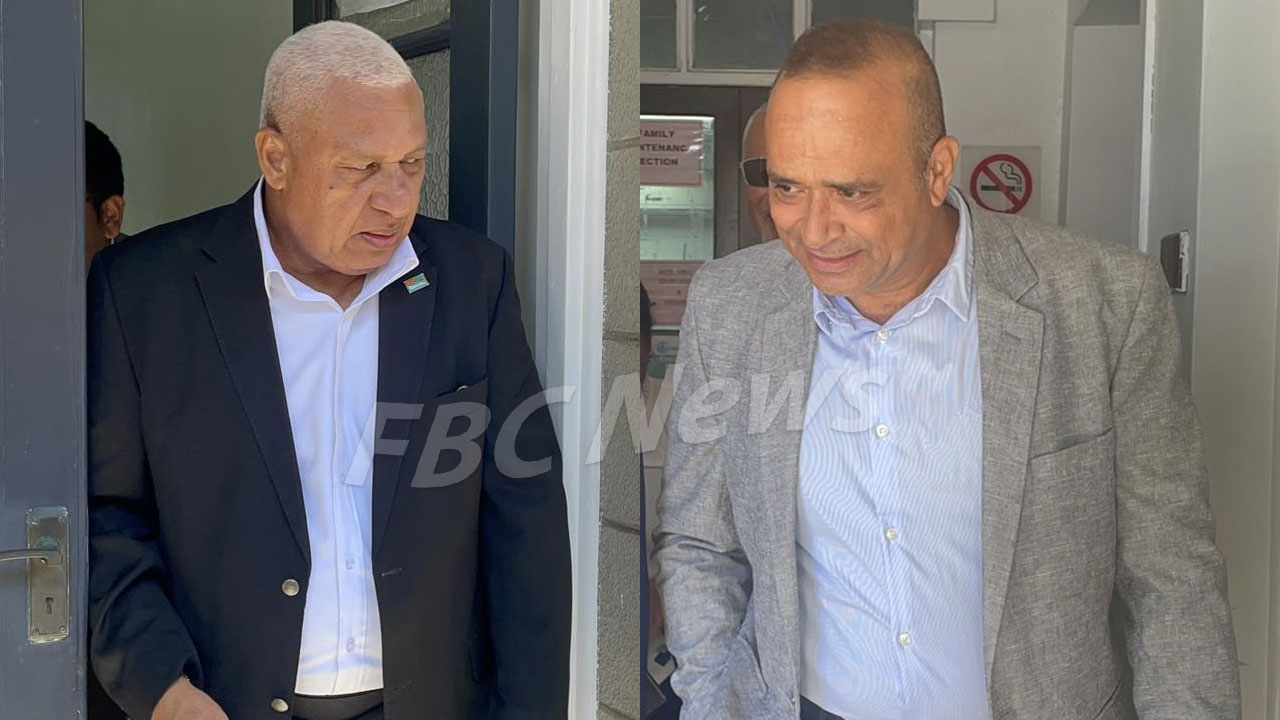 Former Prime Minister Voreqe Bainimarama and suspended Police Commissioner Sitiveni Qiliho
Suspended Police Commissioner Sitiveni Qiliho has today denied in court that he received a directive for an update on an investigation into the University of the South Pacific from former Prime Minister Voreqe Bainimarama in 2020.
However, according to the state's evidence, Qiliho admitted during his caution interview with Inspector Suliasi Dulaki in February this year that he had been directed by Bainimarama himself.
Today, Qiliho told the court that he remembered receiving a directive but could not recall whether it was from Bainimarama or someone else from the Office of the Prime Minister.
Article continues after advertisement
When questioned by the Acting Director of Public Prosecution, David Toganivalu, about the discrepancy between these two statements, Qiliho says he needs to be more careful now that he is under oath.
Adding that he wasn't aware that Dulaki was referring to the investigation on the mismanagement of funds in USP.
Qiliho maintains that he doesn't take directives from anyone as he is independent.
Qiliho is charged with one count of abuse of office, while Bainimarama faces one count of attempting to pervert the course of justice.
These charges are related to claims that they issued directives to halt an investigation into an alleged mismanagement of funds at USP.
Qiliho also claimed that he told Investigating Officer Reshmi Dass during a phone call on July 15, 2020, to "stop investigating and give me a brief" but this wasn't necessarily meant for Dass to "stop and file away".
Qiliho defended his reason for ordering Dass to stop what she was doing and give him a brief because he was not aware of the USP investigation relating to mismanagement of funds.
However, he admitted to telling Dass that FICAC had stopped the investigation and questioned Dass about why she was still investigating it.
Qiliho maintains that he got this information from the media.
Closing submissions on the case will be made on October 4th.
Related Stories:
Bainimarama gives evidence, tells court Tudravu could be inaccurate
Bainimarama and Qiliho trial reconvenes
No case to answer ruling today
Ruling not ready; moved to Thursday
Court to hear oral submissions in Bainimarama and Qiliho case
Court to rule on no case to answer
Sharma files no case to answer, judgement next Monday
Neiko aware of Qiliho's concern
Defence to file no case to answer in Bainimarama and Qiliho trial
Neiko tells of phone conversation
Tribunal to investigate former Police Commissioner
Defence considers filing no case to answer in Bainimarama and Qiliho trial
New revelations in Qiliho, Bainimarama case
Bainimarama and Qiliho trial resumes
Qiliho alleged to have stopped USP investigation
Fourth witness to take stand in Bainimarama, Qiliho trial
Tudravu testifies in Bainimarama, Qiliho trial
USP Council opted for BDO instead of FICAC: Witness
FICAC investigated mismanagement of funds at USP
No idea about leaked report: Witness
First witness to continue evidence in Bainimarama and Qiliho trial
Witness testifies on mismanagement complaint by union leaders
USP director testifies about alleged mismanagement and interference
First witness takes stand in Bainimarama, Qiliho trial
Bainimarama and Qiliho to stand trial