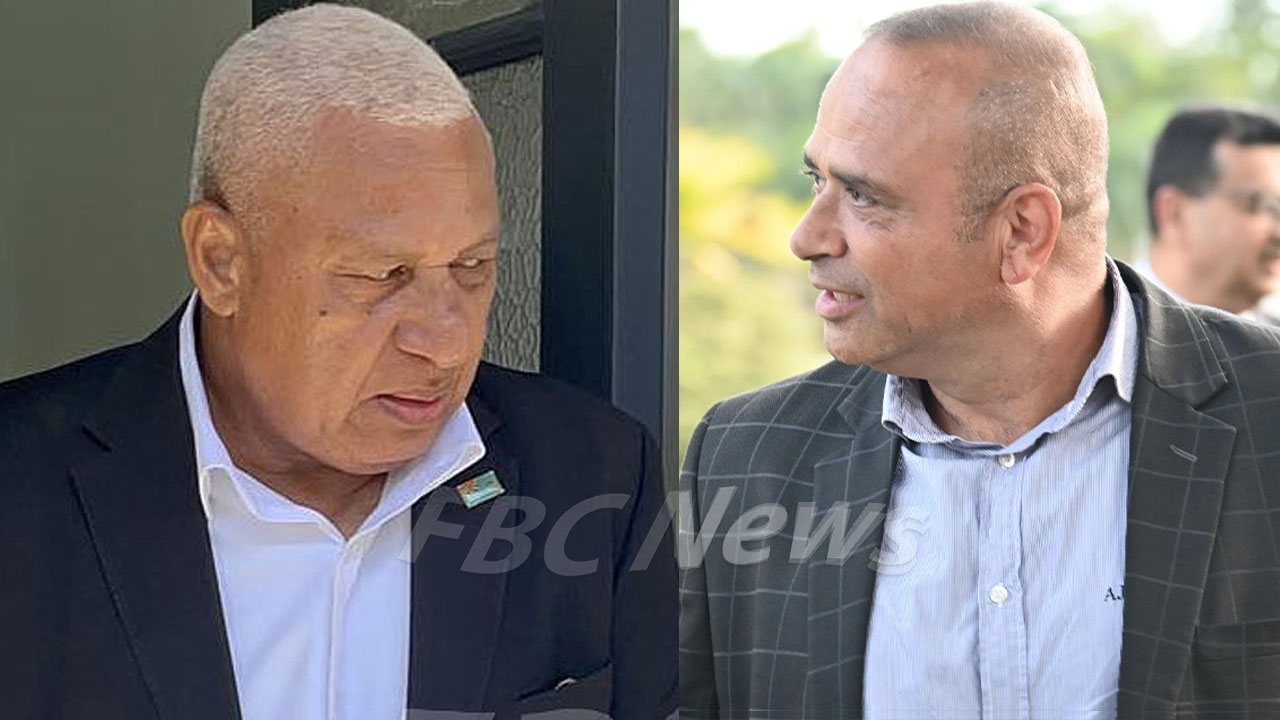 Former Prime Minister Voreqe Bainimarama and suspended Police Commissioner Sitiveni Qiliho
Former Prime Minister Voreqe Bainimarama vehemently refuted all accusations leveled against him during his testimony today.
He took the stand to address allegations of interference in a University of the South Pacific (USP) matter.
Bainimarama asserted in court that he never instructed the now-suspended Commissioner of Police, Sitiveni Qiliho, to halt any investigations.
Article continues after advertisement
Bainimarama faces one count of attempting to pervert the course of justice, while Qiliho is charged with one count of abuse of office.
These charges are related to claims that they issued directives to halt an investigation into a USP matter.
Bainimarama clarified that the encounter with Qiliho occurred in June 2020 during a meeting focused on COVID-19 protocols held at the Ministry of Health headquarters in Suva, not in July.
It was during this meeting that he learned of a protest at USP.
To support his statement, Bainimarama's lawyer Devanesh Sharma presented a report by FBC News that documented the protest.
He informed the court that he had advised Qiliho to allow the police to handle the USP protest matter, given the multitude of tasks on his plate.
Another piece of evidence presented during the court proceedings was the transcript of a conversation that transpired during a National Security Council meeting in September of the same year.
Bainimarama once again disavowed having extensive knowledge of a BDO report and the associated investigation.
Bainimarama maintained that when the Acting Commissioner of Police at the time, Rusiate Tudravu, questioned him about the USP issue, he believed it pertained solely to the breach of COVID-19 protocols at USP.
He claimed to have had minimal involvement in these discussions with Tudravu and the then Attorney General, Aiyaz Sayed-Khaiyum, as he was unaware of other developments at USP beyond the protocol violation.
Bainimarama expressed concern that he would be embarrassed if Tudravu had provided inaccurate information to the court.
He mentioned that Tudravu had suggested bringing in an intelligence officer to brief on the USP matter, which ultimately did not occur.
Throughout the cross-examination, Bainimarama maintained his denial of the allegations against him.
Qiliho is expected to provide his testimony later this afternoon.
Related Stories:
Bainimarama and Qiliho trial reconvenes
No case to answer ruling today
Ruling not ready; moved to Thursday
Court to hear oral submissions in Bainimarama and Qiliho case
Court to rule on no case to answer
Sharma files no case to answer, judgement next Monday
Neiko aware of Qiliho's concern
Defence to file no case to answer in Bainimarama and Qiliho trial
Neiko tells of phone conversation
Tribunal to investigate former Police Commissioner
Defence considers filing no case to answer in Bainimarama and Qiliho trial
New revelations in Qiliho, Bainimarama case
Bainimarama and Qiliho trial resumes
Qiliho alleged to have stopped USP investigation
Fourth witness to take stand in Bainimarama, Qiliho trial
Tudravu testifies in Bainimarama, Qiliho trial
USP Council opted for BDO instead of FICAC: Witness
FICAC investigated mismanagement of funds at USP
No idea about leaked report: Witness
First witness to continue evidence in Bainimarama and Qiliho trial
Witness testifies on mismanagement complaint by union leaders
USP director testifies about alleged mismanagement and interference
First witness takes stand in Bainimarama, Qiliho trial
Bainimarama and Qiliho to stand trial