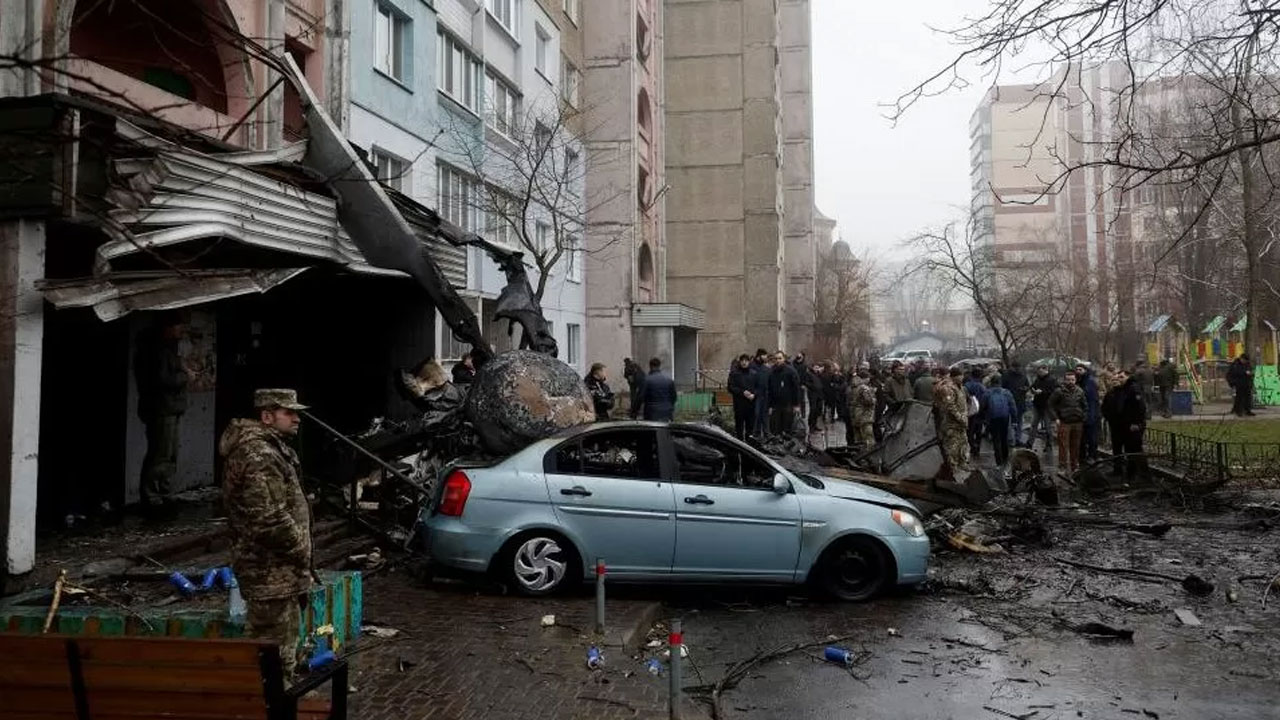 The remains of the helicopter were visible outside a residential building in Brovary [Source: Reuters]
The three main figures in Ukraine's interior ministry have been killed in a helicopter crash beside a nursery in an eastern suburb of the capital Kyiv.
Interior Minister Denys Monastyrsky, 42, died alongside his first deputy minister and state secretary.
Fourteen people died when the helicopter came down in Brovary around 08:30 local time (06:30 GMT), including one child, authorities said.
Article continues after advertisement
There is no indication the crash was anything other than an accident.
But the SBU state security service said it was following several possible causes for the crash, which included sabotage as well as a technical malfunction or breach of flight rules.
The helicopter came down near a kindergarten building which was left badly damaged and blackened by smoke.
The State Emergency Service had previously stated that up to 18 people were killed but later revised the death toll from the crash, saying 14 had died.
Mr Monastyrsky, who was one of President Volodymyr Zelensky's longest serving political advisers, is the highest profile Ukrainian casualty since the war began.
The deputy head of Ukraine's presidential office, Kyrylo Tymoshenko, said the minister had been travelling to a war "hot spot" when his helicopter went down.
The head of police in the north-eastern city of Kharkiv, Volodymyr Tymoshko, said the ministerial team were on their way to meet him there and he had spoken to them only yesterday.
The minister's death cuts to the heart of the government in Kyiv as the interior ministry has the vital task of maintaining security and running the police during the war.
Appearing via video-link at the World Economic Forum in Davos, President Zelensky asked leaders to observe a minute of silence for the lives lost in the helicopter crash, and later added "there are no accidents at war time. These are all war results absolutely."
The Ukrainian president added that he was not concerned for his own safety.
The head of Ukraine's national police force, Ihor Klymenko, has been appointed acting interior minister following Mr Monastyrsky's death.
Witnesses in Kyiv said Russia's war was to blame for the disaster.
"It was very foggy and there was no electricity, and when there's no electricity there are no lights on the buildings," local resident Volodymyr Yermelenko told the BBC.
Key officials are flown by helicopter across Ukraine at tree-level, but that comes with risks.
All that was recognisable of the helicopter was a door panel and one of its rotors which landed on the roof of a car. Next to it were three bodies covered in foil blankets.