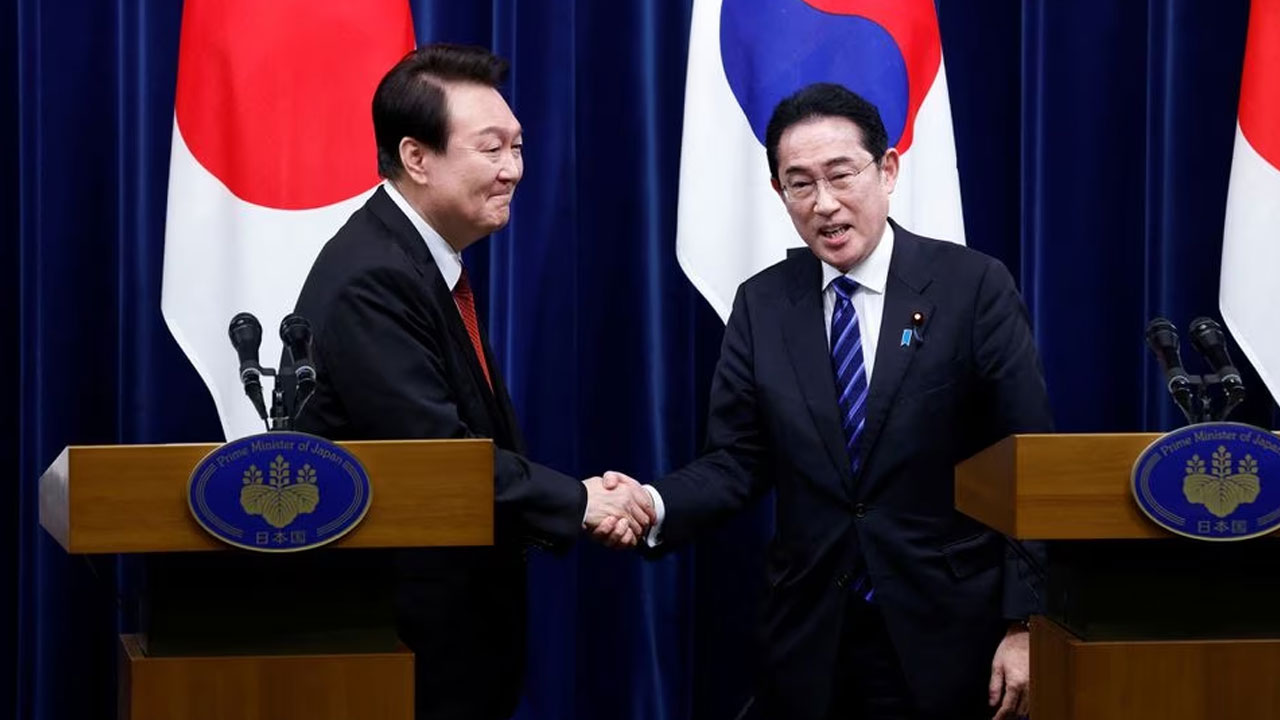 [Source: Reuters]
The leaders of Japan and South Korea promised to turn the page on years of animosity at a meeting on Thursday.
Putting aside their difficult, shared history and pledging to work together to counter regional security challenges.
The summit between South Korea's Yoon Suk Yeol and Japan's Fumio Kishida in Tokyo – the first visit to Japan by a South Korean president in 12 years – highlights how the two U.S. allies have been brought closer by North Korea's frequent missile launches and growing concern over China's more muscular role on the international stage.
Article continues after advertisement
The urgency of the regional security situation – and the threat posed by North Korea – were underscored in the hours before Yoon's arrival, when the North fired a long-range ballistic missile that landed in the sea between the Korean peninsula and Japan.
The tension between the two has long undercut U.S.-led efforts to present a united front against China and North Korea.
"Up until now, the leaders of both countries weren't even able to meet for more than 10 years, despite being two neighboring countries that are democracies, market economies and U.S. allies," said Hideki Okuzono, a professor of international relations at the University of Shizuoka.
"The fact that President Yoon visited Japan and the two countries held a bilateral meeting – rather than on the sidelines of an international forum – that alone should be commended as a possible turning point."
The two countries agreed to drop an almost four-year trade dispute on some high-tech materials used for chips, an issue that has dogged their relationship even as the political importance of semiconductors, and securing their supply, has increased.
They also agreed to revive regular visits to each other's countries and agreed to restart a bilateral security dialogue that had been suspended since 2018. Yoon also declared a "complete normalisation" of an intelligence-sharing pact, known as GSOMIA, which Seoul threatened to pull out of in 2019.
BREAKTHROUGH
The relationship has been strained by a dispute over wartime history, including over compensation of South Koreans forced to work under Japan's 1910-1945 occupation, as well as the issue of women and girls forced into Japanese military brothels.
"Today was a good day for shared interests, shared values and shared goals," U.S. Ambassador to Japan Rahm Emanuel said on Twitter.
Signs of a breakthrough came last week when Seoul announced a plan for its companies to compensate former forced laborer.
"This week Tokyo saw its cherry blossom trees blooming a little earlier than usual. I'm very happy to have this opportunity to start a new chapter of a forward-looking future of Japan and South Korea relations on this day when we can feel the arrival of spring," Kishida said as he faced Yoon across a table.
Yoon said North Korea's launch of a long-range ballistic missile that morning had shown the "grave threat" to international peace and stability.
"Today's meeting with Prime Minister Kishida has a special meaning of letting the people of our two countries know that South Korea-Japan relations, which have gone through difficult times due to various pending issues, are at a new starting point," Yoon said.
Japan will remove curbs on some exports to South Korea of critical materials for smartphone displays and chips while Seoul will drop a World Trade Organization (WTO) complaint against Tokyo, officials from both sides said.
Tokyo imposed the curbs in 2019 as tensions over a decades-old row with Seoul deepened.
The attempt for closer ties brought a rebuke from China, whose foreign ministry said it opposed the attempt by certain countries to form exclusive circles.
SCEPTICISM AT HOME
Still, Yoon faces skepticism at home. In a poll by Gallup Korea published Friday, 64% of respondents said there was no need to rush to improve ties with Japan if there was no change in its attitude, and 85% said they thought the current Japanese government was not apologetic about Japan's colonial history.
Nevertheless, economic ties are strong. The two were each other's fourth-largest export markets in 2021, according to the IMF. Japanese exports to South Korea totalled $52 billion, while South Korean exports totaled $30 billion, the data showed.
Japan's biggest business lobby, Keidanren, said it and its South Korean counterpart, the Federation of Korean Industries, agreed to launch foundations aimed at "future-oriented" bilateral relations.
However, in a fresh reminder of the long-running tensions, two South Korean victims of wartime forced labor filed a lawsuit, seeking compensation from Japanese company Mitsubishi Heavy Industries (7011.T), their representatives said on Thursday.
Park Hong-keun, floor leader of South Korea's main opposition Democratic Party, said Yoon's visit should not stop at "his trip down memory lane" and asked Yoon to earn a true apology and resolution from Japan on forced labor issues during his trip.
Japan said the "strategic challenge posed by China is the biggest it has ever faced" in a defense strategy paper released in December. Tokyo worries that Russia's invasion of Ukraine has set a precedent that will encourage China to attack self-ruled Taiwan.
China's coast guard entered waters around disputed East China Sea islets on Wednesday to counter what it called the incursion of Japanese vessels into Chinese territorial waters.