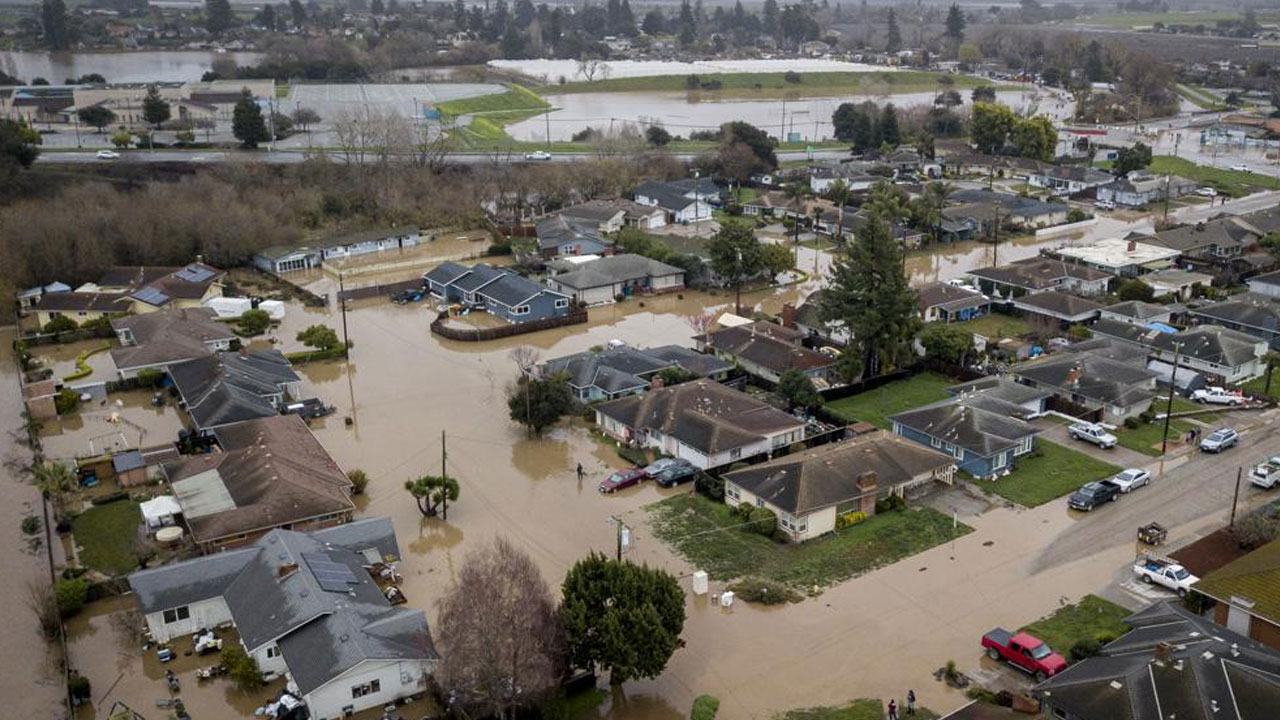 Flooding from huge amounts of rain are seen in a neighborhood off of Holohan Road near Watsonville, Calif. [Source: AP News]
California saw little relief from drenching rains Tuesday as the latest in a relentless string of storms swamped roads, turned rivers into gushing flood zones and forced thousands of people to flee from towns with histories of deadly mudslides. At least 14 people have died since last week.
The storm prompted a few tornado warnings early Tuesday and brought heavy snow to the Sierra Nevada a day after dumping up to 14 inches (36 centimetres) of rain at higher elevations in central and Southern California.
Miles of Sierra highways were subject to chain requirements and closures due to whiteout conditions, and avalanche warnings were posted in the backcountry. The Eastern Sierra's Mammoth Mountain ski resort reported 4.5 to 5.5 feet (1.4-1.7 meters) of snow, with more expected.
Article continues after advertisement
After a brief respite, another storm was expected to barrel into parts of the state beginning Wednesday, adding to the misery and further saturating areas already at risk of flooding.
The storms threatened coastal and riverside towns and left more than 200,000 homes and businesses without power early Tuesday, according to the website poweroutage.us, which tracks utility reports.
The weather service issued a flood watch through Tuesday for the entire San Francisco Bay Area, along with Sacramento Valley and Monterey Bay. Areas hit by wildfires in recent years faced the possibility of mud and debris sliding off denuded hillsides that have yet to fully recover their protective layer of vegetation.
The storm — the latest extreme weather event to kick off 2023 — was expected to bring enough rain to exacerbate ongoing flooding and heighten the risk of mudslides, forecasters said.
Forecasters also warned that southwestern California could see 60 mph (97 kph) wind gusts at the peak of the storm, while some areas could receive up to a half-inch (13 millimetres) of rain per hour.
The death toll from the storms that began last week climbed from 12 to 14 on Monday, after two people were killed by falling trees, state officials said.
California state highway authorities said late Monday that parts of U.S. and state highways were closed because of flooding, mud or rockslides, heavy snow or car spinouts and truck crashes. The closures included northbound lanes of U.S. 101, a key coastal route.
Evacuation orders were issued in Santa Cruz County for about 32,000 residents living near rain-swollen rivers and creeks. The San Lorenzo River rose to flood stage, and drone footage showed numerous homes sitting in muddy brown water, the top halves of autos peeking out.
A 5-year-old boy vanished in floodwaters Monday on the central coast. The boy's mother was driving a truck when it became stranded near Paso Robles. Bystanders managed to pull her free, but the boy was swept out of the truck and carried away, probably into a river, said Tom Swanson, assistant chief of the Cal Fire/San Luis Obispo County Fire Department.
A roughly seven-hour search for the missing boy turned up only his shoe before officials called it off as water levels became too dangerous for divers, officials said. The boy had not been declared dead, said spokesperson Tony Cipolla of the San Luis Obispo County Sheriff's Office.
About 130 miles (209 kilometres) to the south, about 10,000 people were ordered to evacuate in Santa Barbara County.
The entire seaside community of Montecito — home to Prince Harry, Oprah Winfrey and other celebrities — was ordered to flee on the fifth anniversary of a mudslide that killed 23 people and destroyed more than 100 homes in the coastal enclave.
County officials ordered 20 homes evacuated in the area of Orcutt after flooding and a sinkhole damaged up to 15 homes.
Jamie McLeod's property was under the Montecito evacuation order, but she said there was no way for her to "get off the mountain" with a rushing creek on one side and a mudslide on the other. The 60-year-old owner of the Santa Barbara Bird Sanctuary said one of her employees came to make a weekly food delivery and also became stuck.
McLeod said she feels fortunate because her home sits on high ground and the power is still on. But she tires of the frequent evacuation orders since the massive wildfire followed by the deadly landslide five years ago.
"It is not easy to relocate," McLeod said. "I totally love it, except in catastrophe."
Ellen DeGeneres shared an Instagram video of herself standing in front of a raging creek near the Montecito home where she lives with her wife, actor Portia de Rossi. She said in the post that they were told to shelter in place because they are on high ground.
Some miles down the coast another town, La Conchita in Ventura County was ordered evacuated. A mudslide killed 10 people there in 2005.
In Ventura County, the Ventura River reached its highest level on record at more than 25 feet (8 meters) on Monday. Firefighters using helicopters rescued more than a dozen people trapped on an island in the surging waters. The water level quickly dropped to minor flood-stage levels overnight.
The storm also washed 3 feet (1 meter) of mud and rock onto State Highway 126, stranding a long line of cars and big-rig trucks. Crews worked into the night to pull them free.
In Los Angeles, a sinkhole swallowed two cars Monday night in the Chatsworth area. Two people escaped by themselves, and firefighters rescued two others who had minor injuries, authorities said.
The National Weather Service warned of a "relentless parade of atmospheric rivers" — long plumes of moisture stretching out into the Pacific that can drop staggering amounts of rain and snow. The precipitation expected over the next couple of days comes after storms last week knocked out power, flooded streets, and battered the coastline.
President Joe Biden issued an emergency declaration Monday to support storm response and relief efforts in more than a dozen counties.
Much of California remains in severe to extreme drought, though the storms have helped fill depleted reservoirs.