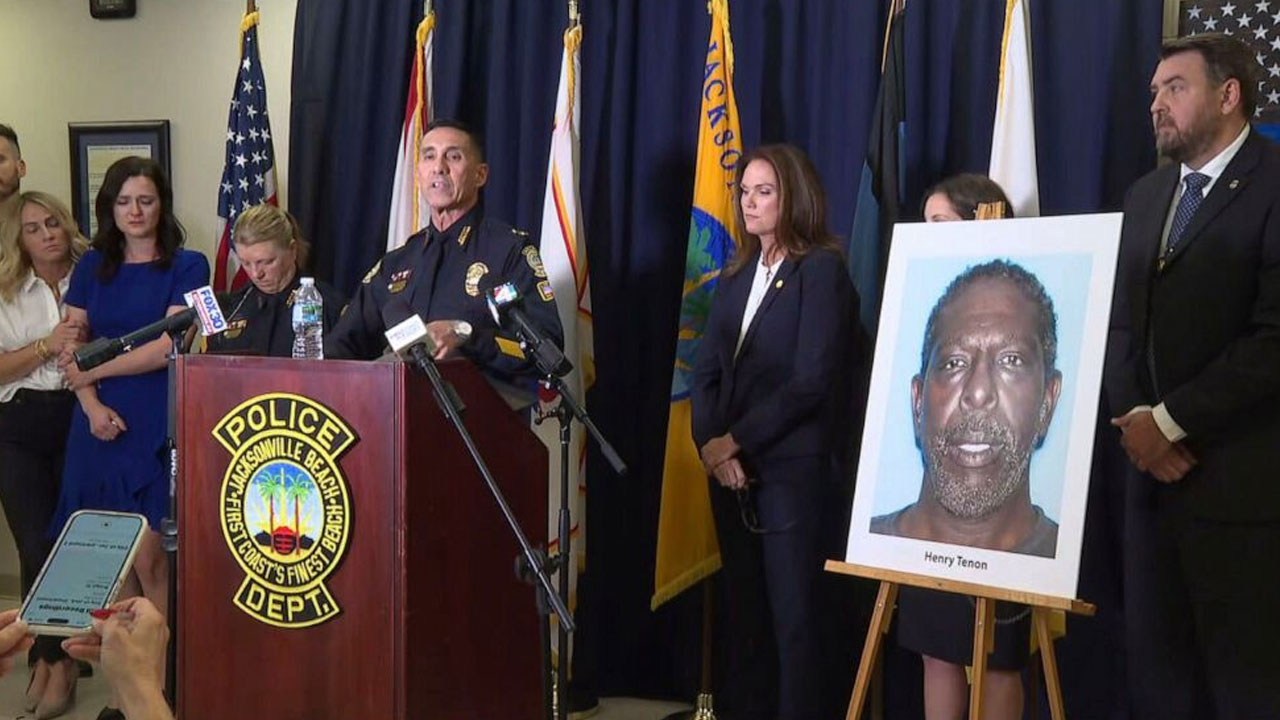 The Jacksonville Beach Police Department showed the booking photo for Henry Tenon during a press briefing on Jan. 25, 2023.
Nearly a year after Jared Bridegan, a Microsoft executive and father of four, was gunned down on a Florida road in what authorities called a targeted ambush, a suspect has been arrested in connection with his murder, police announced Wednesday.
Bridegan was driving with his then-2-year-old daughter in Jacksonville Beach on Feb. 16, 2022, when he came upon a tire blocking his path, police said. When he stepped out of the car he was "gunned down in cold blood," Jacksonville Beach Police Chief Gene Paul Smith said.
"This was a plan and a targeted ambush and murder," Smith told reporters during a press briefing on Wednesday announcing an arrest in the case.
Article continues after advertisement
Henry Tenon, 61, was arrested Wednesday on charges including conspiracy to commit murder, second-degree murder with a weapon and accessory after the fact to a capital felony.
"We know Henry Tenon did not act alone," State Attorney Melissa Nelson said at the press briefing.
Tenon also faces a child abuse charge due to Bridegan's 2-year-old, who was strapped in her car seat, being "directly in harm's way" when he was fatally shot, Nelson said.
The identification of a Ford F-150 spotted around the crime scene at the time of the shooting led to the arrest, Smith said.
Tenon is scheduled to appear in court Thursday morning, after which prosecutors will seek an indictment for first-degree murder, Nelson said. It is unclear if he has an attorney who can speak on his behalf.
The state has obtained a court ordering sealing Tenon's arrest warrant and affidavit for the next 30 days to "protect the integrity" of the investigation, Nelson said.
Bridegan was driving home after dropping off twins she shares with his ex-wife when he came upon the "purposefully placed" tire and was shot, Smith said. Nothing was stolen, he said.
Bridegan's wife, Kirsten Bridegan, told ABC News last year that she believed the attack was targeted.
"Some coward trapped him and took him out and that's not OK," said his widow, who had two children with Bridegan — the then-2-year-old and a younger daughter who was home with his wife at the time of the shooting.
She described her husband as a creative, fun and loving father who would do anything for his four kids.
"He loved being a dad. He genuinely did," she said. "He would spend hours setting up some activity that he thought would be awesome."
ABC News' Melissa Gaffney contributed to this report.