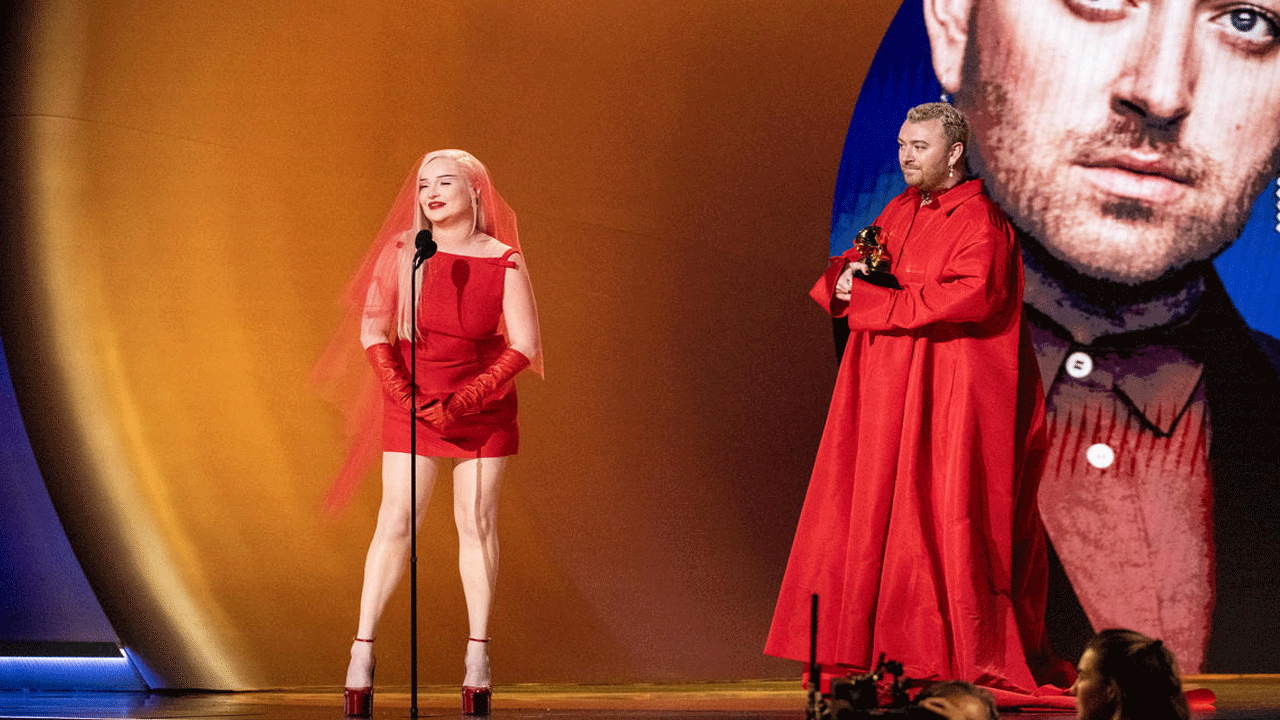 Kim Petras and Sam Smith accept the Best Pop Duo/Group Performance award.[Source: CBS News]
Kim Petras and Sam Smith have become the first transgender and nonbinary winners of the Grammy Award for Best Pop Duo/Group Performance, respectively. The duo took home the award for their hit single, "Unholy," which they also performed during the awards ceremony.
"Sam graciously wanted me to accept this award because I am the first transgender woman to to win this award," said Petras, who spoke on behalf of the duo during their acceptance speech, and was met with resounding applause from the audience.
Smith is the first nonbinary winner of the award.
Article continues after advertisement
"Unholy" topped the Billboard Hot 100 chart in late October of last year, and spent four weeks at the top of the Billboard Global 200 chart in 2022.
It was the first number one hit for both artists, according to Billboard, and Smith and Petras were the first publicly nonbinary and transgender artsts to top the Hot 100.
"I want to thank all the incredible transgender legends before me who kicked these doors open for me so I could be here tonight," Petras continued, thanking her friend Sophie, a fellow musical artist and trans woman, who passed away in 2021 after an accidental fall.
Sophie was nominated for a Grammy in 2019 for Best Dance/Electronic Album for her first and only studio album, "Oil of Every Pearl's Un-Insides."
"Thank you so much for your inspiration, Sophie," Petras said. "I adore you, and your inspiration will forever be in my music."
Petras went on to thank Madonna, without whom "I don't think I could be here," she said.
She also thanked her mother, saying, "I grew up next to a highway in nowhere Germany, and my mother believed me that I was a girl."
"I wouldn't be here without her and her support," she said.
Petras is the second transgender woman to take home a Grammy next to Wendy Carlos, a pioneer in synth and electronic music.
Carlos has been nominated for six Grammys, and has won three, including for Best Classical Album of the Year at the 12th Grammy Awards.
She is best known for scoring Stanley Kubrick's 1971 cult classic, "Clockwork Orange."