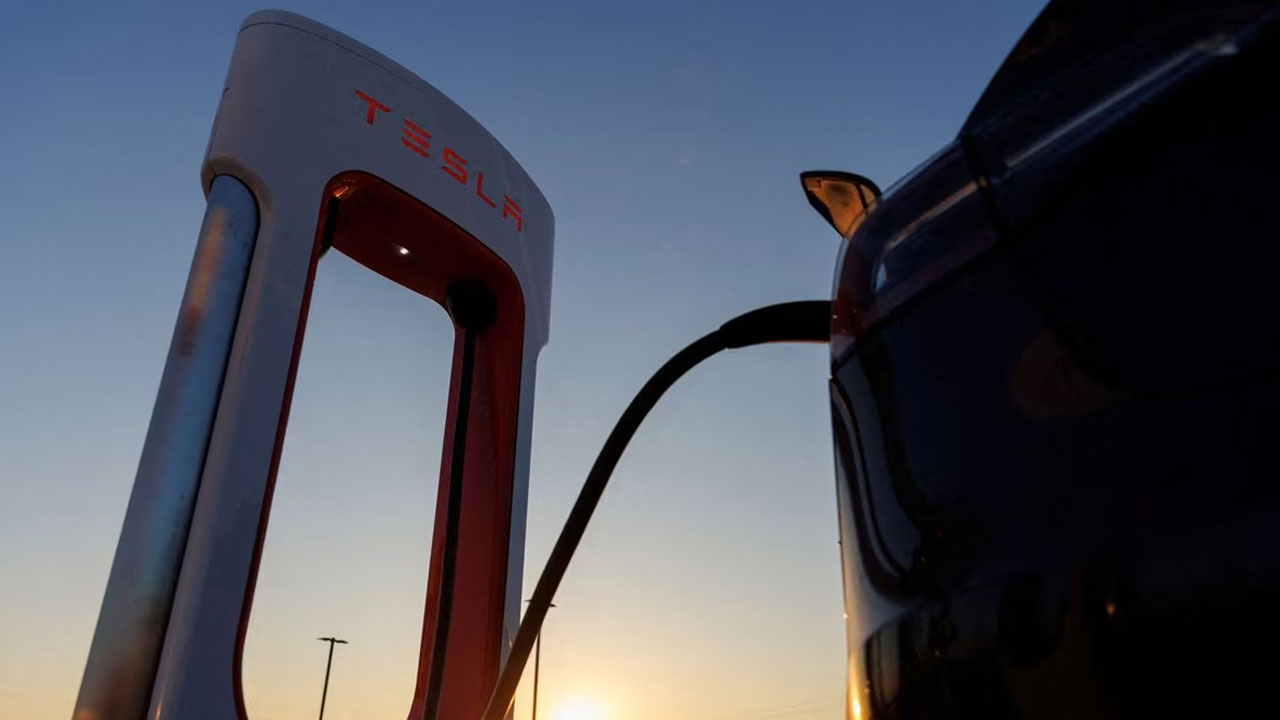 A Tesla vehicle is charged at a Tesla supercharging station in Kettleman City, California, U.S.
The Biden administration on Wednesday issued long-awaited final rules on its national electric vehicle charger network that require the chargers to be built in the United States immediately, and with 55% of their cost coming from U.S.-made components by 2024.
The White House hopes the new rules, issued after nearly eight months of debate, will jump-start the biggest transformation of the U.S. driving landscape in generations. It seeks to give consumers unfettered access to a growing coast-to-coast network of EV charging stations, including Tesla Inc's (TSLA.O) Superchargers.
Companies that hope to tap $7.5 billion in federal funding for this network must also adopt the dominant U.S. standard for charging connectors, known as "Combined Charging System" or CCS; use standardized payment options; a single method of identification that works across all chargers; and work 97% of the time.
Article continues after advertisement
Tesla, the nation's largest EV maker and charging company, plans to incorporate the CCS standard and expand beyond its proprietary connectors, the administration said.
"No matter what EV you drive, we want to make sure that you will be able to plug in, know the price you're going to be paying and charge up in a predictable, user-friendly experience," Transportation Secretary Pete Buttigieg told reporters in a preview of the rules.
The first tranche of the billions in federal funds will now be rolled out to states in upcoming weeks, forcing companies like Tesla, EVgo Inc (EVGO.O) and ChargePoint Holdings Inc (CHPT.N) to jockey for their share of the funds from state governments.
The network is a central part of President Joe Biden's plan to tackle climate change by converting 50% of all new U.S. vehicle sales to electric by 2030. A dearth of chargers on Ameriocan roads has slowed the growth of EV sales and the positive environmental impact, advocates say.
Manufacturers warned before the rules were released that imposing a domestic components quota too soon in the program rule would slow the rollout. The new rules extend the Made in America deadlines to help give those companies more time to onshore their supply chain.
EV charger manufacturer Tritium (DCFC.O) announced on Wednesday that it will add more than 250 jobs to its Tennessee manufacturing facility, bringing the total to more than 750 jobs at the site. White House National Climate Adviser Ali Zaidi said that under Biden's leadership the number of EV models being offered to consumers has doubled, along with the number of charging stations and EV sales.
"So this is not pie in the sky. It's literally steel in the ground. We are seeing the Biden climate vision on wheels," Zaidi said.