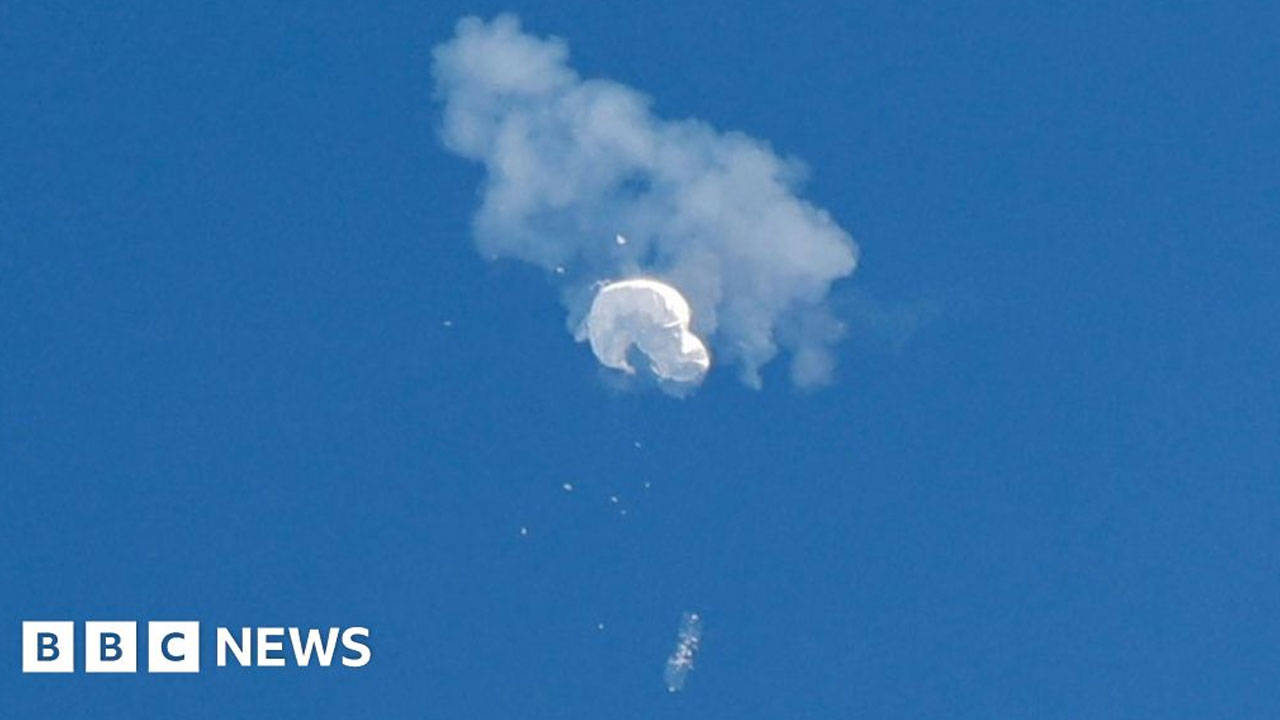 Video appears to show China balloon shot down.
The US has shot down a giant Chinese balloon that it says has been spying on key military sites across America.
The Department of Defense confirmed its fighter jets brought down the balloon over US territorial waters.
Three airports were shut and airspace was closed off the coast of North and South Carolina as the military carried out the operation on Saturday.
Article continues after advertisement
Footage on US TV networks showed the balloon falling to the sea after a small explosion.
An F-22 jet fighter engaged the high-altitude balloon with one missile – an AIM-9X Sidewinder – and it went down about six nautical miles off the US coast at 14:39 EST (19:39 GMT), a defence official told reporters.
Defence officials told US media the debris landed in 47ft (14m) of water – shallower than they had expected – near Myrtle Beach, South Carolina.
The military is now trying to recover debris which is spread over seven miles (11km). Two naval ships, including one with a heavy crane for recovery, are in the area.
US President Joe Biden had been under pressure to shoot the balloon down since defence officials first announced they were tracking it on Thursday.
After the balloon was shot down, Mr Biden said: "They successfully took it down, and I want to compliment our aviators who did it."
The discovery of the balloon set off a diplomatic crisis, with US Secretary of State Antony Blinken immediately calling off this weekend's trip to China over the "irresponsible act".
The Chinese authorities have denied it is a spying aircraft, and instead said it was a weather ship blown astray.
President Biden first approved the plan to down the balloon on Wednesday, but the Pentagon said it had decided to wait until the object was over water so as not to put people on the ground at undue risk.
Groundwork for the operation was laid when the US Federal Aviation Administration (FAA) briefly paused all civilian flights at three airports around the South Carolina coast on Saturday afternoon because of a "national security effort".
The coast guard also advised mariners to leave the area due to military operations "that present a significant hazard".
An eyewitness on the coast, Hayley Walsh, told BBC News she saw three fighter jets circling before the missile was fired, then "we heard a huge boom, the house shook".
One senior military official told CNN the recovery of debris should be "fairly easy" and could take "relatively short time". The official added that "capable Navy divers" could be deployed to assist in the operation.
Defence officials also revealed on Saturday the balloon had first entered US airspace on 28 January, before moving to Canadian airspace three days later, and re-entering the US on 31 January. The object was spotted in the US state of Montana, which is home to a number of sensitive nuclear missile sites.
Relations between China and the US have been exacerbated by the incident, with the Pentagon calling it an "unacceptable violation" of US sovereignty.
Mr Blinken – America's top diplomat – told Beijing it was "an irresponsible act" ahead of his now-cancelled trip on 5-6 February – it would have been the first such high level US-China meeting there in years.
But China sought to play down the cancellation of his visit, saying in a statement on Saturday that neither side had formally announced a plan for a trip.
China's foreign ministry said Beijing "would not accept any groundless conjecture or hype" and accused "some politicians and media in the United States" of using the incident "as a pretext to attack and smear China."
On Friday, the Pentagon said a second Chinese spy balloon had been spotted – this time over Latin America with reported sightings over Costa Rica and Venezuela.
China has so far made no public comments on the reported second balloon.