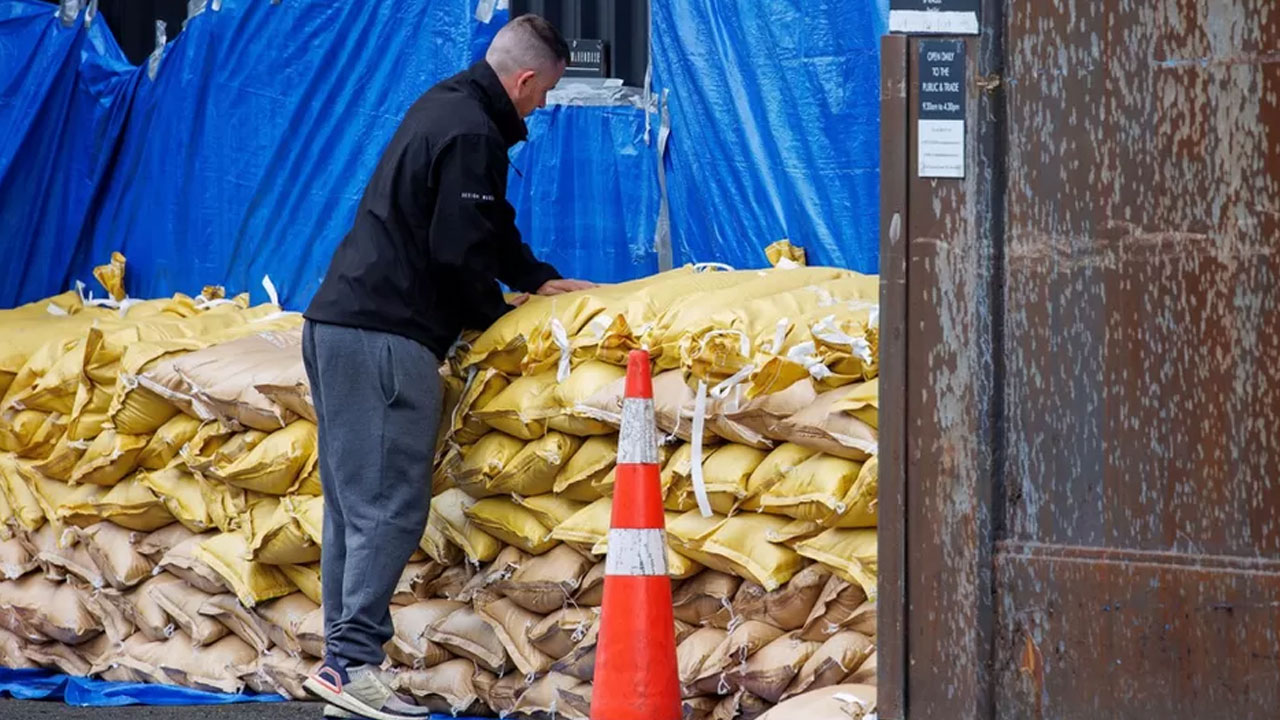 A man stacks up sandbags to protect a warehouse before the arrival of Cyclone Gabrielle in Auckland, New Zealand.
Residents across the north of New Zealand are bracing for a rough night as Cyclone Gabrielle lashes the country with torrential rains and winds.
At least 46,000 homes have lost power in the storm, while hundreds of flights have been cancelled.
A state of emergency has been declared in nine regions – affecting nearly a third of the 5.1 million population.
Article continues after advertisement
The storm was expected to peak on Monday night with the deluge to continue until Tuesday.
In New Zealand's largest city, Auckland, authorities earlier evacuated people from 50 homes around a 30m-high tower that was in danger of collapse, local media reported.
Dozens of evacuation centres have also been set up in the city.
Emergency services have also reported people trapped by the rising waters – including a family stranded on a flooded highway. Authorities say they've received more than 100 calls for help since Sunday.
Cyclone Gabrielle is hitting New Zealand's north just weeks after Auckland and surrounding areas endured record rainfall and flooding which killed four people.
New Zealand's Prime Minister Chris Hipkins was among those stranded in the northern city on Monday after flights to the capital Wellington, and elsewhere, were cancelled.
"Extreme weather event has come on the back of extreme weather event," he said. "Things are likely to get worse before they get better."
He announced a NZ$11.5m (£6m; US$7.3m) aid package on Monday.
Emergency management minister Kieran McAnulty said the government was considering declaring a national state of emergency for only the third time in the country's history.
Once an emergency is declared, local authorities have greater power to respond to dangerous situations including restricting travel and providing aid.
New Zealand's meteorological agency, Metservice, said Whangarei, a city north of Auckland, had received 100.5mm of rain in the past 12 hours.
Mr McAnulty had warned Monday would be a "critical day" due to the "highly dangerous" combination of high winds and heavy rain.
Winds of up to 140km/h (87mph) battered the Northland region, while the Auckland Harbour Bridge had to be closed as it was rocked by gusts of 110km/h.
For homes left without power, the minister warned it could also take days to restore the power grid as the bad weather made it "unsafe" to work on the network.