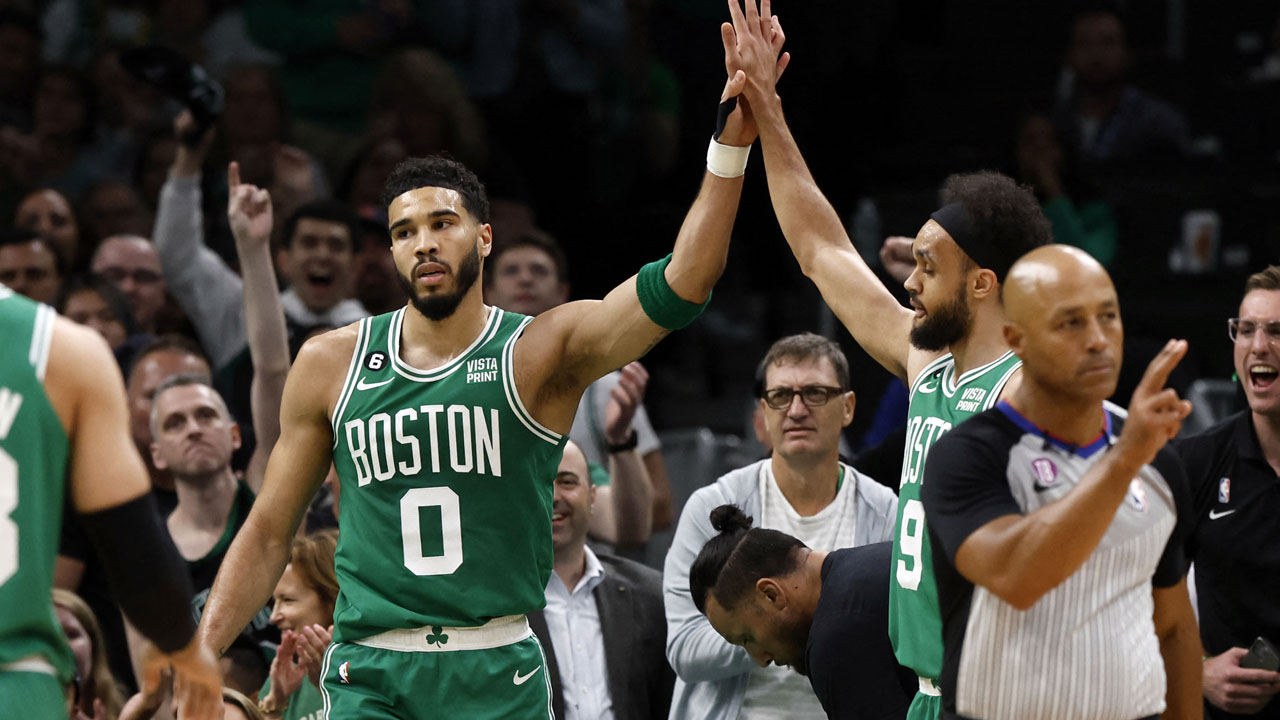 [Source: Reuters Sports]
The Boston Celtics took another sizable step toward what they hope is a historic comeback.
Derrick White scored 24 points as the host Celtics staved off elimination for the second consecutive contest with a 110-97 win over the Miami Heat in Game 5 of the Eastern Conference finals on Thursday.
The Heat never led in the game, but they still hold a 3-2 edge in the best-of-seven series as they head home for Game 6 on Saturday.
Article continues after advertisement
That said, Boston is halfway to making NBA history. No team has battled back from a 3-0 deficit to win a series.
White made 8 of 11 shots — including 6 of 8 from 3-point range — and Boston's Marcus Smart sank 7 of 12 and 4 of 6, respectively, to highlight his 23-point performance. Smart also had five steals for the second-seeded Celtics.
Jayson Tatum collected 21 points, 11 assists and eight rebounds, and Jaylen Brown scored 21 points while shooting 3-for-5 from 3-point range. Brown entered Thursday having made just 3 of 25 from beyond the arc in the series.
The Celtics shot a robust 50.6 percent (40 of 79), including 41 percent from 3-point range (16 of 39). Those percentages came on the heels of Boston making 51.2 percent and 40 percent in a 116-99 victory in Game 4 on Tuesday.
Miami's Duncan Robinson made 7 of 10 shots to score 18 points off the bench. Bam Adebayo collected 16 points and eight rebounds, Haywood Highsmith added 15 points and Jimmy Butler and Caleb Martin each had 14 for the eighth-seeded Heat.
Miami coach Erik Spoelstra said his team won't get too down despite absorbing back-to-back setbacks.
Kyle Lowry scored just five points and committed four of his team's 16 turnovers while starting in place of the injured Gabe Vincent (sprained left ankle).
Boston bolted out of the blocks by scoring 14 unanswered points to seize a 20-5 lead. Tatum highlighted his 12-point first quarter with an emphatic dunk that gave the Celtics a 28-13 lead, and White finished with 11 points in the period after draining a 3-pointer at the buzzer.
Miami trimmed the deficit to 53-41 with 2:59 remaining in the second quarter before Boston ignited an 8-0 run. White and Smart each drained a 3-pointer during that surge to help the Celtics claim a 61-44 advantage at halftime.
Boston extended the lead to 18 points through three quarters and scored the first six points of the fourth to put the game on ice.