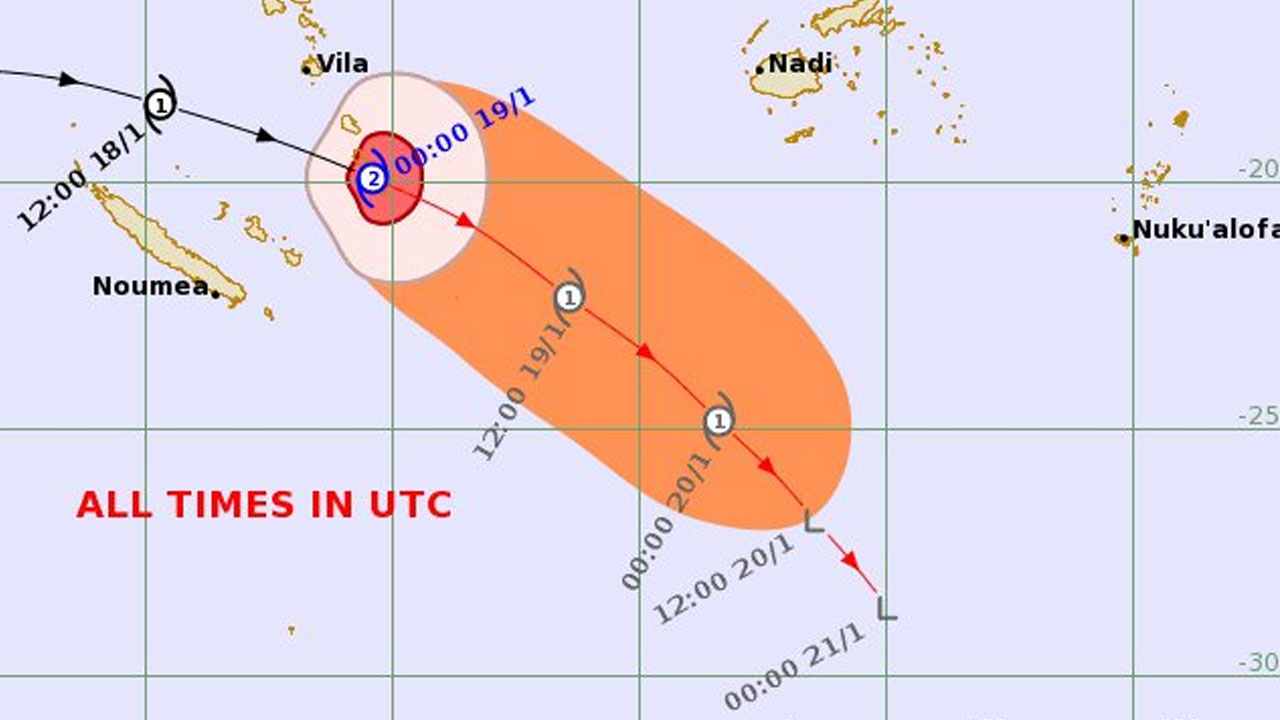 [Source: Fiji Meteorological Service / Facebook]
Tropical Cyclone Irene is weakening and is expected to be located around 600 kilometres to the far southwest of Kadavu and remain over open waters as it moves southeastward away from Fiji.
The Fiji Meteorological Service says even though TC Irene does not pose any direct threat to Fiji, an approaching active trough of low pressure and rain bands that is associated with the cyclone together with the prevailing northwesterly wind flow is expected to bring heavy rain and strong winds over parts of the country.
Tropical depression 05F had intensified into a category 1 tropical cyclone named Irene at 6pm yesterday while located to the west of Vanuatu.
Article continues after advertisement
By six this morning, TC Irene had upgraded into a category 2 system while located to the south of Port Villa, Vanuatu.
TC Irene has maximum winds of 50 knots around the centre and it continues to be fast-moving in an east-southeast direction at around 25 knots.
Heavy rain, thunderstorms, strong and gusty winds and rough to very rough seas are expected for Yasawa and Mamanuca group, Vatulele, Kadavu and nearby smaller islands, western and northern Viti Levu, Bua Province, Macuata province, Vatulele, Kadavu and nearby smaller islands.
It is expected to rain from time to time with thunderstorms over the rest of the Fiji group.
Strong winds are anticipated over the rest of the group from tonight.
Localised heavy falls may also lead to flash flooding in low-lying and flood-prone areas.
With already heavily saturated soil as a result of continuous heavy rain in the past week, the risk of landslides occurring remains.
Heavy rain and strong winds are expected to ease from Saturday as TC Irene moves out of the Regional Specialized Meteorological Centre (RSMC) – Nadi Area of Responsibility (AoR).
The public is also advised to be on alert as the highest tide of the year or the "King Tide" is anticipated this Sunday.
Coupled with the effects of wind-driven waves expected from TC Irene, particularly from the 20th to the 24th, there is a "high risk" of sea flooding over coastal areas of Yasawa and Mamanuca Group, Western Viti Levu to Coral Coast (from Teidamu through Lauwaki, Momi to Coral Coast), Vatulele, Kadavu and nearby smaller islands, Moala Group, Central Lau and Southern Lau Group.
Those living along the above-mentioned coastal areas are advised to remain cautious and vigilant of coastal sea flooding, especially during high tides.
Hazardous breaking waves and strong currents are risky for swimming, fishing and other recreational sea activities.
Meanwhile, another low-pressure system is expected to enter the RSMC-Nadi AoR from tomorrow.
This low is expected to track to the south of New Caledonia and is not likely to pose any direct threat to Fiji.
The Fiji Met says we are is still in the cyclone season which will end in April and is urging members of the public to remain vigilant all the time.