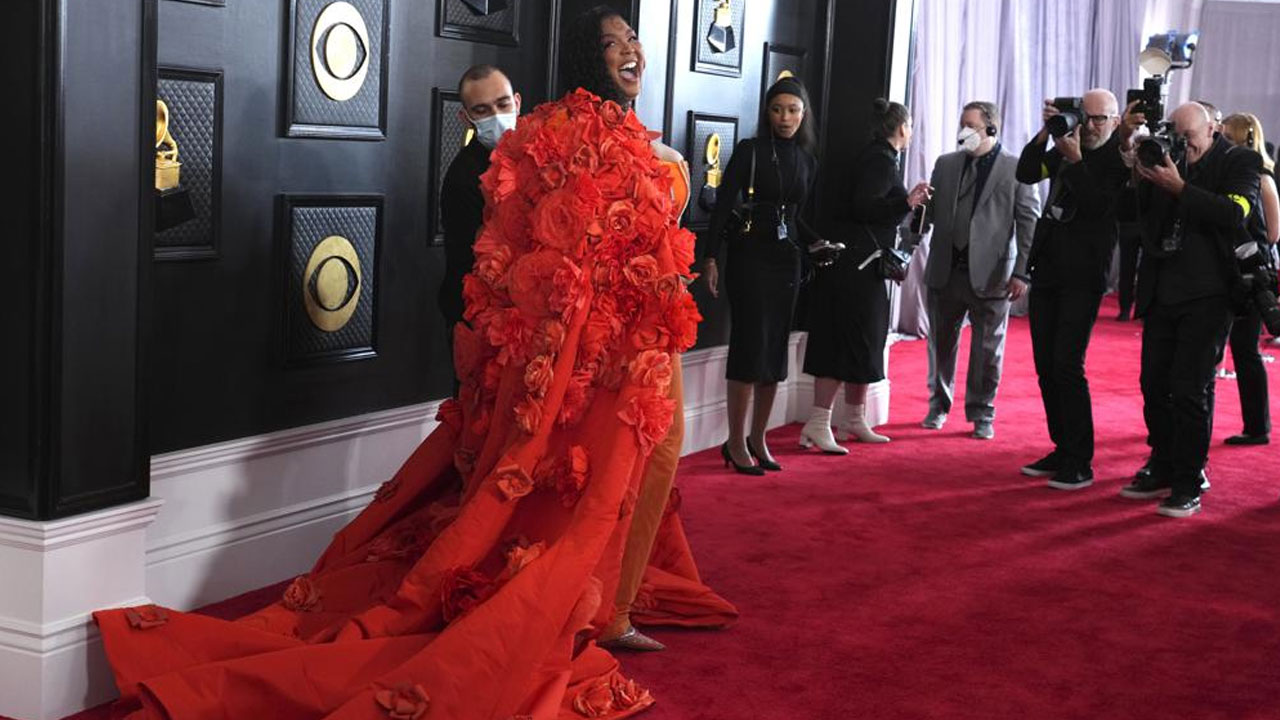 Lizzo [Source: AP]
Lizzo wowed in a bright orange Dolce & Gabbana opera coat adorned with flowers and a huge hood as the wild and wacky Grammys red carpet did not disappoint Sunday.
Tattered streetwear, T-shirts and denim mixed with blinged-out couture, wild patterns and plenty of skin.
Lizzo walked gingerly as she navigated her heavy coat with a long train. After awhile, she dropped the coat to her shoulders to reveal a busty sequin corset gown underneath in a softer orange. The coat was entirely embroidered with handmade silk flowers, and the gown was silk with crystal mesh Swarovski details. She accessorized with crystal embellished heels and sheer fingerless gloves.
Article continues after advertisement
"Lizzo is a floral garden fantasy in her ruffle orange 3D robe and matching corset dress underneath," said Holly Katz, a stylist and host of the Fashion Crimes podcast. "And we love to hear her roar!"
Taylor Swift, channeling her Midnights era, wore a long two-piece sparkly skirt with a high-neck, long-sleeve crop top, all by Roberto Cavalli. They were, yes, midnight blue. She added statement diamond earrings by Lorraine Schwartz, her hair in an updo.
Fashion lover Harry Styles walked the carpet in a rainbow harlequin pattern jumpsuit adorned with Swarovski crystals. He was shirtless underneath. His low-cut, multicolored Egonlab look drew cheers. Egonlab is a young brand out of Paris.