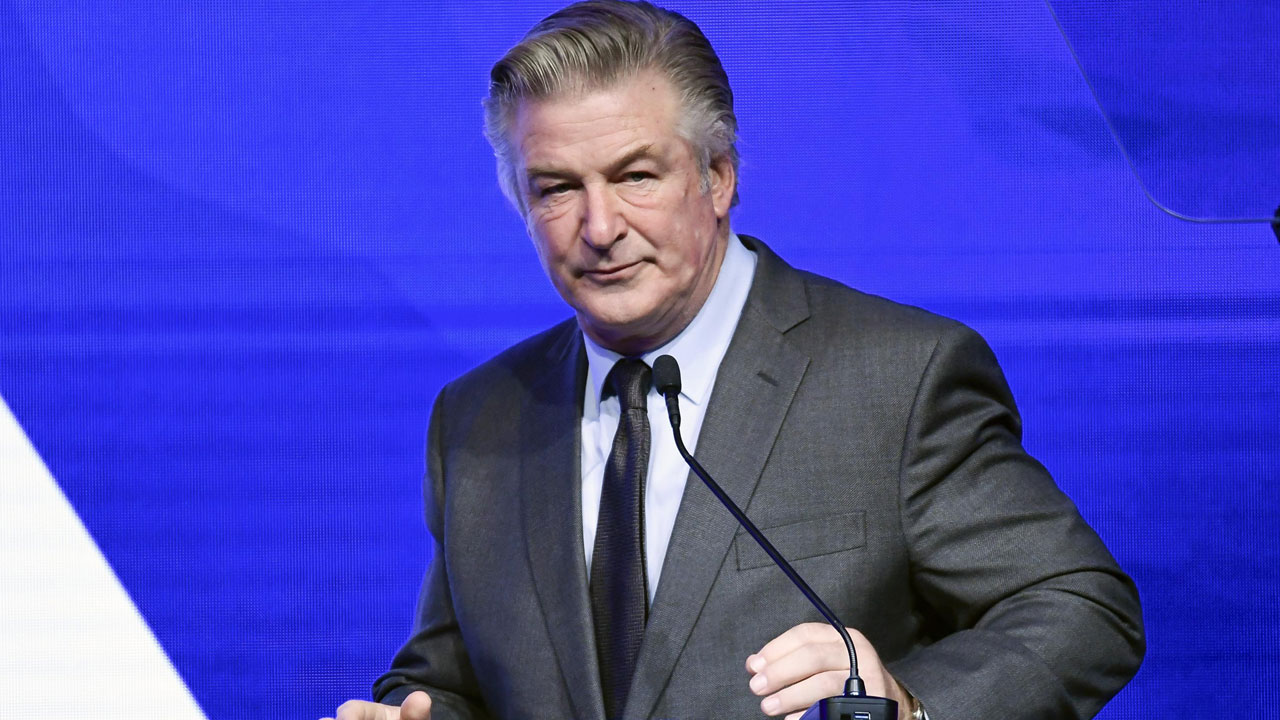 Alec Baldwin. [Source: AP Entertainment]
Alec Baldwin's first court appearance has been set as he confronts accusations of firearm safety failures and involuntary manslaughter in the fatal shooting of a cinematographer on a New Mexico film set.
A New Mexico court on Wednesday scheduled Baldwin and film-set weapons supervisor Hannah Gutierrez-Reed to appear by videoconference before Santa Fe-based District Court Judge Mary Marlowe Sommer in late February, leaving several weeks before the defendants may provide a formal response to felony charges. They were both charged Tuesday with involuntary manslaughter in the death of Halyna Hutchins on the set of the Western movie "Rust."
Hutchins died shortly after being wounded during rehearsals at a ranch on the outskirts of Santa Fe on Oct. 21, 2021. Baldwin was pointing a pistol at Hutchins when the gun went off, killing her and wounding the director, Joel Souza.
Article continues after advertisement
A manslaughter charge can be brought if a defendant was killed while doing something lawful but dangerous and was acting negligently or without caution.
In newly filed court documents, prosecutors said reckless safety failures accompanied the film production from the outset. They cite Baldwin's failure as an actor to appear for mandatory firearms training prior to filming and his decision as a producer to work with Gutierrez-Reed, who was an uncertified and inexperienced armourer.
A probable cause statement from investigators traces safety failures across a 10-day period, such as misfires on set, a camera crew walkout and the moments before Hutchins' death as a revolver was loaded with ammunition and Baldwin's finger came to rest on the pistol's trigger.
"Baldwin's deviation from known standards, practices and protocol directly caused" Hutchins' death, Robert Shilling, a special investigator for the Santa Fe district attorney's office, said in the probable cause statement.
Baldwin's attorney Luke Nikas declined to comment Tuesday and referred to a previous statement in which he called the charges a "terrible miscarriage of justice" that he and his client would fight and win.
"Mr. Baldwin had no reason to believe there was a live bullet in the gun – or anywhere on the movie set," the statement said. "He relied on the professionals with whom he worked."
Gutierrez-Reed's attorney said they would release a statement later.
Santa Fe District Attorney Mary Carmack-Altwies told The Associated Press in a Jan. 19 interview that the set was "really being run pretty fast and loose" and Baldwin should have known there were previous misfires on the set and people had brought up safety concerns. She also highlighted Baldwin as the person "that held the gun, that pointed the gun and that pulled the trigger."
Prosecutors will forgo a grand jury and rely on a judge to determine if there is sufficient evidence to move toward trial. That decision could take up to 60 days and involve trial-like hearings to consider witness testimony and evidence.
Prosecutors have submitted a list of dozens of witnesses including the wounded "Rust" director Souza, weapons assistant Sarah Zachry, the film's ammunition provider, several participants in the film set rehearsal where Hutchins was shot — as well as FBI analysts, law enforcement detectives and sheriff's deputies who initially responded to the shooting.
The manslaughter charges against Baldwin and Gutierrez-Reed include two alternative standards and sanctions.
One version would require proof of negligence, which is punishable by up to 18 months in jail and a $5,000 fine under New Mexico law.
The second alternative is a reckless disregard of safety "without due caution and circumspection." It carries a higher threshold of wrongdoing and includes a "firearm enhancement" that could result in a mandatory five years in prison because the offence was committed with a gun.
A jury may decide which definition of manslaughter to pursue, prosecutors said.
Defence litigator Kate Mangels, whose work includes the entertainment sector, said prosecutors submitted a robust analysis of Baldwin's safety responsibilities as actor and producer on "Rust."
"The fact that they separated out Alec Baldwin the actor versus Alec Baldwin the producer shows to me that they're potentially foreseeing a challenge to his culpability as to either of those roles," said Mangles, who is based in Santa Monica, California. "So they want to differentiate … and provide a robust analysis of both of those separately."
Investigators said reckless safety failures culminated when Baldwin drew a revolver from a holster, pointed it at Hutchins and fired the weapon when a plastic or replica gun should have been used by industry standards.
Photos and videos of the rehearsal, including moments before the deadly shooting, showed Baldwin with his finger inside the trigger guard and on the trigger while "manipulating" the pistol's hammer, investigators said, noting that an FBI analysis shows the pistol could not be fired without pressing the trigger.
Baldwin, who has described the killing as a tragic accident, said he was told the .45-caliber revolver was safe. The 64-year-old actor has sought to clear his name by suing people involved in handling and supplying the loaded gun.
Baldwin said in his lawsuit that, while working on camera angles with Hutchins, he pointed the gun in her direction and pulled back and released the hammer of the weapon, which discharged.
Defence attorney Jason Bowles, who represents Gutierrez-Reed, said the charges are the result of a "flawed investigation" and an "inaccurate understanding of the full facts."
The decision to charge Baldwin marks a stunning turn of events for an A-list actor whose 40-year career included the early blockbuster "The Hunt for Red October" and a starring role in the sitcom "30 Rock," as well as iconic appearances in Martin Scorsese's "The Departed" and a film adaptation of David Mamet's "Glengarry Glen Ross." In recent years, Baldwin was known for his impression of former President Donald Trump on "Saturday Night Live."
Prosecutors said a proposed plea agreement signed by assistant director David Halls, who oversaw safety on set, has not yet been approved by a judge and cannot be published.
Halls also is scheduled for a first appearance in New Mexico court later this month. He has agreed to plead guilty to the negligent use of a deadly weapon, explaining that he may have handled the gun improperly before it was given to Baldwin, prosecutors said.