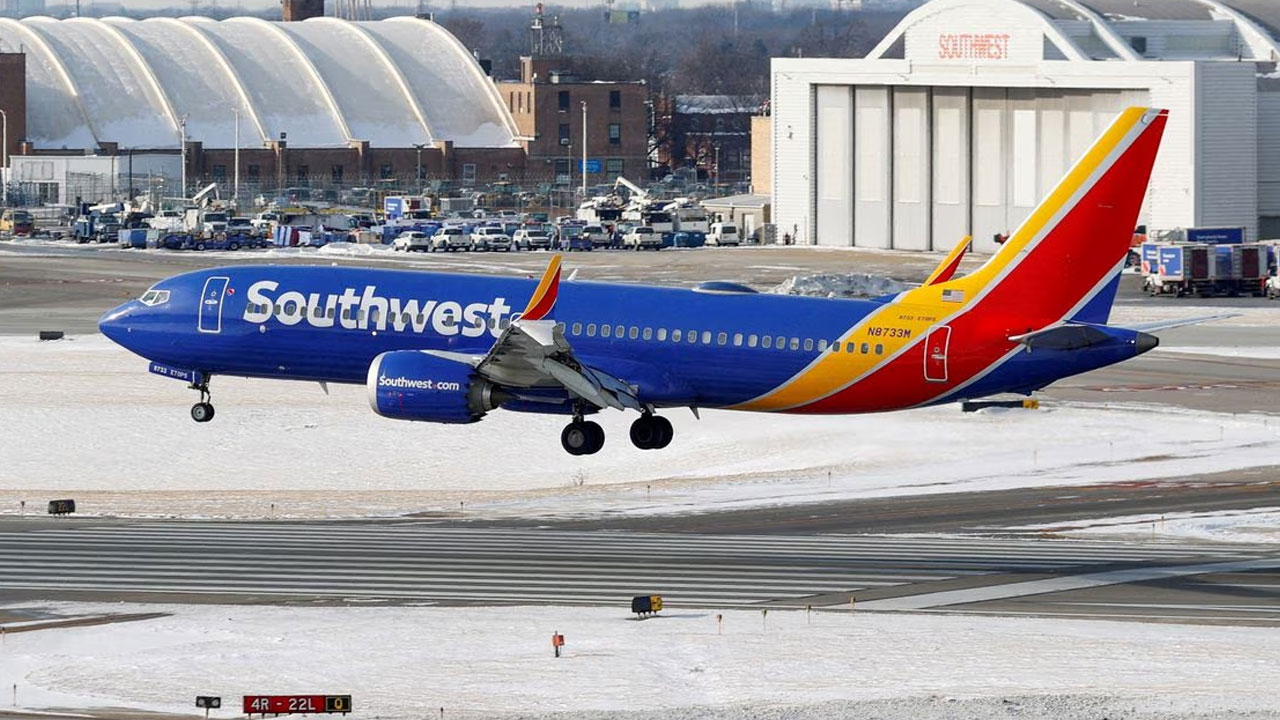 A Southwest Airlines jetliner lands at Chicago Midway International Airport in Chicago, Illinois, U.S. [Source: Reuters]
The chair of the U.S. National Transportation Safety Board (NTSB) said a FedEx Boeing 767 cargo plane and a Southwest Airlines 737-700 that nearly collided were "probably under 100 feet (30.5 meters) vertically from each other," according to preliminary information on Monday from the investigation.
The Federal Aviation Administration and NTSB are investigating an aborted landing of a FedEx (FDX.N) cargo plane on Saturday in Austin, Texas, that had been set to land on a runway on which a Southwest Airlines (LUV.N) jet was also cleared to depart.
NTSB Chair Jennifer Homendy told Reuters the "near miss" incident could have resulted in "terrible tragedy."
Article continues after advertisement
The two planes came close to colliding when the FedEx aircraft was forced to overfly the Southwest jet to avoid a crash in poor visibility conditions around 6:40 a.m.
Homendy said it appears likely the FedEx plane overflew the Southwest plane during their takeoff role momentarily and then Southwest passed beneath the FedEx plane again as its speed increased on takeoff.
The FAA issued a takeoff clearance to Southwest when FedEx was about 3.32 nautical miles from the end of the runway. The FedEx pilot got confirmation of clearance to land when it was 2.19 miles away, Homendy said.
Shortly afterwards Southwest began its takeoff. "At that point when (Southwest) starts to roll, FedEx is only 0.45 nautical miles from the runway and going 141 knots (162 miles per hour)," Homendy said. "When FedEx said Southwest abort, they were 1,195 feet (364 m) down the runway and climbing."
The Cancun, Mexico-bound Southwest flight had 123 passengers and five crew on the Boeing 737-700. It safely departed.
She did not fault the Southwest pilots whom she said initially would not have even known what was going on. Both cockpit voice recorders in the incident were believed to have been overwritten, Homendy said.
Homendy said another runway incursion at New York's John F. Kennedy Airport in which a Delta Air Lines (DAL.N) plane came to a safe stop after air traffic controllers noticed an American Airlines (AAL.O) Boeing 777 had crossed from an adjacent taxiway could also have been tragic.
The NTSB has investigated 17 runway incursion incidents since 2013, including two from last summer that remain under investigation.