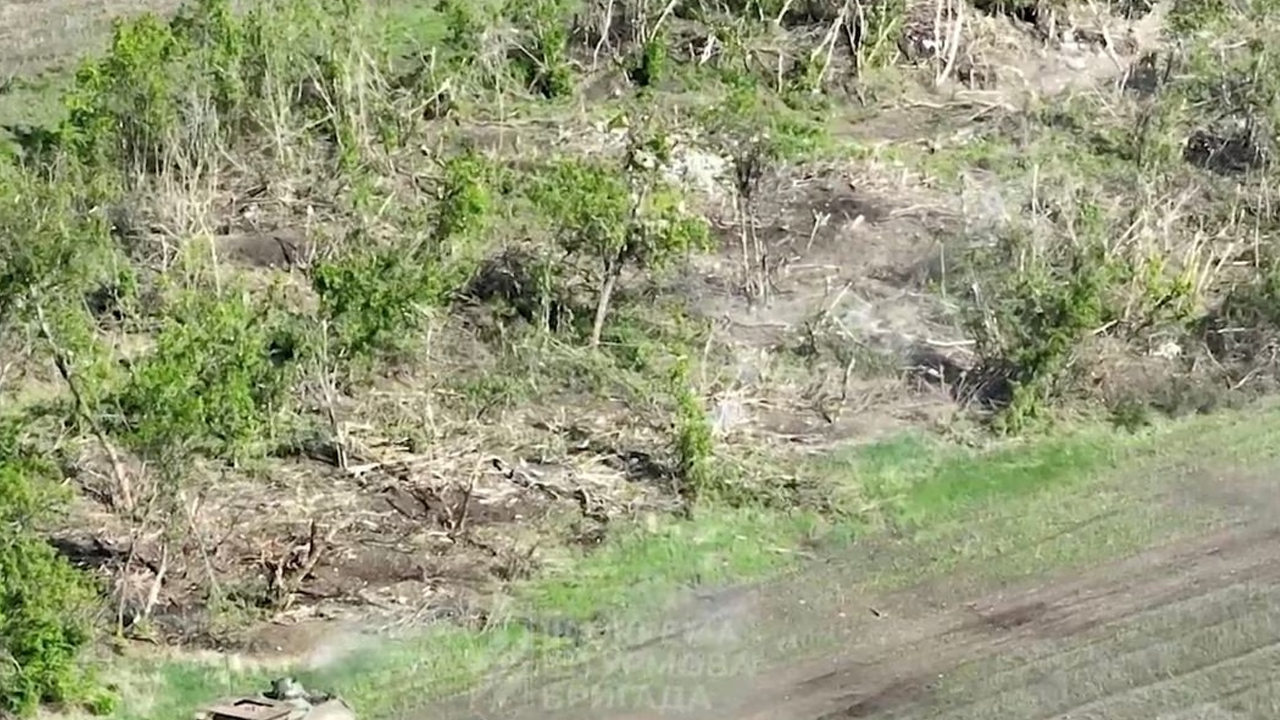 View of a military vehicle as Ukrainian forces destroy Russian positions in direction of Bakhmut, near Klischiivka, Donetsk Region, Ukraine, in this screengrab taken from a video released on June 4, 2023. [Source: Reuters]
Moscow said it had thwarted a major offensive against its forces in eastern Ukraine, but Ukrainian officials dismissed the report and both sides said Kyiv's military had made small gains elsewhere along front lines.
It was unclear whether the attacks represented the start of Ukraine's long-heralded counteroffensive against Russia's invasion, and Ukrainian officials made no mention of any broad, significant new campaign or sidestepped questions on the matter.
Russia's defence ministry said Ukraine had attacked on Sunday morning with six mechanised and two tank battalions in southern Donetsk, where Moscow has long suspected Ukraine would seek to drive a wedge through Russian-controlled territory.
Article continues after advertisement
Foreign Minister Dmytro Kuleba told Reuters on Monday that Ukraine now had enough weapons for a counteroffensive but declined to comment when asked whether it had begun.
In its evening report, Ukraine's General Staff made no mention of any large-scale offensive operation, or suggested any other deviation from the usual tempo or scope of fighting along front lines that have not changed significantly for months.
Deputy defence minister Hanna Maliar said on Telegram that Ukraine was "shifting to offensive actions" along parts of the front line but dismissed suggestions this was part of a major operation.
Maliar said later on state TV that Ukrainian forces had made advances of 200-1,600 metres (660 feet to one mile) around two villages north of the long embattled eastern city of Bakhmut and 100-700 metres around villages to the west and south.
Russian Wagner group mercenaries captured Bakhmut last month after the longest battle of the war and handed their positions there to regular Russian troops, but Kyiv has since been attacking Russian-held areas to the north and south of the city.
An armed forces video showed Russian positions under fire and Wagner militia leader Yevgeny Prigozhin said Ukrainian forces had retaken part of the settlement of Berkhivka, northwest of Bakhmut, calling it a "disgrace".
A purported radio address by Russian President Vladimir Putin was broadcast to three regions bordering Ukraine telling residents Ukrainian forces had crossed the border, mobilisation had begun and they should flee, independent media reported.
Kyiv denies sending any troops into Russia but pro-Ukrainian forces have repeatedly crossed into one of the regions, Belgorod, in recent days and on Sunday said they had captured some Russian soldiers.