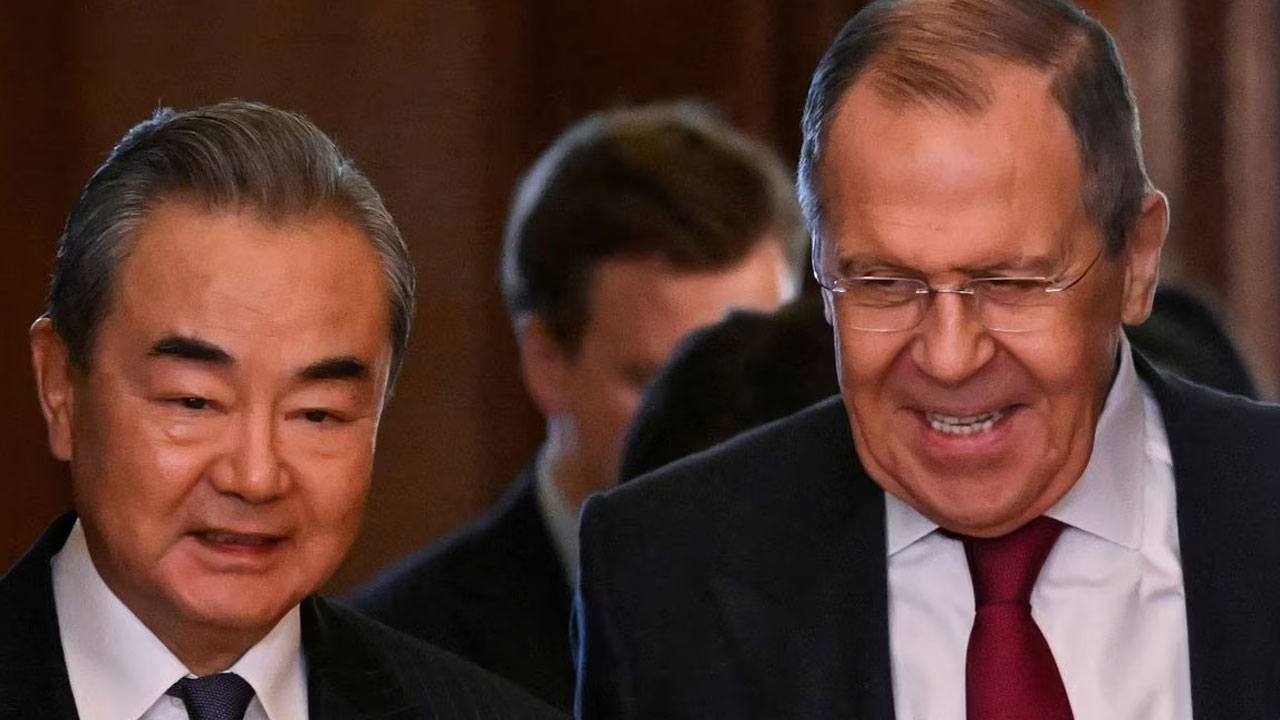 Russia's Foreign Minister Sergei Lavrov and China's Director of the Office of the Central Foreign Affairs Commission Wang Yi enter a hall during a meeting in Moscow, Russia February 22, 2023. [Source: Reuters]
China's top diplomat Wang Yi held talks with President Vladimir Putin and other senior Russian officials in Moscow this week amid speculation that the two sides would discuss a Chinese plan to bring about peace in Ukraine after almost a year of the war.
Moscow has denied that Wang and Russian Foreign Minister Sergei Lavrov discussed a specific proposal but both sides said they touched on political ways to end the conflict, with Russia welcoming what it called China's "balanced position".
Beijing has accused the United States and the West of fanning the flames of conflict in Ukraine, but it has refused to explicitly endorse Russia's invasion.
Article continues after advertisement
China has said it will set out its position on how to settle the Ukraine conflict through political means in an upcoming paper, which Russian state media say will be published on the one-year anniversary of Russia's "special military operation".
Wang said at last week's Munich Security Conference that the document would reference principles from the United Nations' founding charter and take into account territorial integrity, sovereignty and security concerns.
Chinese President Xi Jinping is expected to deliver a "peace speech" on the Feb. 24 anniversary of the invasion, although analysts have cast doubt on whether Beijing's efforts to act as a peacemaker will go beyond rhetoric.
NATO Secretary-General Jens Stoltenberg on Thursday warned China against supplying weapons to Russia. "We haven't seen any supplies of lethal aid from China to Russia, but we have seen signs that they are considering and may be planning for that," he told Reuters.
Ukraine said it was looking forward to hearing China's proposal but that it would need to examine it closely before reaching any conclusions, adding that President Volodymyr Zelenskiy had his own plan for peace.
Zelenskiy last year proposed his own 10-point peace plan, which calls on Russia to withdraw all its troops from Ukraine and to respect Ukraine's territorial integrity.
Russia still controls nearly a fifth of Ukraine, despite losing swathes of land in major battlefield setbacks last year.
Russia said on Wednesday that it welcomed China taking a more active role in efforts to resolve the conflict.
Weeks before the invasion, Putin and Xi agreed to a "no limits" partnership, as the two countries seek to counter-balance what they see as attempts by the United States to dominate global affairs.
Meeting Putin on Wednesday, Wang said China was willing to play a "constructive role" to end the Ukraine conflict.
Putin said Russia's relations with China were "developing" and said Xi would visit Moscow.
Beijing's attempts to reach a peace deal and Wang's visit to Moscow have been met with a mixed reaction in the West, which believes Russia's increasing reliance on China makes it one of the few countries able to truly influence Moscow.
German Foreign Minister Annalena Baerbock said China had an obligation to use that influence to seek peace in Ukraine.
The United States was sceptical, warning that Wang's visit to Russia on the eve of the war's first anniversary was more evidence of Beijing's growing alignment with Moscow.
Xi has stood by Putin during the conflict in Ukraine, resisting Western pressure to isolate Moscow.
Trade between the two countries has soared since the invasion, and China is Russia's biggest buyer of oil, a key source of revenue for Moscow.