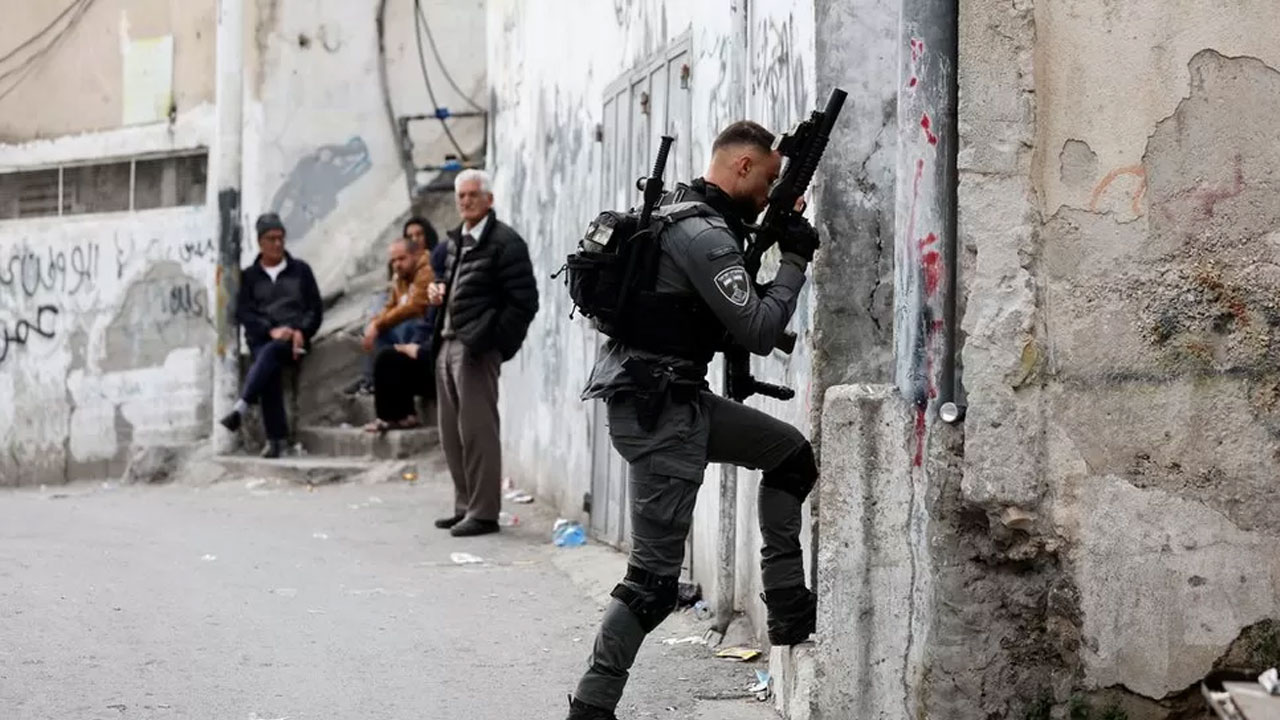 [Source: BBC]
Israel's prime minister has promised "strong" and "swift" response after two separate attacks by Palestinians in Jerusalem over the past two days.
The attacks took place after an Israeli army raid in the occupied West Bank killed nine people.
Ahead of a security cabinet meeting, Benjamin Netanyahu said he would seek new measures to "combat terror".
Article continues after advertisement
Israeli's army also said it would be reinforcing troop numbers in the occupied West Bank.
His comments came after Israeli police said a 13-year-old Palestinian boy was behind a shooting in Jerusalem's Silwan neighbourhood on Saturday that left an Israeli father and son seriously wounded.
An Israeli police force spokesperson previously said the assailant ambushed five people as they made their way to prayers, leaving two in a "critical condition". The 13-year-old was shot and injured by passers-by and is being held in hospital.
In a separate shooting on Friday at a synagogue in East Jerusalem, seven people were killed and at least three more injured as they gathered for prayers at the start of the Jewish Sabbath. The gunman was shot dead at the scene.
The man behind Friday's synagogue attack was identified by local media as a Palestinian from East Jerusalem.
Police have arrested 42 people in connection with that attack.
Israeli police commissioner Kobi Shabtai called it "one of the worst attacks we have encountered in recent years".
Palestinian militant groups praised the attack, but did not say one of their members was responsible.
Mr Netanyahu called for calm and urged citizens to allow security forces to carry out their tasks, while the military said additional troops would be deployed in the occupied West Bank.
"I call again on all Israelis – don't take the law into your hands," Mr Netanyahu said. He thanked several world leaders – including US President Joe Biden – for their support.
Tensions have been high since nine Palestinians – both militants and civilians – were killed during an Israeli military raid in Jenin in the occupied West Bank on Thursday.
This was followed by rocket fire into Israel from Gaza, which Israel responded to with air strikes.
Since the start of January, 30 Palestinians – both militants and civilians – have been killed in the West Bank.
Palestinian President Mahmoud Abbas suspended its security co-operation arrangements with Israel after Thursday's raid in Jenin.
Friday's synagogue shooting happened on Holocaust Memorial Day, which commemorates the six million Jews and other victims who were killed in the Holocaust by the Nazi regime in Germany.
Ukrainian President Volodymyr Zelensky condemned the attack, saying that one of the victims was a Ukrainian woman.
"Terror must have no place in today's world – neither in Israel nor Ukraine," he said in a tweet.
British Foreign Secretary James Cleverly wrote on Twitter: "To attack worshippers at a synagogue on Holocaust Memorial Day, and during Shabbat, is horrific. We stand with our Israeli friends."
President Joe Biden talked to Mr Netanyahu and offered all "appropriate means of support", the White House said.
Shortly after the incident, Mr Netanyahu visited the site, as did the controversial far-right National Security Minister, Itamar Ben-Gvir.
Mr Ben-Gvir promised to bring safety back to Israel's streets, but there is rising anger that he has not yet done so, the BBC's Yolande Knell in Jerusalem said.