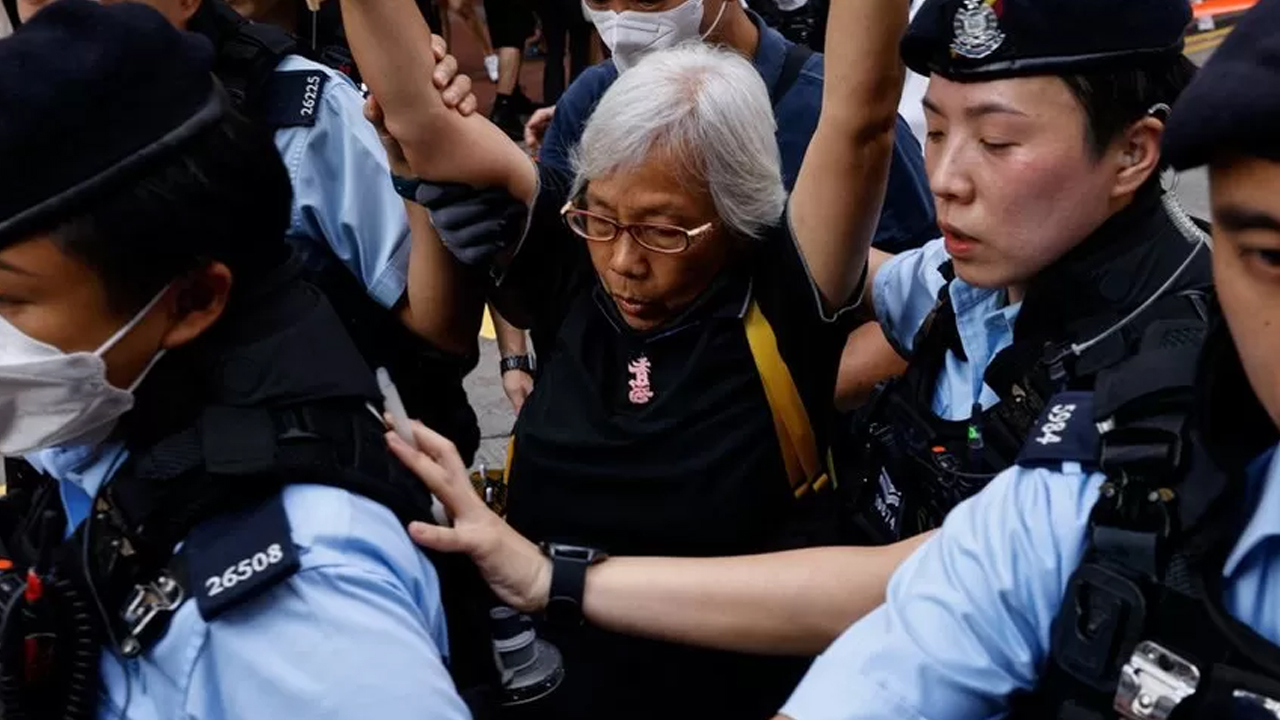 [Source: Reuters]
Police in Hong Kong have detained several pro-democracy activists on the anniversary of the Tiananmen Square massacre.
Authorities have banned public commemoration of the 1989 incident, which saw China crush peaceful protests in Beijing with tanks and troops.
However, candlelight vigils have been taking place in other cities worldwide.
Article continues after advertisement
Among those detained was 67-year-old Alexandra Wong, a prominent campaigner nicknamed "Grandma Wong".
Amid a tense evening in Hong Kong, she was arrested while carrying flowers near Victoria Park, where vigils had been held for decades.
The leader of one of Hong Kong's main opposition parties was among those arrested. Chan Po Ying, a veteran pro-democracy activist who heads the League of Social Democrats party, was holding an LED candle and two flowers.
Mak Yin Ting, former head of the Hong Kong Journalists Association, was also detained and subsequently released. Police later said they had made one arrest and taken 23 people to police stations for investigation.
Events to mark the 1989 massacre in Beijing are banned in mainland China.
For decades, Hong Kong was the only Chinese city where these commemorations were allowed, under the city's semi-autonomous economic, political and legal set up – known as "one country, two systems" – established when the city handed over to China by the UK in 1997.
But public events to mark the anniversary have since been outlawed, after the Chinese government imposed a strict national security law outlawing many forms of dissent in 2020.
The annual commemorations have not been held since 2019, after being initially banned under Hong Kong's Covid regulations.
This year, a pro-Beijing carnival is being held in Victoria Park instead.
Ms Wong was quickly surrounded by police and driven away on Sunday in the city's Causeway Bay area.
Nearby Victoria Park has hosted annual candlelit vigils to mark Tiananmen Square since 1990, often drawing tens of thousands of people to mark the day, known as June Fourth in much of China.
Hong Kong Police have deployed thousands of officers at key sites in the city, stopping people to search and question them.
Officers set up booths outside the metro station near Victoria Park to search passers-by, including journalists.
Two Chinese-made "Sabre-tooth Tiger" armoured vehicles have also be stationed in the area in what appears to be a show of force by police.
Ahead of anticipated protests, the city's government has also removed books on the Tiananmen crackdown from public libraries.
One of those detained was a woman who shouted "Raise candles! Mourn 64!" while another was a man carrying a book with the title "May 35th" – both references to the 4 June date of the killings.
Others have been detained while holding unlit candles or wearing yellow clothing, the colour of the now-dismantled pro-democracy movement.
On Saturday, four people were arrested on suspicion of disturbing order in a public place or acting with seditious intent – both new offences under the controversial 2020 law.
Dozens of candlelight vigils have been taking place around the world on Sunday to remember those killed by the Chinese military in response to the crackdown.
In Taiwan, the democratic, self-governing island China claims as its territory and has vowed to take control of by force if necessary, hundreds of people gathered to mark the anniversary.
Chants of "fight for freedom, stand with Hong Kong" were heard from the crowds in the capital, Taipei, who had set up a replica of the "Pillar of Shame" – a famous statue at the University of Hong Kong commemorating the dead at Tiananmen Square that was removed in 2021.
Many involved also hope the vigils will continue the spirit of Hong Kong's once-vibrant civil society and political community, which has now largely fallen silent because so many have been imprisoned under the national security law, or have left Hong Kong altogether.
The Tiananmen Square protests in Beijing became the focus for national demonstrations calling for greater political freedoms in 1989.
Thousands of people – the majority of which were students – camped for weeks in the iconic Beijing square before the military moved in on 4 June and opened fire.
One unidentified protester became an international symbol of protest for blocking an advancing column of tanks in footage that was seen around the world.
The Chinese government says 200 civilians and several dozen security personnel died. Other estimates have ranged from hundreds to as many as 10,000.
The actions of the authorities have been seen by activists as part of China's broader agenda to snuff out political dissent in Hong Kong.