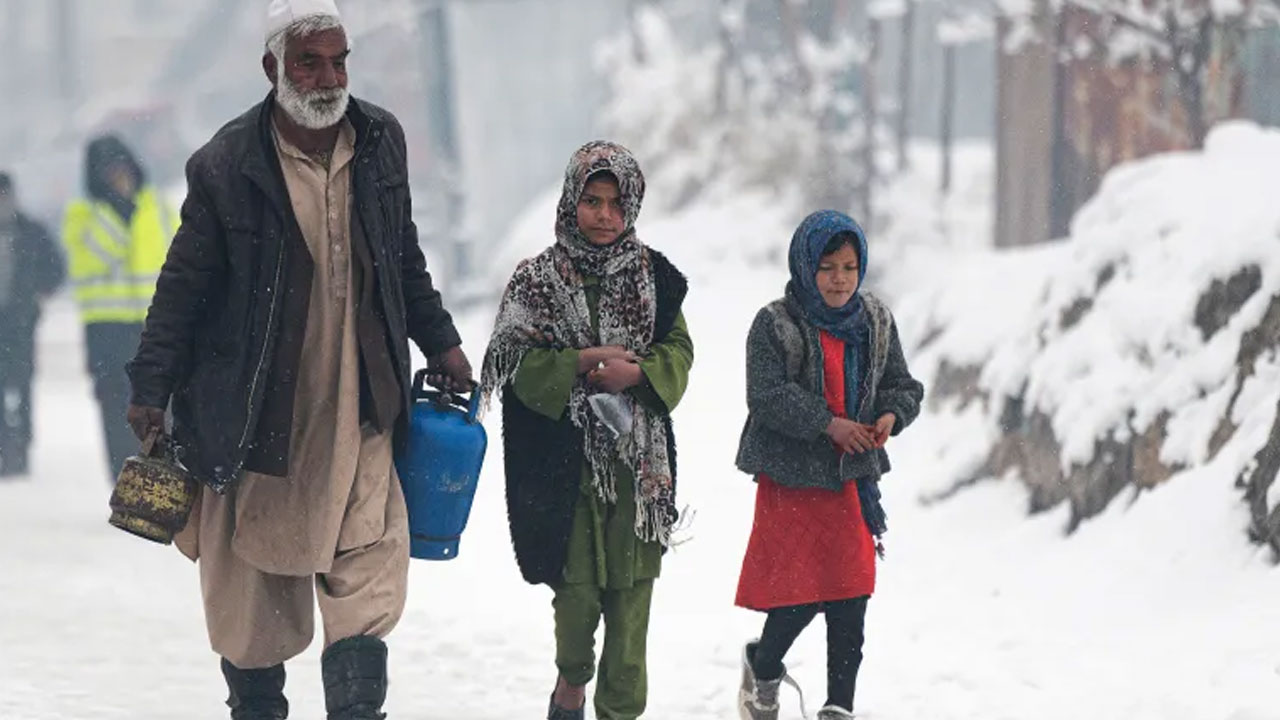 A man carrying petrol canisters walks next to children along a street during a snowfall in Kabul. [Source: Aljazeera]]
The youngest of Shah Ibrahim Shahin's children sit huddled next to each other on the thin "toushaks" – traditional Afghan floor mattresses – trying to stay warm amid freezing weather. The adults, wrapped in thread-bare woollen clothes, surround them in a small chilly room, which makes up the entirety of their home, in the northern Afghan province of Baghlan.
Many provinces in Afghanistan have seen an exceptionally cold winter in the last two weeks, with temperatures dropping to as low as -21 degrees Celsius (-5.8 Fahrenheit) in Kabul. More than 20 people have died due to the cold wave, according to media reports.
At its warmest, the temperature in Baghlan on Friday was 11 degrees below zero. And without access to affordable heating, all that Shahin and 14 members of his family, including his 10 children, have is each other for comfort in the frigid cold.
Article continues after advertisement
Shahin, a taxi driver by profession, has been out of work for almost a year. The country's new Taliban rulers have struggled to revive the economy for more than 18 months since they returned to power. Their government, still facing international isolation, has been unable to cope with rampant poverty and a humanitarian crisis.
While the 54-year-old struggled to make ends meet, a medical crisis in his family put him in severe debt, and the dwindling business meant that he could no longer afford the fuel needed to drive his car.
Located at the foot of the formidable Hindu Kush mountains, their town is no stranger to harsh winter. In fact, the heavy snow replenishes groundwater and can be beneficial to agriculture.
For many Afghans, the services provided by the international aid organisations were a lifeline that has been removed at the worst possible moment.
NGOs, such as NRC, have appealed to the Taliban to "find a way that will allow humanitarian operations to resume with both men and women assisting".
Some NGOs have resumed work after assurances that women will be allowed to work.
Sadid, the Afghan climate expert, also urged the Taliban authorities to provide forecasts and raise awareness among Afghans to help them cope with severe weather.