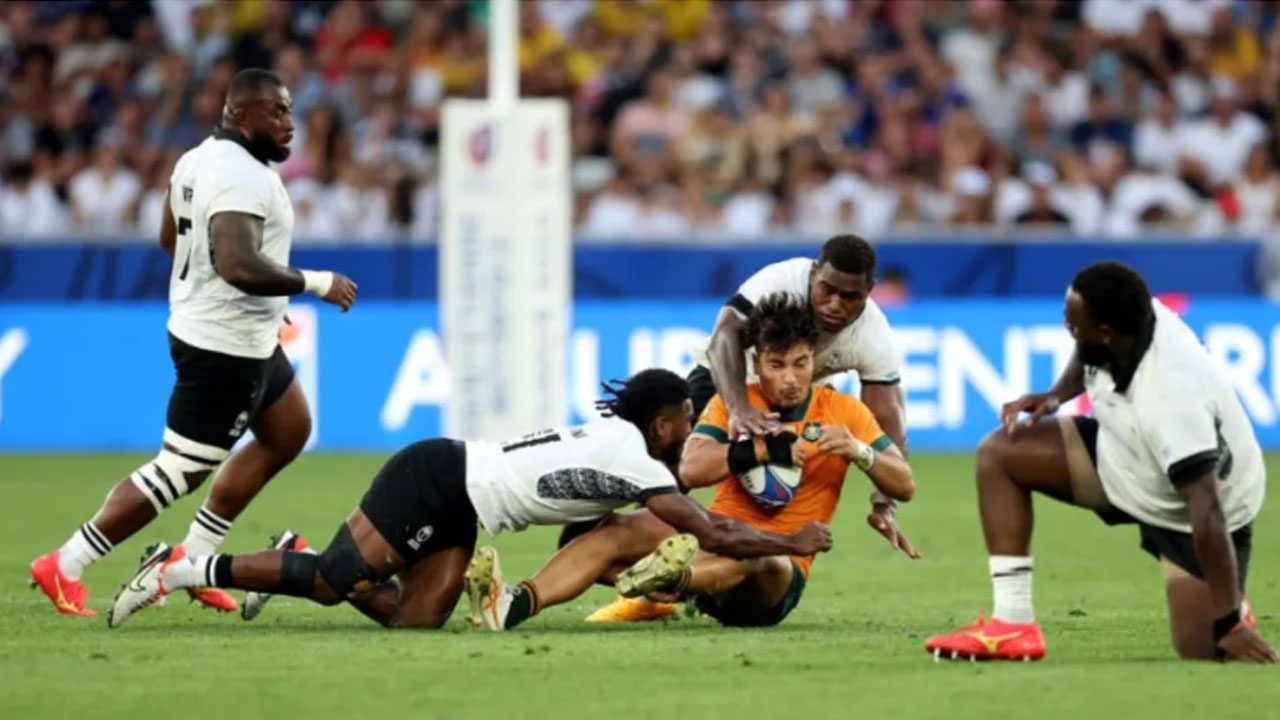 Jordan Petaia of Australia is tackled by Frank Lomani and Josua Tuisova of Fiji during the Rugby World Cup France 2023 match between Australia and Fiji [Source: Rugby Pass]
Former international referee Glen Jackson, the Flying Fijians attack and backs coach, has helped the team dramatically improve their discipline at the Rugby World Cup in France – an area of the game that has regularly undermined their cause at Test level.
Keeping on the right side of the officials while still delivering the intensely physical rugby that makes Fiji such a potent force will continue to be a key factor as they prepare to face Georgia at the weekend with a quarter-final place within touching distance after the win over Australia. That is why having a former Test referee at every training session is so important.
Jackson, the former Saracens outside half, was the first New Zealander to play and referee in 100 first class fixtures and told the media in France: "You would have heard from coach Simon (Raiwalui) that there are three things that we want to do. One is to play like Fijians, but one of our major ones is discipline. It's been four games in a row that we've conceded under 10 penalties and it was a target for us.
Article continues after advertisement
"We can't afford to play all this hard rugby and let sides with an easy way into the 22 (metre zone). Most of that, if you look at rugby now, is around discipline and poor penalties.
"So, we've put that as a big onus on the boys, but the boys got to take a lot of credit. They've worked really, really hard on the fitness, especially around the offside stuff.
"We've become really disciplined around that. Only one yellow card and we've had no real foul play stuff either. We've highlighted for 12 weeks that this is something we really have to work on."
Fiji and Georgia have met five times with the Pacific Islanders winning three with one loss and a draw in 2021.
The last time the two teams played at the Rugby World Cup was in 2019 when Fiji won 45-10.