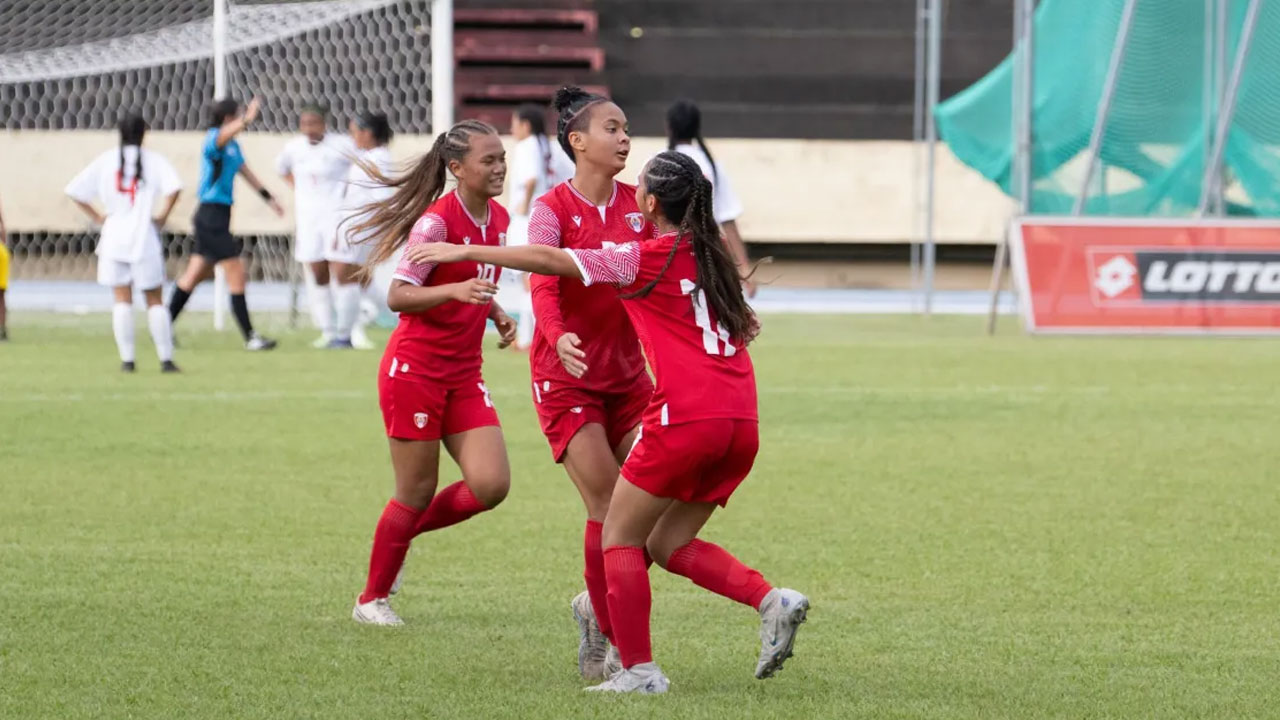 [Source: OFC Media via Christophe Fotozz]
Tahiti have taken third place at the OFC U-16 Women's Championship in Papeete following a high-scoring encounter with Tonga at Stade Pater.
Despite going behind to an early goal from Tama'a Faletau, the host nation rallied impressively, hitting back with a quick double to take the lead, before three late first-half goals put them in command at the break.
With 6 goals in the group stage, Faletau was always going to be a threat and her predatory instinct gave Tonga the lead – latching onto a through ball, outpacing the defence and prodding past the keeper to open the scoring.
Article continues after advertisement
The lead would only last for 10 minutes however. Hereana Brothers breaking down the right and her cross was deflected into the path of Haranui Le Gayic, who slotted the ball under the onrushing Ana Kafoa.
Brothers was a constant threat on the flank and it was another one of her low crosses that gave Tahiti the lead. This time finding Willany Kautai who finished well past Kafoa.
Tonga would have surely bee happy to head into the break at 2-1 but a flurry of goals late on killed the match off. Le Gayic scrappily bundled in following a through ball from Kautai before a mistake dealing with a free-kick led to another messy Le Gayic finish.
Her fourth and Tahiti's fifth was anything but messy however. The No.9 classily sweeping the ball high into the net following another good cross from the right.
Tonga started the second-half with a greater purpose as they looked to work their way back into the game. A series of dangerous crosses into the Tahiti box however didn't bear fruit, with the hosts able to clear their lines as the game became scrappy.
Mele Falekakaka threatened to work Tonga back into the match but her looped effort from outside the box landed on the roof of the net.
With 9 minutes remaining, Tonga finally got their consolation goal. Faletau determinedly made her way into the box, eventually laying the ball off to substitute Anna Pongi, who drilled the ball past Vaimatea Tauihara.
Nerves crept into Tahiti's play and Faletau almost closed he gap further, turning and striking the ball that flew just wide of Tauihara's right-hand post.
With stoppage time looming, a Tongan third arrived. Mele Falekakala beat her opponent outside the box and her curled effort found the corner of the net to the shock of the home crowd.
Despite the late surge however, the hosts were able to hold on and end their home tournament on a high and with a bronze medal to show.