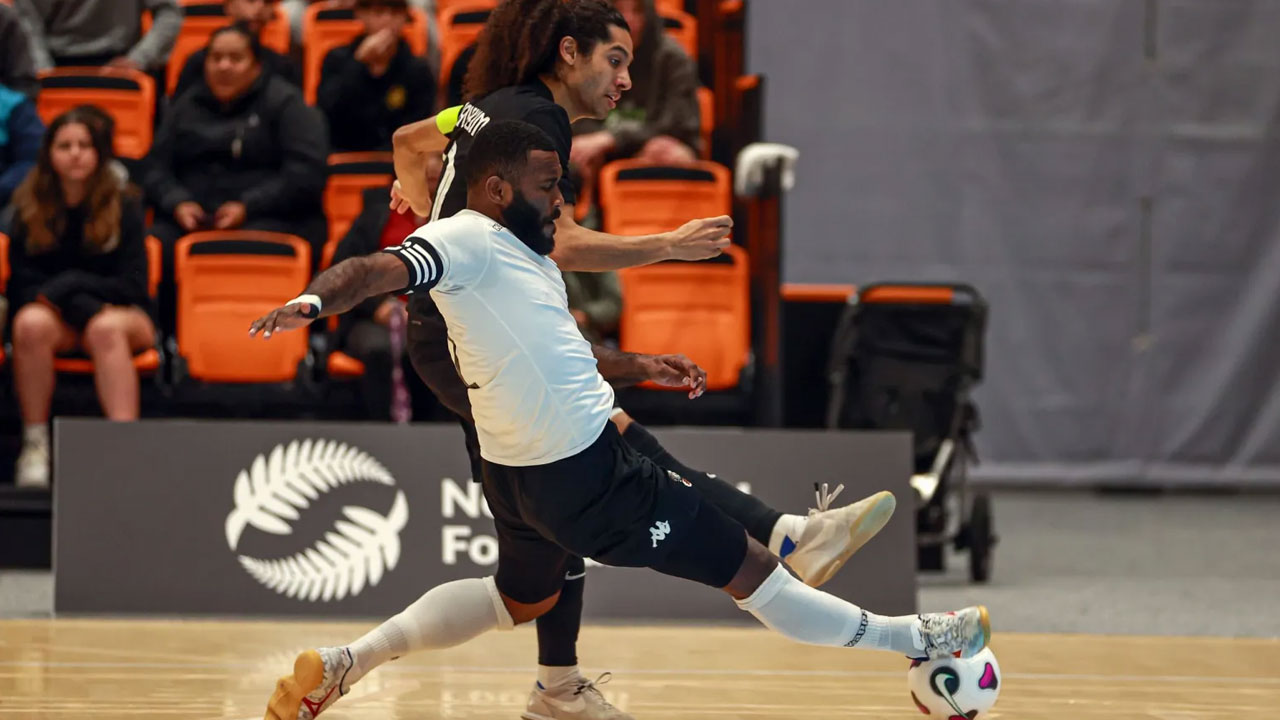 [Source: OFC Media via Phototek]
New Zealand have trounced Fiji 7-2 in an at times a feisty encounter at the Bruce Pulman Arena in Takanini at the OFC Futsal Nations Cup 2023.
The result sees New Zealand all but assured of topping Group A with one game remaining against Tonga while Fiji and Vanuatu will square off on Wednesday for the second spot in the Group.
Dylan Manickum has celebrated his record breaking 60th game for New Zealand leading the side into the semi-finals in Auckland.
Article continues after advertisement
The game will be remembered for New Zealand's fifth goal three minutes into the second half when Logan Wiesnewski, from five metres inside his own half, spotted Fijian keeper Emori Ragata off his line and guided the most audacious shot over his head and into the back of the net.
The game which had been a contest up until half-time was effectively over in a three-minute period immediately after the restart when first Rohan Ali, then Wiesnewski's incredible effort before Casey Sharplin made it 6-1. They had played a little over three minutes in the second half.
The rest of the match was a stroll for the impressive New Zealanders who scored their seventh in the 27th minute with a deft chip over Ragata from Jordan Dittfort, his second of the match. Fiji did manage a late consolation strike from Tevita Waranaivalu, but the damage had well and truly been done.
The match had started with both sides having early chances to open the scoring before New Zealand took the lead from a corner with Ethan Martin scoring at the near post and four minutes later Dave Radrigai slicing into his own net from a corner.
New Zealand withstood a flurry of shots from Fiji with Ramzan Khan and Setareki Hughes keeping Mike Antamanov on his toes before The Futsal Whites caught Fiji on the break and Jordan Dittfort guided the ball into the net at the far post in the 12th minute for New Zealand's third goal.
The Fijians pulled a goal back with a brilliant strike from Khan less than a minute later.