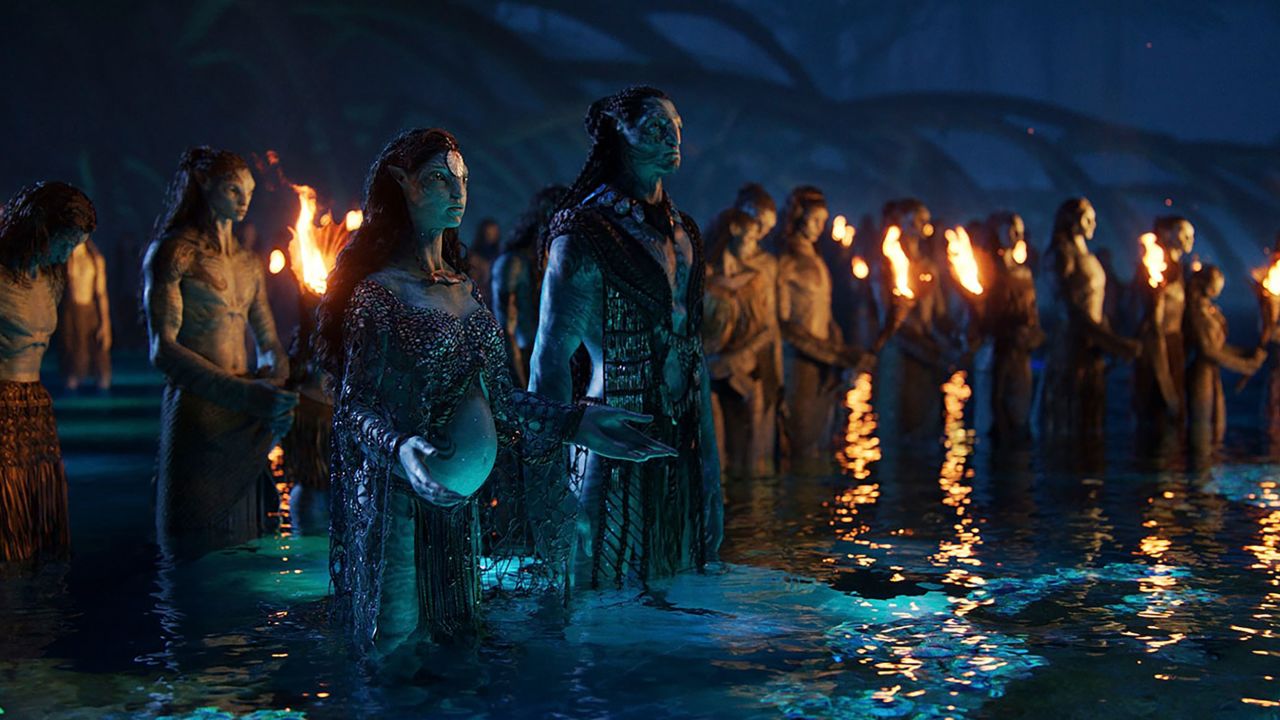 [Source: CNN]
Like "Titanic" a quarter-century ago (which is a lifetime in media years), "Avatar: The Way of Water" is swimming against the usual box-office tides – triumphantly so. Yet searching for lessons in the film's commercial success as the industry seeks beacons of hope about movie-going defies simple answers in much the way Pandora's floating islands defy gravity.
It's easy to forget that director James Cameron's "Titanic," a hugely expensive venture at the time, didn't open particularly well, causing panic within the two studios that released it. The three-hour plus movie then proceeded to buck the trend toward theatrical revenue being frontloaded and steep post-first weekend drops, sailing to the No. 1 spot for 15 consecutive weeks, as film-goers flocked to see it, with some (teenage girls were an especially key cohort) returning multiple times.
History is seemingly repeating itself, as "Avatar 2" is following a similar course after its debut prompted some box-office watchers to question whether its studio, Disney, could ever recoup its massive investment.
Article continues after advertisement
Those concerns were understandable. Indeed, the skew of theatrical revenue toward opening weekends had already become more sharply pronounced before the pandemic and streaming hastened that behavioral shift.
As it stands, people not motivated to rush out right away increasingly appear content to wait and consume movies on their ever-bigger TVs at home. Even Marvel's major sequels of 2022 (featuring Doctor Strange, Thor and Black Panther) weren't immune to that phenomenon.
"Avatar" has not only surged past those films but now seems poised for a prolonged period of theatrical dominance, thanks in part to the pandemic and streaming having contributed to thinning the herd in term of competition. At its present pace, it could be the first movie to top $2 billion worldwide since "Avengers: Endgame" in 2019 (although "Spider-Man: No Way Home" came close).
Cameron's epic is overcoming multiple factors that ought to have worked against it, none more so than its three-hour-plus length, which means theaters can run the movie fewer times in a day.
Theoretically, that endurance-test running time tends to both scare away casual movie-goers and depress theatrical totals – an issue cited in regard to "Black Panther: Wakanda Forever," which runs a half-hour shorter; and "Babylon," a star-studded spin on Hollywood's silent era that was basically dead on arrival box office-wise, which has generally been the fate of most of the year's awards bait.
So, what sets "Avatar 2" apart? Most obviously, it's a movie that screams "spectacle," fueling the desire to see it in theaters – particularly on Imax screens and in 3D – even if that meant not rushing out to watch it right away. Where Marvel movies (especially the sequels) inspire fans to catch them early to avoid spoilers, Cameron's film hinges more on the experience than the details.
"Avatar" has also performed inordinately well internationally, as the first movie did, in part because its simple themes and stunning visuals bridge issues of language or culture better than most movies can. Thus far, roughly two-thirds of its global box-office haul has come from outside North America, a significantly higher percentage than other pandemic-era hits like "Top Gun: Maverick" (a 48% domestic/52% international split) or the aforementioned Marvel titles.
Given the desperation to lure people back to theaters, the question will inevitably be what Hollywood and theaters can glean from "Avatar's" example. The truth is, not very much.
As Indiewire noted, the "grim reality" for movie distributors is among the new year-end films released, "Avatar" was the lone entry with anything to truly celebrate as 2022 came to a close.
Like the fauna on Pandora, "Avatar" might be a unique animal, running counter to prevailing habits. The quest to find "another 'Avatar,'" in other words, could easily yield as many expensive misses as bona fide hits.
Already, Hollywood is expressing optimism about 2023, with an impressive arsenal of identifiable titles to attract people to theaters, starting in February with "Ant-Man and the Wasp: Quantumania."
The show must go on, and hope springs eternal. For now, though, "The Way of Water" doesn't share much in common with the current ways of movie-going. And after a 13-year gap between the original and the sequel, for Disney and theaters, "Avatar 3" can't come soon enough.