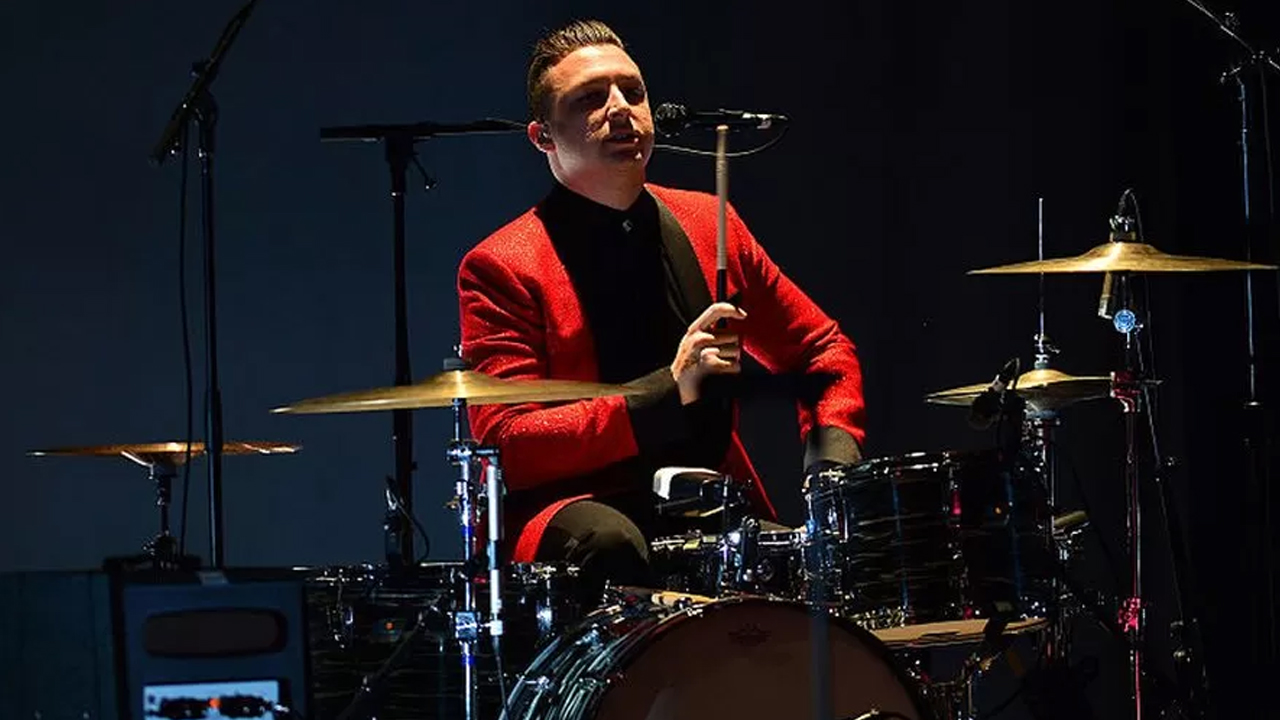 [Source: Reuters]
After 57 dates in 33 countries, Arctic Monkeys' world tour returns to the UK on Monday for a run of stadium shows.
And anyone who's seen them recently will know they've been walking on stage to one of two songs: Barry White's I'm Gonna Love You Just a Little More Baby, or Tom Jones's It's Not Unusual.
"It's like our little moment," says drummer Matt Helders.
Article continues after advertisement
"Before we walk on, backstage, we all have a little dance. We're pretty tight. We've got a good thing going."
Asked how the band had selected their entrance music, Helders explained: "Barry White definitely gets us in the mood but Tom Jones even more so, in terms of pace and speed and getting us pumped to do a gig."
It also suggests the band have laughed off Jones's ill-fated cover of their debut single, I Bet You Look Good On The Dancefloor.
The Welsh crooner performed a wonky cabaret version of the track at 2007's Concert For Diana, and was roundly accused of "ruining" the original.
"We were going to release it, but the reviews were so bad we thought better of putting it out!" he later joked.
Arctic Monkeys kick off the UK leg of their tour at Bristol's Ashton Gate Stadium, with further dates in Coventry, Manchester, Middlesborough, Norwich, Sheffield, Swansea, Southampton and London.
It's their first stadium tour in the UK, "which is something we never thought we'd do," says Helders.They've been testing the waters with massive outdoor shows in South America and Australia, but Helders says they're "still figuring out" the transition from smaller venues,
"We change the setlist quite a bit for different circumstances. But I think, once the audience is over a certain amount of people, it kind of does feel the same – in terms of what we play, not in terms of that experience."
The tour is in support of the band's seventh album, The Car, which builds on the lounge-y, spaced-out orchestral vibes of their previous record, Tranquility Base Hotel & Casino.
Speaking to Radio One's Jack Saunders last year, Helders admitted that some of the album's intricate drum patterns were "trickier" to play than the "more flashy" and raucous material on the band's earlier albums.
"It's tricky to do the subtleties of what happens on this record," he confirms. "The restraint is quite difficult – and that spills over to live [shows] too, because you can get a bit excited and want to show off a bit.
"But there's moments in the set where I get to scratch that itch, We'll play all the action-packed ones and then it chills out for a bit. It's a good balance."
Reviews for the tour have been largely positive. Variety magazine praised the band's "slicked-back swagger" while Sydney's Morning Herald called their appearance in January "one of the defining concerts of this Sydney summer".
The band, fronted by Alex Turner, will wrap up their UK tour with a third headline appearance at the Glastonbury Festival on Friday, 23 June.