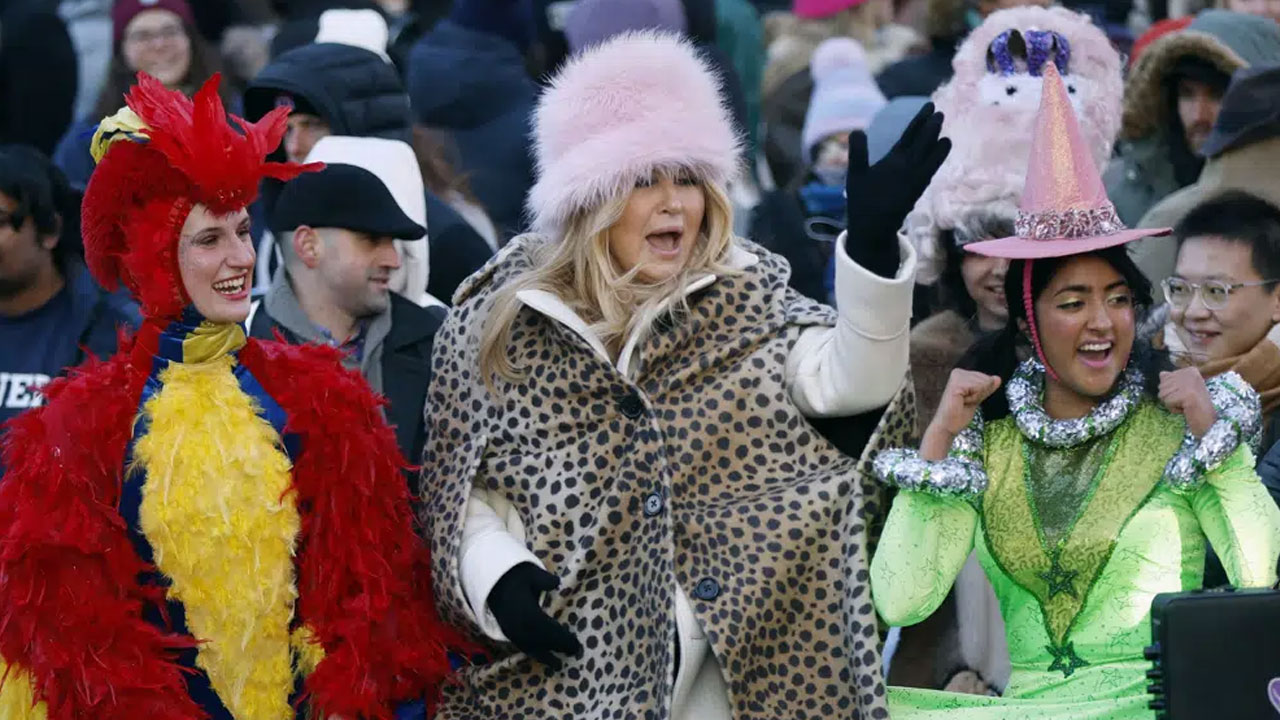 Harvard's Hasty Pudding Theatricals Woman of the Year Jennifer Coolidge, center, rides in a parade in her honor.
Dressed up as a dolphin and forced to give someone a lightning-fast makeover, "The White Lotus" actress Jennifer Coolidge was roasted Saturday before being honored as the 2023 Woman of the Year by Harvard University's Hasty Pudding Theatricals.
As the oldest theatrical organization in the nation and one of the oldest in the world, since 1951, Hasty Pudding Theatricals has bestowed this award annually on women "who have made lasting and impressive contributions to the world of entertainment."
Coolidge, who saw a career resurgence following her Emmy-winning turn as Tanya McQuoid-Hunt in the acclaimed HBO series "The White Lotus," headlined a parade through the streets of Cambridge Saturday afternoon. Dressed in a leopard print coat and donning a fluffy pink hat, she waved to the crowd that had come out despite unusually frigid temperatures.
Article continues after advertisement
Coolidge, who also played Stifler's sultry mom in the film "American Pie" and sage manicurist Paulette in the "Legally Blonde" movies, grew up in the Boston area. Her other film credits include roles in "Best In Show," "A Mighty Wind" and "Shotgun Wedding," and she has appeared in multiple television shows, including "Seinfeld," "2 Broke Girls" and "Nip/Tuck."
"It's been very fun. I'm really having a blast," said Coolidge before she was presented with her Pudding Pot award. "I got to meet all these young students who are so much smarter than me."
Coolidge later got emotional, recalling how her late father who went to Harvard would have loved to have witnessed this moment.
"I've been so blown away that this experience is happening. I never saw it coming. It blows away any sort of movie or television show I have ever done," she said. "Seriously, my dad went here. I wish he was here. His brothers went here and everything so it's a big deal."
Producers roasted Coolidge with several zingers about her career, including at one point suggesting they wondered whether she was chosen only after Reese Witherspoon dropped out. They went on to poke fun at her lack of serious roles and noted how she left Boston for New York where she made a splash "as an incompetent cocktail waitress."
"Patrons raved at your unpredictable movement patterns and your quote haunting rendition of happy birthday," one of the producers, Sarah Mann, joked. Fellow producer Aidan Golub then noted how she waitressed with Sandra Bullock, "marking the first and last time that you would get the chance to work with an Oscar winner."
Coolidge was then made to judge a contest of four people doing impressions of her, choosing a man dressed in a pink dress who uttered the words from an iconic scene she did in "Legally Blonde." And after noting how Coolidge recently said her dream role was to play a dolphin, producers dressed her in a dolphin outfit and asked her to sing in the style of a dolphin.
She made a series of dolphin-like squeaks before shooting a water pistol at two people dressed as menacing sting rays — a scene similar to the one in second season of "White Lotus" where she guns down several people on a boat. "These rays are trying to murder me," she said.
Previous winners of the Woman of the Year Award include Meryl Streep, Viola Davis and Debbie Reynolds.
On Thursday, award-winning actor and bestselling author Bob Odenkirk was honored as the 2023 Man of the Year. Odenkirk, best known as shady lawyer Saul Goodman on "Breaking Bad" and "Better Call Saul," received his Pudding Pot award at the celebratory roast ahead of a preview of Hasty Pudding Theatricals' 174th production, "COSMIC RELIEF!"