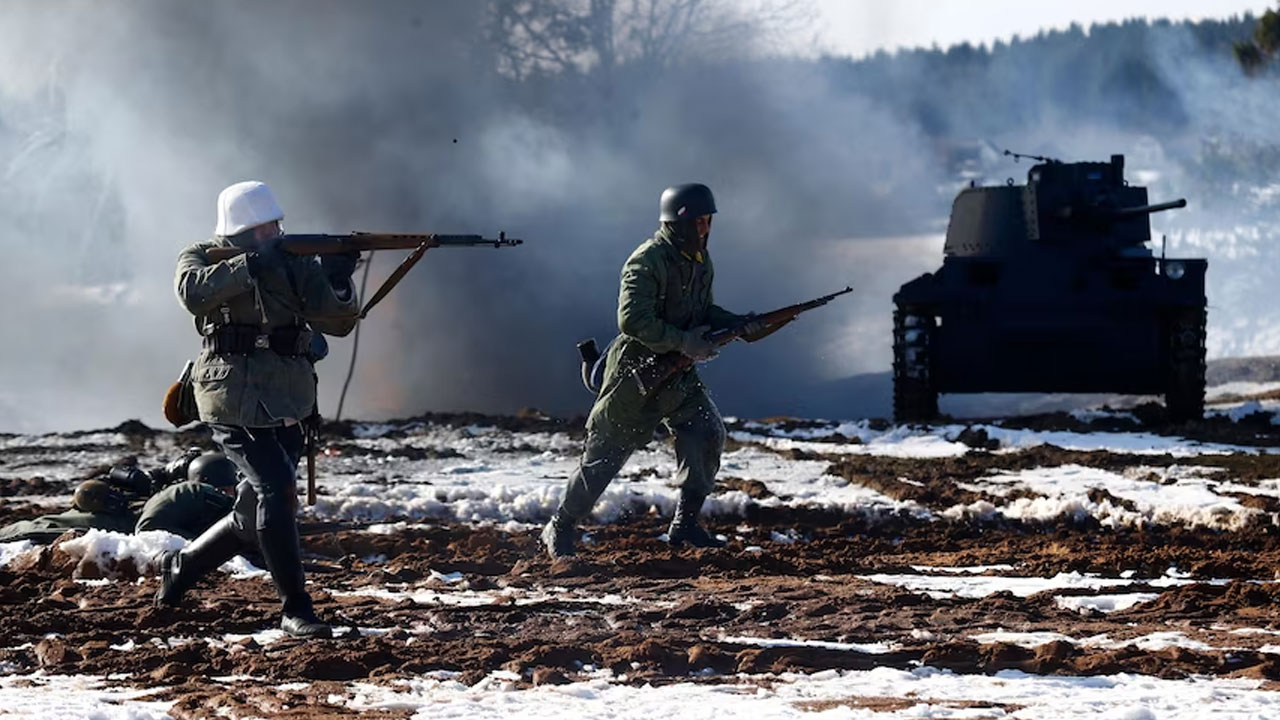 Military enthusiasts take part in a re-enactment of the World War II battle of Stalingrad. [Source: Australian Broadcasting Corporation]
Russian President Vladimir Putin has compared the Ukraine invasion to the fight against Nazi Germany in a speech to mark the 80th anniversary of the Soviet victory in the battle of Stalingrad, as he again repeated unfounded claims of Nazism.
In a fiery speech in Volgograd, known as Stalingrad until 1961, Mr Putin lambasted Germany for helping to arm Ukraine and said, not for the first time, that he was ready to draw on Russia's entire arsenal, which includes nuclear weapons.
"Unfortunately we see that the ideology of Nazism in its modern form and manifestation again directly threatens the security of our country," Mr Putin told an audience of army officers and members of local patriotic and youth groups.
Article continues after advertisement
"Again and again we have to repel the aggression of the collective West. It's incredible but it's a fact: we are again being threatened with German Leopard tanks with crosses on them."
Russian officials have been drawing parallels with the struggle against the Nazis ever since Russian forces entered Ukraine almost a year ago.
Ukraine — which was part of the Soviet Union and itself suffered devastation at the hands of Hitler's forces — rejects those parallels as spurious pretexts for a war of imperial conquest.
Stalingrad was the bloodiest battle of World War II, when the Soviet Red Army, at a cost of over 1 million casualties, broke the back of German invasion forces in 1942-3.
Mr Putin evoked what he said was the spirit of the defenders of Stalingrad to explain why he thought Russia would prevail in Ukraine, saying the World War II battle had become a symbol of "the indestructible nature of our people".
"Those who draw European countries, including Germany, into a new war with Russia, and … expect to win a victory over Russia on the battlefield, apparently don't understand that a modern war with Russia will be quite different for them.
"We don't send our tanks to their borders but we have the means to respond, and it won't end with the use of armoured vehicles, everyone must understand that."
Mr Putin also laid a wreath at the eternal flame of the memorial complex to the fallen Red Army soldiers, where he led a moment of silence for those who died in the battle.
Mr Putin's veiled threats came after the country's former president Dmitry Medvedev said Russia's arms suppliers would "significantly" increase their deliveries in 2023 to help its forces inflict a "crushing defeat" on Ukraine.
"Our armed forces regularly receive full supplies of various types of missiles. The delivery of all kinds of military hardware will increase significantly in 2023," Mr Medvedev, who is deputy chairman of the powerful Security Council, said in a post on social media.
Western capitals and military analysts have said Moscow could be running short of some military supplies, having pounded Ukraine with millions of artillery shells and thousands of missiles since it invaded last February.
Officials in Moscow deny those claims and say they have all the resources needed to execute what it still calls a special military operation in Ukraine.