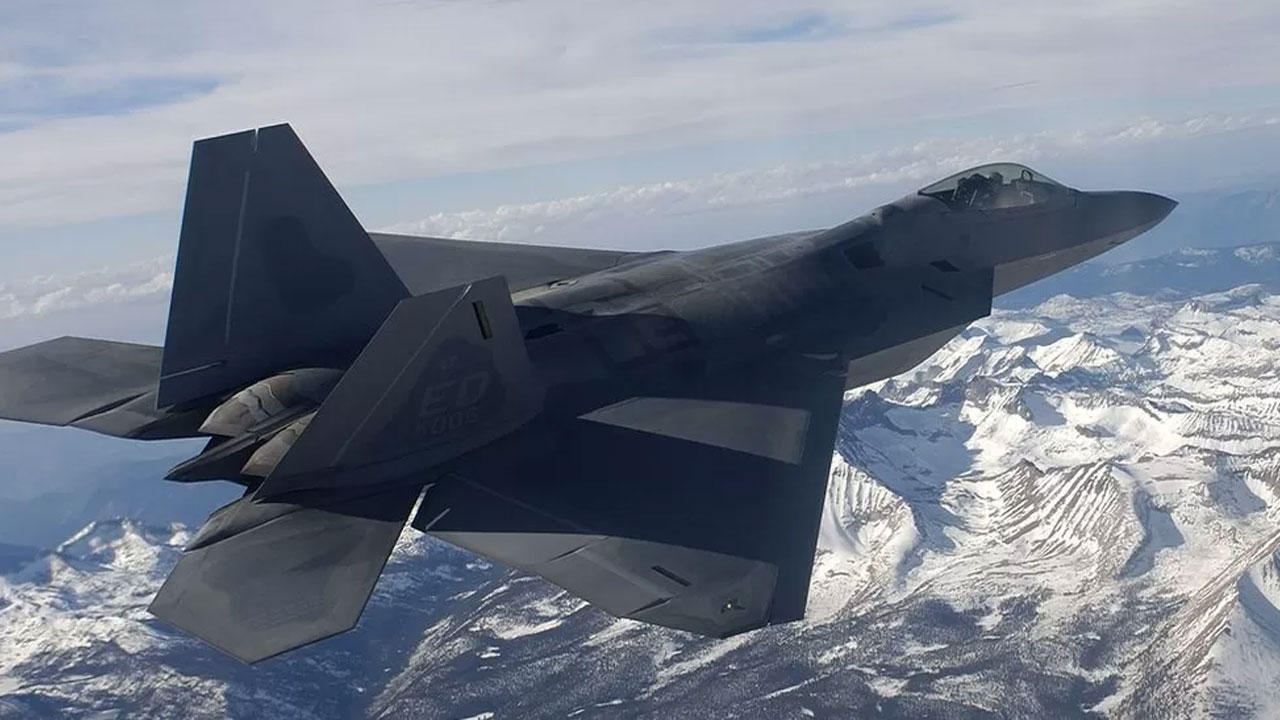 Canada said a US military aircraft F-22, seen here in an archive photograph, shot down the object.
The US believes that the flying objects shot down over North American airspace on Friday and Saturday were balloons, according to Senate Majority Leader Chuck Schumer.
Washington has been on high alert since its military destroyed a suspected Chinese spy balloon earlier this month.
While he didn't say specifically that the two latest objects were Chinese, Mr Schumer told ABC on Sunday that Beijing was likely using a "crew of balloons" that had "probably been all over the world".
Article continues after advertisement
Three objects have been shot down over North America in the past week.
Canadian Prime Minister Justin Trudeau confirmed that the latest object was shot down on Saturday over the Yukon in northwest Canada.
Both Canadian and US aircraft were scrambled to track the object, which Mr Trudeau said had "violated Canadian airspace". It was taken out by a US F-22 fighter jet.
Speaking on Sunday, Mr Trudeau said recovery teams were on the ground trying to find the object and that there was still "much to know".
Separately, on Friday, the American military shot down an object the size of a small car off Alaska.
It happened just under a week after the US destroyed a Chinese balloon over the Atlantic, on 4 February.
Mr Schumer implied that suspected surveillance balloons had been in operation for years and that Congress should examine why it took so long for the US to find out about them.
"The bottom line is, until a few months ago we didn't know of these balloons – our intelligence and our military didn't know," he said.
Mr Schumer, who said he had been briefed by national security adviser Jake Sullivan, said the two latest objects were smaller than the first balloon.
Asked whether China would have to shut down any surveillance programme using balloons, he said Beijing had been "humiliated".
"I think the Chinese were caught lying, and it's a real step back for them… they look really bad," he said.
"They're not just doing the United States, this is a crew of balloons… they've probably been all over the world," he added.
China has yet to respond to Mr Schumer's comments but has denied the first suspected surveillance balloon – which first entered US airspace on 28 January – was used for spying purposes, saying it was a weather device gone astray.
Referring to the efforts to take out the latest object on Saturday, the White House, which was in communication with Canada, said in a statement that the object had been tracked and monitored for 24 hours.
"Out of an abundance of caution and at the recommendation of their militaries, President Biden and Prime Minister Trudeau authorised it to be taken down," it said.
"The leaders discussed the importance of recovering the object in order to determine more details on its purpose or origin."
Giving more details on the mission to take down the object, the US Department of Defense confirmed two F-22 jets took off from a military base in Anchorage, Alaska and the object was shot down with an AIM 9X missile.
Meanwhile, continuing efforts to find and recover Friday's object near the Alaskan town of Deadhorse are being hampered by poor weather.
The US military said in a statement that "Arctic weather conditions, including wind chill, snow, and limited daylight, are a factor in this operation, and personnel will adjust recovery operations to maintain safety".
Last weekend, defence officials told US media that debris from the first Chinese balloon landed in 47ft (14m) of water – shallower than they had expected – near Myrtle Beach, South Carolina.
The US said the balloon was part of a fleet of surveillance balloons that had flown over five continents.
The balloon incident has strained US-China relations, with Secretary of State Antony Blinken cancelling a planned trip to Beijing.
Chinese officials have accused the US of "political manipulation and hype".
In an interview on Thursday, President Biden defended his handling of the situation, maintaining that the balloon was not "a major breach".