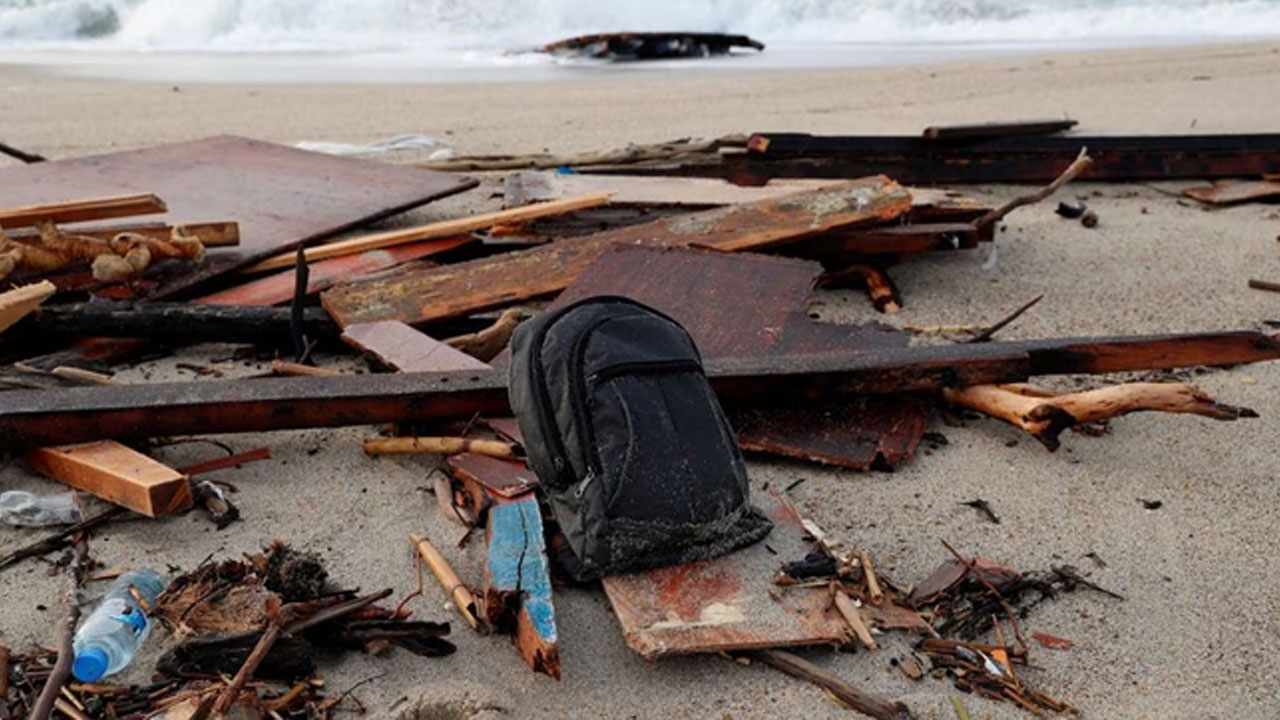 [Source: Reuters]
Rescuers recovered three more bodies on Monday.
A day after a wooden sailboat carrying migrants to Europe smashed onto rocks in stormy weather off southern Italy, bringing the death toll to 62, including at least 14 children.
Pakistan Prime Minister Shehbaz Sharif said more than two dozen Pakistanis were believed to have been among the vessel's passengers. Rescuers said many Afghanis and some Iranians had also been aboard the boat.
Article continues after advertisement
"We met a survivor who fled Afghanistan with his sister to escape the Taliban. She did not survive," said Sergio Di Dato, a project coordinator with charity Doctors Without Borders (MSF).
Many of the victims washed ashore close to where the vessel sank near Steccato di Cutro, a seaside resort on the eastern coast of Calabria, while some of the bodies were recovered from the sea, which has started to calm as blustery winds die down.
Dozens of coffins were laid out in a sports hall in the neighboring town of Crotone ahead of an eventual funeral, as local people left flowers and candles on metal railings outside to show their respect.
Local authorities said 80 people survived the disaster, but between 180 to 200 people were believed to have boarded the vessel when it left from Turkey, suggesting many more passengers may have perished or be missing.
The shipwreck has stoked a debate on migration in Europe and Italy, where the recently elected right-wing government's tough new laws for migrant rescue charities have drawn criticism from the United Nations and others.
"These tragedies are the result of the tragic collateral damages of Italian and European policies, protecting borders and reducing safe and regular passage to Europe," said Marco Bertotto, director of programmes for MSF in Italy.
Interior Minister Matteo Piantedosi has denied that the government is to blame for the loss of life, pointing the finger instead at human traffickers and the families that set off to sea.
"Desperation can never justify travelling in conditions that endanger the lives of their children," he told reporters.
Hundreds of thousands of migrants have reached Italy by boat over the past decade, fleeing conflict and poverty back home.
The United Nations Missing Migrants Project has registered more than 20,000 deaths and disappearances in the central Mediterranean since 2014, including more than 220 this year, making it the most dangerous migrant route in the world.
The vast majority of migrant boats set sail from North Africa, but increasing numbers have left from Turkey over the past two years, including some 16,000 in 2022 — 15% of all arrivals.
MSF's Bertotto said the increase could be caused by worsened travel conditions along the so-called Balkan migrant route as well as the relative ease with which people holding certain national passports have access to Turkey.
The boat that sank off Calabria departed from the western Turkish port of Izmir about four days ago and was spotted 74 km (46 miles) off the coast late on Saturday by a plane operated by European Union border agency Frontex.
An initial attempt to reach the vessel was thwarted by bad weather, police said. Interior Ministry Undersecretary Wanda Ferro dismissed accusations that the migrants could have been saved despite the rough seas as "boorish political propaganda".
One survivor was arrested on migrant trafficking charges on Sunday, but the Guardia di Finanza customs police said two more people were suspected of having aided the alleged smuggler.
Police in Crotone said they had received a lot of calls from people asking about missing loved ones.