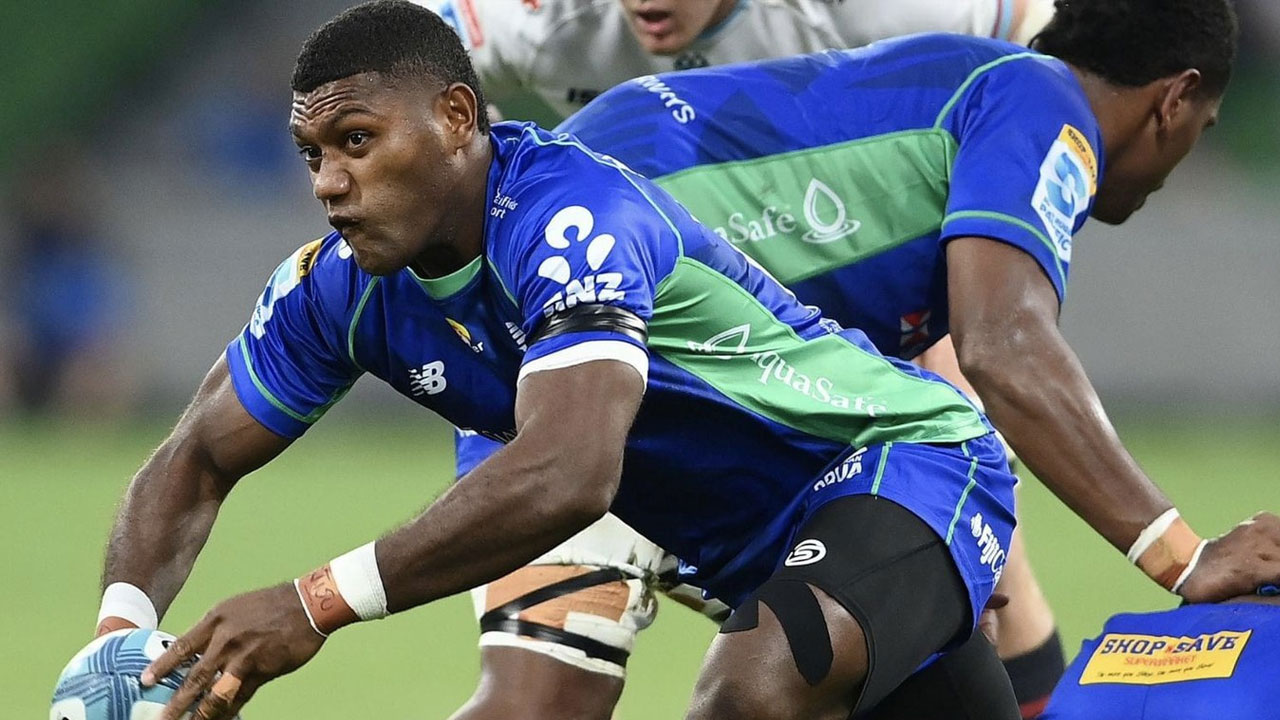 [Source: Supplied]
Waratahs fought off a strong Swire Shipping Fijian Drua side to win 46-17 at AAMI Park tonight.
The Drua with the support of a vocal Fijian side fought with a series of comebacks in the first half before a tough Tahs hung on to its strong attacking game.
The Drua kept its defence up until the 10th minute when Waratahs found a way over via a Dave Porecki try.
Article continues after advertisement
The Tahs won the conversion and led 7-0 before Caleb Muntz adds first points through a penalty kick in the 17th minute.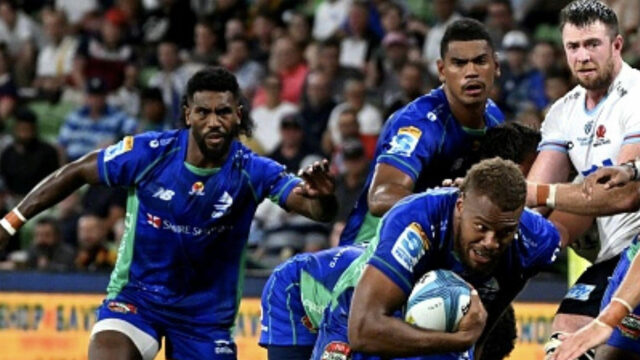 [Source: Supplied]
The Tahs remain camped in Drua's territory as the hosts looked for an escape route.
Drua prop Jone Tiko was yellow-carded for a non-arms chop tackle in the 19th minute as the match got intense.
The Waratahs again made a mistake in the 21st minute as Jed Holloway finds space down the short side but puts a foot in touch.
Muntz couldn't add his second as the kick faded away.
Fiji managed to add five points to the scoreboard as Joseva Tamani barges over the line Drua in the 31st minute from a strong team effort.
But the Waratahs did not want to end the first spell with a defeat as Tane Edmed levelled it up with a long-range penalty kick to lock them 10-all at half-time.
The Drua re-take the lead in the first minute of the second half as Ikanivere drove through Warratahs defence for a 17-10 lead.
In the 57th minute, Tahs' Ben Donaldson finished off a solid Michael Hooper carry to level the scores 17-all.
Langi Gleeson continues his impressive game as he reaches out to put the Waratahs in front of Waratahs 24-17 before Tane Edmed steps in for another try to put the Tahs 31-17.
More frustration in the Drua left them down to 14 men as Zuriel Togiatama was sent for ten for a cynical foul.
Waratahs followed up with two more tries in the 69th and 74th minute respectively.
Edmed put Max Jorgensen over for a try before Mark Nawaqanitawase showed strength to beat two Drua defenders and score for a 43-17 lead.
Donaldson added three more to complete the win for Waratahs at 46-17.
Captain Tevita Ikanivere says the team was doing well in the first 40 minutes but discipline had cost them the game.
"We came and started the way we wanted to, we brought it to them physically. Discipline let us down towards 50 minutes in, which caused us the game against the good side Waratahs, they took advantage of us when we were 13 men down."
The Drua will face Crusaders next at Churchil Park in Lautoka.