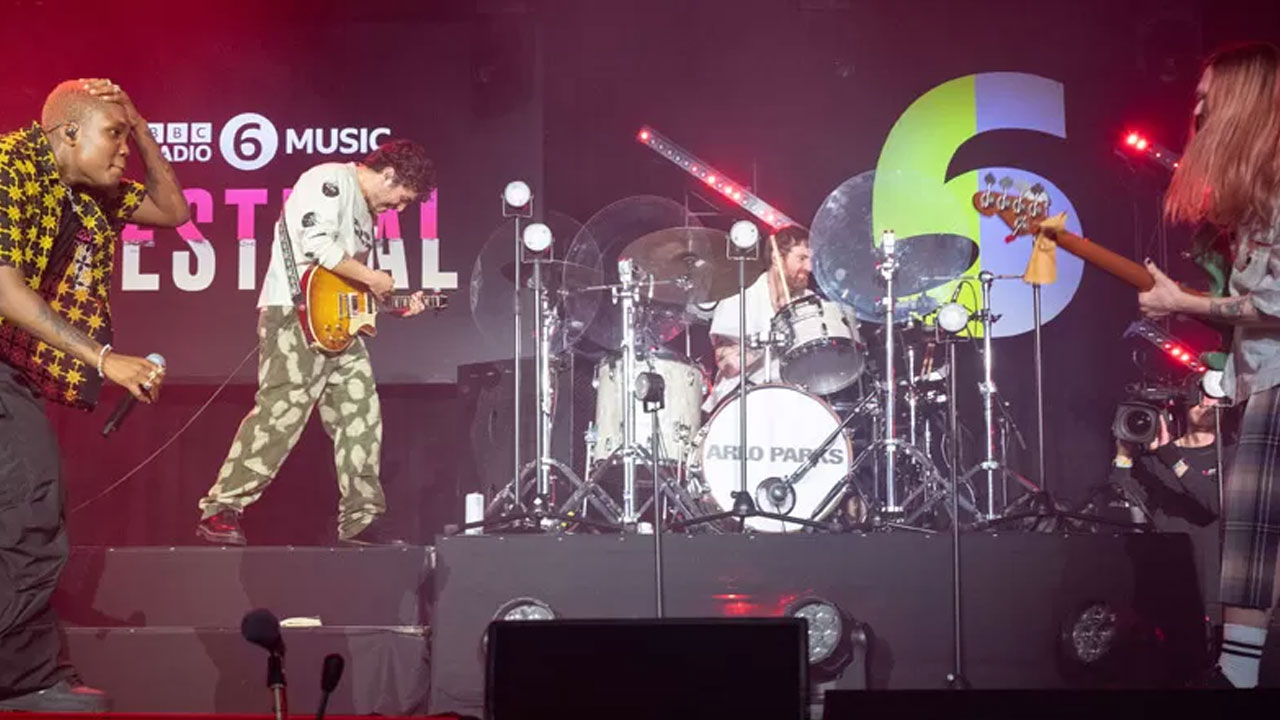 [Source: BBC]
Singer-songwriter Arlo Parks says she will show her love of rock bands like My Bloody Valentine and Fontaines DC on the follow-up to her tender and intimate award-winning debut album.
Parks played some tracks from the new record, titled My Soft Machine, as she closed the BBC 6 Music Festival.
She was also joined on stage by Fontaines DC drummer Tom Coll for her 2019 single Sophie, which was given a raucous climax; and by Romy Madley Croft from fellow Mercury winners The xx for a duet on 2020's Black Dog.
Article continues after advertisement
Parks is known for the languid soul-pop sound of Collapsed in Sunbeams, which earned her the prestigious Mercury Prize in 2021.
That LP may have had emotional power, but she told 6 Music's Matt Everitt she has also long been a fan of noisier music.
"It's always been the case, but it's never really shown itself in my music," said the London-born performer.
"One of my favourite bands is My Bloody Valentine, and I bring a few more of those moments into My Soft Machine."
She praised the acclaimed and famously deafening band for their "sense of absolute chaos, and you feel that your ears are falling off, but then there's this real delicate quality to the lyrics".
She added: "They're really sensual and vulnerable, but alongside this wall of sound."
Parks' future live shows will be "a lot more full-bodied" than earlier in her career, she promised, with the aim of creating "a wall of sound, whereas maybe before there was more of that sense of minimalism".
She added: "I think I'm bringing a lot more energy, to be honest. I think there's much less pensive moments. I think there's more energy and grit to it."
Parks was backed by a full band to headline the final night of the 6 Music Festival in Manchester on Sunday. Their sound was at times muscular – but still a long way from My Bloody Valentine's sonic onslaught.
Speaking beforehand, the singer also declared herself a "massive fan" of Ireland's Fontaines DC, whose third album Skinty Fia went to number one in the UK and earned them the Brit Award for best international group earlier this year.
"I wanted Tom to come and play drums on a song that I kind of adapted to have a bit more of a heavier feeling," Parks said of his guest appearance at Sunday's gig.
"I'm actually a massive fan of Deftones and I listen to a lot of noise music, and music with that kind of energy, and Skinty Fia really influenced my record."