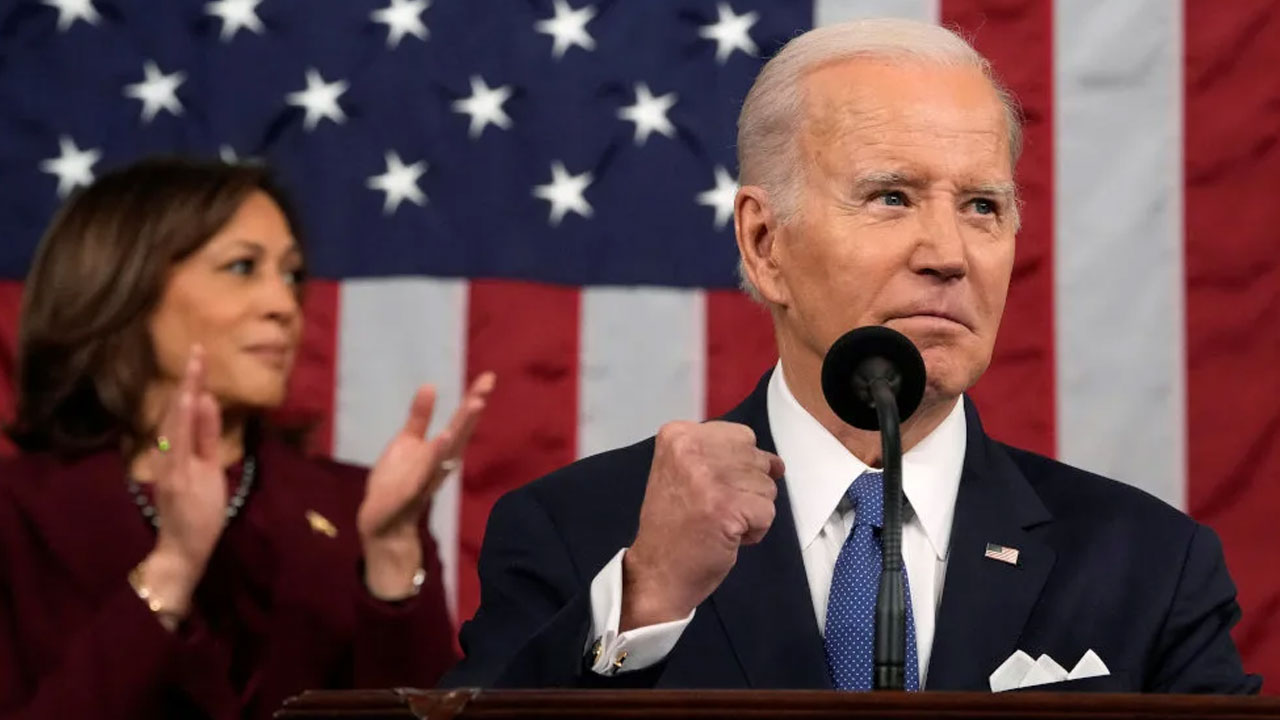 President Joe Biden challenged Republicans to lift the U.S. debt ceiling and support tax policies that were friendlier to middle-class Americans on Tuesday in a State of the Union speech that served as a blueprint for his 2024 re-election campaign.
Assailing oil companies for making high profits and corporate America for taking advantage of consumers, Biden used his prime time speech to outline progressive priorities of his Democratic Party that are anathema to many Republican lawmakers.
Making his first address to a joint session of Congress since Republicans took control of the House of Representatives in January, Biden pledged to work with opposition lawmakers even as he sparred with them in the chamber.
Article continues after advertisement
"To my Republican friends, if we could work together in the last Congress, there is no reason we can't work together and find consensus on important things in this Congress as well," he said.
Some Republicans heckled and jeered him at times during a speech that lasted some 73 minutes.
Biden took them on, challenging Republicans to raise the $31.4 trillion debt ceiling, which must be lifted in the coming months to avoid a default. The White House has said Biden will not negotiate over that necessity; Republicans want spending cuts in exchange for their support.
"Some of my Republican friends want to take the economy hostage – I get it – unless I agree to their economic plans. All of you at home should know what those plans are. Instead of making the wealthy pay their fair share, some Republicans … want Medicare and Social Security to sunset," he said, drawing boos.
He then urged lawmakers to stand up for senior citizens, which they did, prompting Biden to claim victory. "I enjoy conversion," he quipped, suggesting such cuts to the social safety net programs popular with voters were now off the table.
The back and forth underscored Biden's apparent comfort in Congress, where he engaged in debates as a U.S. senator for 36 years.
"Joe Biden sparring with the crowd and winning wasn't something I expected," said former Representative Adam Kinzinger, a Republican, on Twitter.
The president called for reforms in policing after Tyre Nichols, a Black man, died last month after being beaten by officers in Memphis, Tennessee. Nichols' mother and stepfather were among the guests at the speech.
Highlighting topics that could feature prominently in a re-election campaign, Biden said the economy was benefiting from 12 million new jobs, COVID-19 no longer controls American lives, and U.S. democracy remains intact despite facing its biggest threat since the Civil War.
"Today, though bruised, our democracy remains unbowed and unbroken," he said.
As a candidate in 2020 and at his inauguration in 2021, shortly after the Jan. 6 attack on the U.S. Capitol, Biden said he wanted to unify the country. And he stuck to that theme, highlighting a massive infrastructure bill and ribbing Republican lawmakers who opposed it.
"I want to thank my Republican friends who voted for the law," he said. "My Republican friends who voted against it … I still get asked to fund the projects in those districts as well, but don't worry, I promised I'd be a president for all Americans."