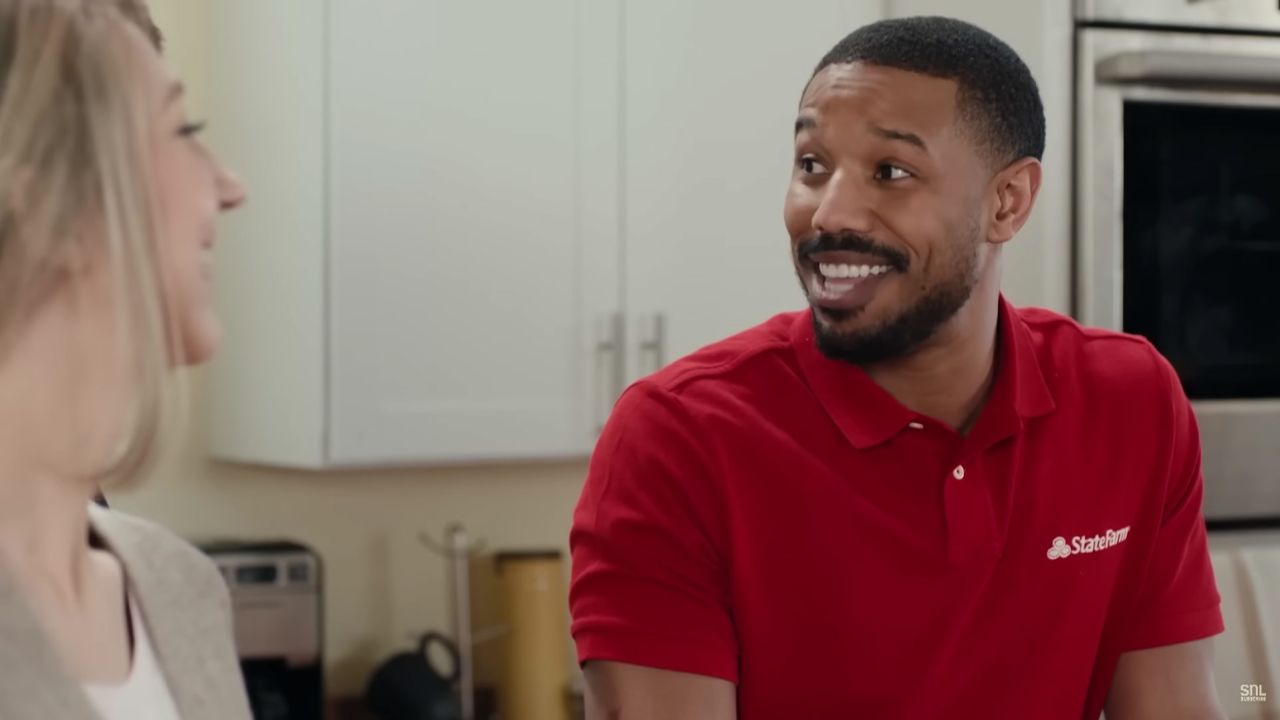 (From left) Heidi Gardner and Michael B. Jordan on 'Saturday Night Live.' [Source: CNN Entertainment]
Michael B. Jordan is giving full insurance coverage a whole new meaning.
The actor portrayed an interloping version of State Farm's popular spokesperson, Jake, in a hilarious sketch during his "Saturday Night Live" hosting debut on January 28.
In what began as an all too familiar State Farm commercial, the sketch featured Heidi Gardner and Mikey Day as a mother and father in need of help filing an insurance claim after their daughter clogged the toilet with stuffed animals.
Article continues after advertisement
Jordan then showed up as Jake from State Farm and, much to Day's plight, never left.
A thriller-esque montage depicted Jordan further ingratiating himself into Day's family, with things at home unravelling when Jordan caught Day as he looked up rates at insurance competitor Geico. Amid a fight with Gardner, Jordan later taunted Day by saying menacingly, "Save even more when you bundle home and auto."
In the end, a distressed Day was saved by the Liberty Insurance mascots – the LiMu Emu and Doug, played by Andrew Dismukes – while the catchy "Liberty Liberty Liberty" jingle closed out the sketch.
First-time "SNL" host Jordan also confirmed his relationship status after he mentioned going through his "very first public breakup" in his opening monologue, which featured various "SNL" cast members taking the stage to hit on the actor.
Jordan was seemingly referring to his relationship with Lori Harvey – the pair went public as a couple in January 2021 and reportedly broke up in June 2022.
The "Creed III" actor-director joked that while most people after a breakup try to "get in better shape," he was already in "'Creed' shape" so he decided to learn a new language instead.
Jordan then said, "Estoy en Raya," a reference to a popular dating app – thereby confirming that yes, indeed, Michael B. single.