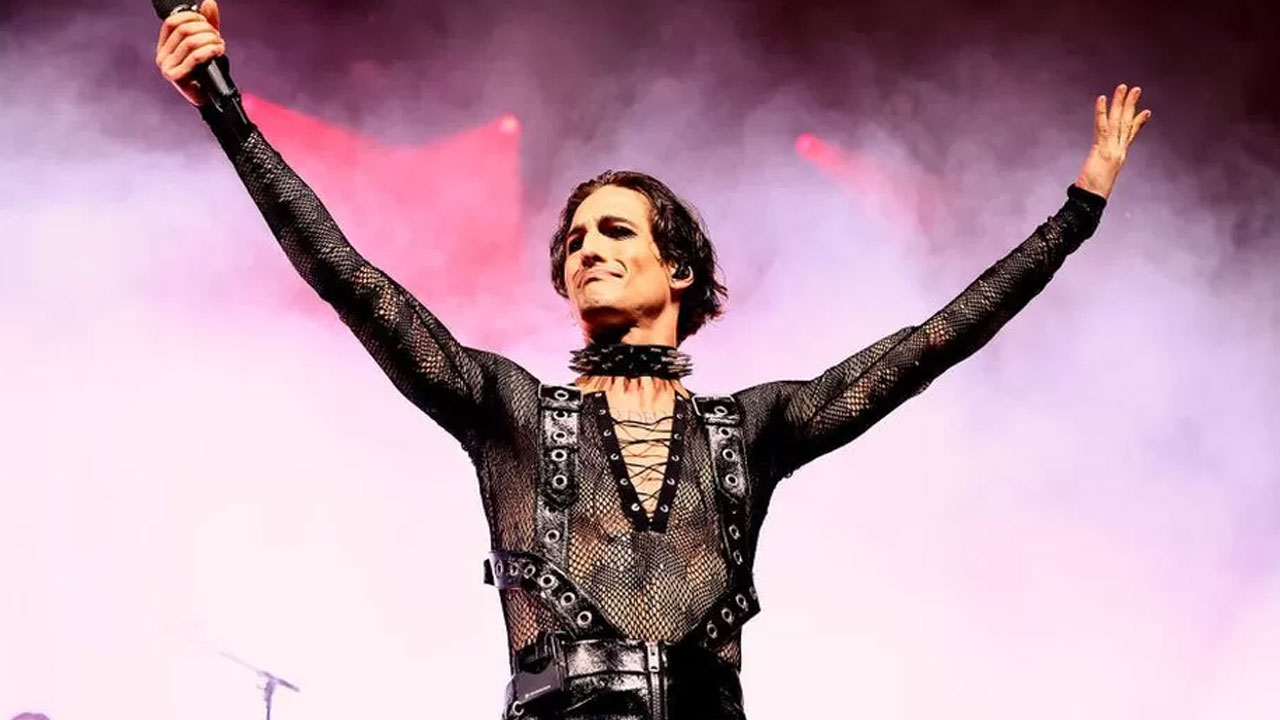 The band have been nominated for two awards at this year's Grammys. [Source: BBC Entertainment]
When Italian sleaze-rock band Måneskin won the Eurovision Song Contest in 2021, an image went around the world of frontman Damiano David spraying his bandmates with champagne.
He was later investigated, and cleared, of taking drugs during the live show – an incident that irritated the band, while solidifying their credentials as rock rebels.
The irony is that David has actually been teetotal for two years.
Article continues after advertisement
Guitarist Thomas Raggi once joked that his bandmate always goes to bed "at 11pm with his chamomile tea".
David tells the BBC: "I don't drink alcohol because I just don't like it."
But the charismatic frontman took a temporary break from sobriety when Måneskin made their new album, Rush.
They were recording a song called Kool Kids, "a huge middle finger" to their critics, whose lyrics drip with scornful sarcasm: "I am scum, real scum, but I'm good at this".
In his drunken state, the singer gained what can only be described as a London accent, turning him into an Italianate version of Johnny Rotten.
Kool Kids has been a highlight of the band's live shows in the run-up to the release of Rush, and contains what might be considered the Måneskin manifesto (Månefesto?)
Rush delivers on that promise. Whittled down from the 60 songs they've recorded since Eurovision, it spans multiple genres, from the glam slam stomp of Baby Said and the frenetic rap-rock of La Fine, to the genuinely touching ballad If Not For You.
On Gasoline, they take aim at Vladimir Putin's invasion of Ukraine, as David snarls: "The whole world is waiting for you to go down".
Then, on Bla Bla Bla, the singer taunts his critics with droll ennui: "You said I'm ugly and my band sucks/But I just got a billion streaming song/So kiss my bu-bu-bu-bu-bu-bu-butt."
With its host of expensive producers and co-writers – including Max Martin (Taylor Swift, Britney Spears), Savan Kotecha (Lizzo, Katy Perry) and Sarah Hudson (Dua Lipa, Camila Cabello) – Rush is an unashamed grasp for stadium rock status.
It's also the album that, ultimately, will decide Måneskin's fate.
After emerging as runners-up on Italian X Factor in 2017, Eurovision gave them a global platform – but by a strange twist of fate, their biggest hit wasn't their winning song, Zitti e buoni. Instead, it was a four-year-old cover of The Four Seasons' Beggin', which exploded on TikTok and gave the band a US top 10 hit.
The new material will test whether the fans who streamed that track are willing to stick around for their original material.
So far, the signs are good. The band have racked up more than 6.5 billion streams and received a best new artist nomination for next month's Grammys; while critics have given Rush a cautiously optimistic reception.
The NME called the album "an astonishing accomplishment" given the band's "whirlwind" success, Awarding it seven out of 10, Uncut said it "thrums with attitude" and Kerrang praised the band's "fiery eccentricity and youthful exuberance" (all four members are aged between 21 and 23).
But for all their ambition, the quartet have found success complicated and confounding.
Last year, they told the BBC they'd only slept in their own beds 10 times in 12 months; and David's new lyrics frequently reference the alienating effects of fame.
Supermodel is populated with superficial, cocaine-fuelled hangers on, and Gossip is a withering portrayal of LA as a "city of lies" where "you just see the surface".
On Timezone, the singer pines for his girlfriend while he's stranded on a tour bus, 7,000 miles away. Later, he confides in her: "If not for you, I wouldn't sing any more."
Among the band's highlights are recording with Iggy Pop and supporting the Rolling Stones on tour.
Like the Stones, Måneskin enjoy provoking their audience (or, more likely, their audience's parents). Their songs continually reference sex and submission, drug use and even erectile dysfunction.
He notes that fans respond to those songs differently, depending on where they play.
For all the outrageous outfits and sexually-charged lyrics, Maneskin are, at heart, a tight-knit gang of friends. There's a telepathic synchronicity on stage and a tangible intimacy to their interactions, that can only be rooted in deep, personal chemistry.