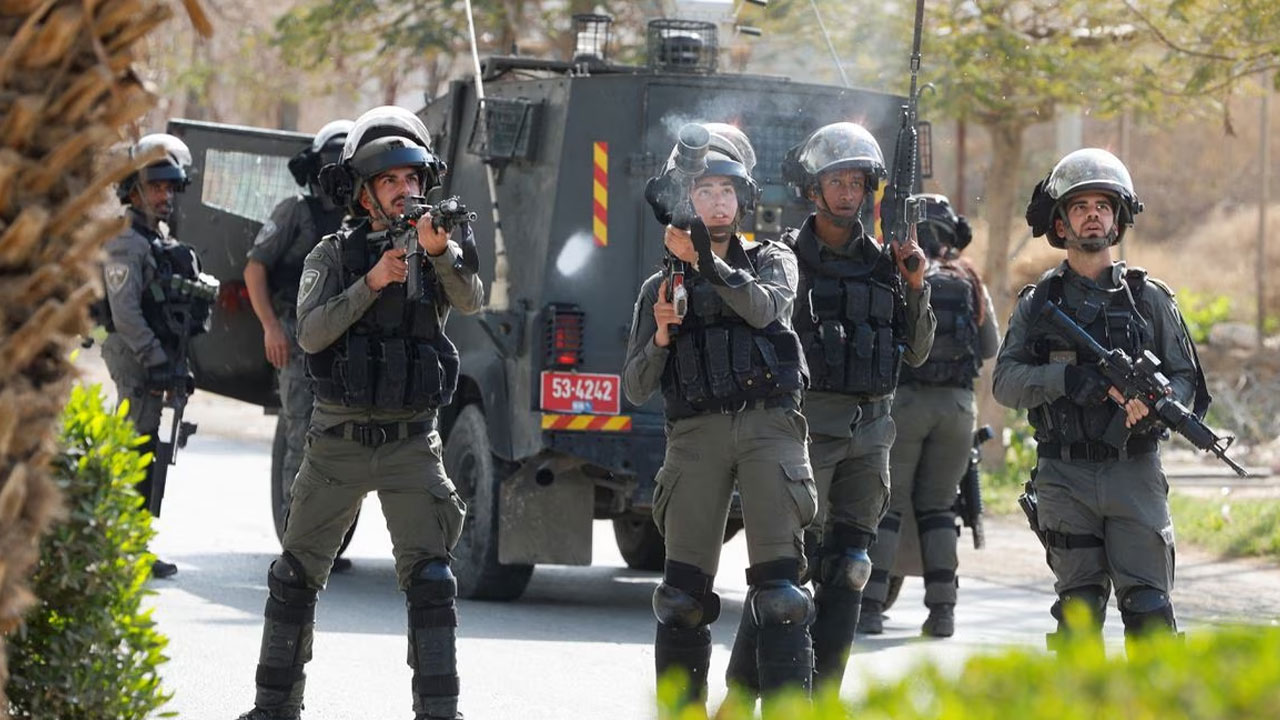 Israeli troops aim their weapons as they clash with Palestinians during a raid in Jericho in the Israeli-occupied West Bank, March 1, 2023. [Source: Reuters]
Israel's closest ally the United States demanded Prime Minister Benjamin Netanyahu repudiate a call by his hardline Finance Minister Bezalel Smotrich for a Palestinian village to be erased.
Further pressuring the Israeli leader were images unseen for years in Tel Aviv where police fired stun guns and scuffled with Israeli protesters on a main road during a national "day of disruption" over government plans to overhaul the judiciary.
The head of a pro-settler party in Netanyahu's nationalist-religious coalition, Smotrich made the comments at a conference on Wednesday amid a spate of deadly Palestinian attacks and Israeli settler violence in the occupied West Bank.
Article continues after advertisement
Asked about a weekend settler rampage through the Palestinian village of Huwara, which an Israeli general on Tuesday described as a "pogrom," Smotrich said: "I think that Huwara needs to be erased".
Smotrich added: "I think that the state of Israel needs to do it, but God forbid not individual people."
U.S. State Department spokesperson Ned Price called the comments "irresponsible," "repugnant" and "disgusting," telling reporters: "We call on Prime Minister Netanyahu and other senior Israeli officials to publicly and clearly reject and disavow these comments."
Palestinian leaders welcomed the State Department reaction.
The unusually forthright reaction from Washington underlined the increasing international alarm at the escalating violence in the West Bank, where three Israelis and a Palestinian were killed in two days of bloodshed earlier in the week.
Violence persisted on Wednesday. Israeli forces killed one Palestinian and arrested six in the West Bank.
Israeli police also arrested 10 people suspected of involvement in the settler rampage through Huwara on Sunday, launched after two Israeli brothers were shot by a suspected Palestinian gunman as they sat in their car.
One Palestinian was killed and scores were hurt as dozens of houses and cars were torched in what one Israeli commander described as a "pogrom". A day later, an Israeli American was shot dead in his car on a highway in the Jordan Valley.
As the man, Elan Ganeles, was being laid to rest, Israeli forces surrounded a house in the Aqabat Jabr refugee camp adjacent to the city of Jericho, and arrested six Palestinian men suspected of involvement in his killing, and killed another man during the operation.
Amid international alarm and calls for restraint, the Huwara rampage was condemned by Israeli politicians, including Netanyahu, who said people should not take the law into their own hands.
Smotrich's comments underlined the gulf between international calls for de-escalation and the instincts of major sections of Netanyahu's right-wing government who have called for tougher action against Palestinians.
After making the Huwara comments, Smotrich issued a statement saying the media had misinterpreted them, without retracting his call for the village to be erased.
With the Muslim holy month of Ramadan and Jewish Passover festival weeks away, foreign mediators have sought to tamp down tensions that have surged after a spate of deadly Palestinian street attacks and lethal Israeli military raids.
Earlier on Wednesday Major General Yehuda Fuchs, who commands the Israeli military in the area, said his forces had prepared for attempted settler retribution but had been surprised by the intensity of the violence, which he said was perpetrated by dozens of people.
A pogrom is a mob attack, often approved by authorities, against a religious, racial or national minority. The term is usually applied to attacks on Jews in the Russian Empire in the late 19th and early 20th centuries.
Netanyahu formed a government two months ago, promising his coalition partners to limit the Supreme Court's ability to strike down legislation or rule against the executive and to entrench Israeli control of the West Bank where Palestinians hope to establish an independent state.
The protests have been going on for weeks. The overhaul has yet to become law but it has already affected the shekel currency. Businesses and economists say the planned reforms could harm Israel as an investment destination.