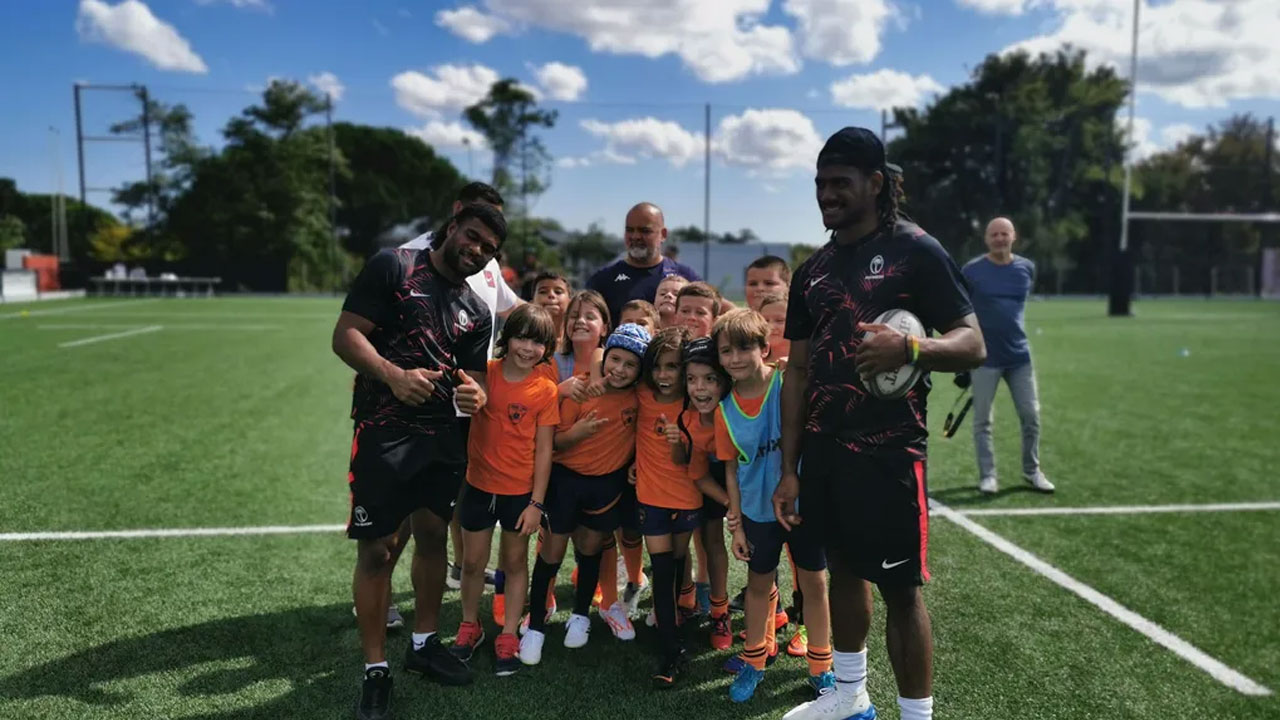 [Source: Rugby World Cup]
CA Lormont Rugby welcomed the Flying Fijians to a public training session with their Under-8, Under-10 and Under-12 teams on the club's recently installed synthetic pitch.
Players including Simione Kuruvoli, Selestino Ravutaumada, Iosefo Masi, Zuriel Togiatama and head coach Simon Raiwalui guided the youngsters through exercises, technical drills and mini games, in between signing autographs and posing for photos.
CA Lormont co-president Olivier Rouhet said it didn't take much convincing to bring the Fijians to the club.
Article continues after advertisement
He said: "This event was not imposed on Fiji, it was their wish to come and for our kids it's amazing. It's a great reward for them, they are all crazy about Fijian rugby."
Rugby that makes you dream
Jean Touzeau, the mayor of Lormont, described it as a moment of happiness for all.
"Lormont is a town that welcomes people from all over the planet, and for us it's important to welcome the Fijians who are so far away geographically, but so close in terms of what they represent and their outlook on life, " he said.
"The Fijians really carry the image of rugby that we love, which is to say rugby that makes you dream."
Coach Raiwalui said his team had recovered well from their historic win over Australia on the weekend and were feeling no shortage of French love in Lormont.
"We've got good support here in the French community and we're grateful to the ville de Lormont for hosting us. I think we're everyone's second-favourite team.
Back to grass roots
"It's always good to get back to the grass roots. Obviously this is the future for the game, getting these kids involved."
Fijian hooker Zuriel Togiatama said the session helped the players remember what they love about the sport.
"(It's about) just being able to enjoy it again with the younger generation. I'm well aware that these guys are the future of France and rugby over here, and it is important to pass the knowledge that I do have on to them," he said.
For young Maël, a CA Lormont Under-12 player, getting up close and personal with the Fijians was an experience the 11-year-old will never forget: "It was awesome. We are so lucky to be able to see the Fijians. First we played a 'baseball rugby' game, then we played a match of touch rugby.
"They are very strong. I wouldn't want to have to tackle one of them!"
Once the training session was over, Raiwalui led his charges on to the team bus and back to business ahead of their third match on 30 September in Bordeaux.
"We'll saddle up again tomorrow and start preparing for a really good Georgia team," he said.