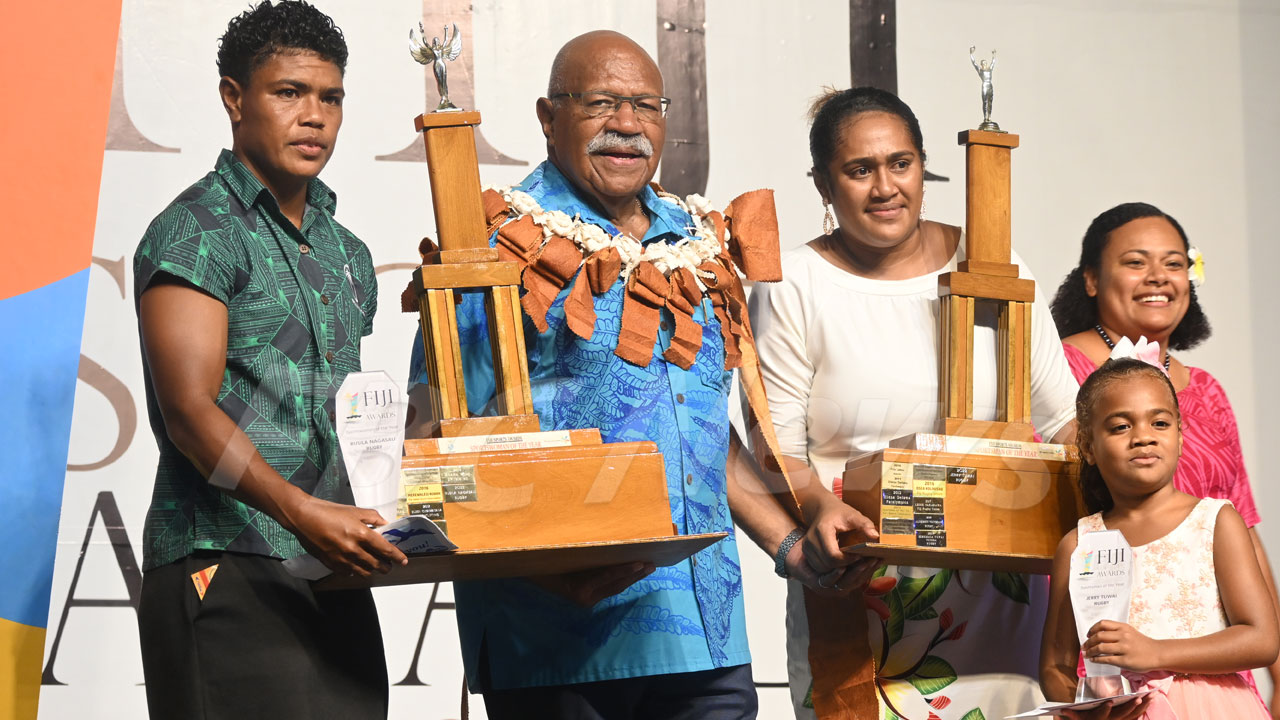 Rusila Nagasau (left) with the Prime Minister Sitiveni Rabuka and Mrs Tuwai who received the award on behalf of Jerry Tuwai
Seven out of the 11 Fiji Sports Awards last night went to the Fiji Rugby Union which also included the Sportsman and Sportswoman of the Year.
Double Olympic gold medalist Jerry Tuwai is Fiji's Sportsman for the second time in three years after winning it in 2020.
The Sportswoman award went to Rusila Nagasau who led her side to their historical Olympic bronze medal win at the 2020 Tokyo Olympics and silver at the 2022 Commonwealth Games.
Article continues after advertisement
Nagasau is also the first player in Fiji to play in two World Cups in the same year, in both the sevens and fifteens code last year, she was also Fiji's flag bearer at the Tokyo Olympics.
The men's 7s side won the Team of the Year award and former coach Gareth Baber the Coach of the Year.
FRU Development Officer Vela Naucukidi took out the Administrator of the Year.
The Fiji Rugby Union was also the Organization of the Year.
Technical Official of the Year went to FRU referee Tevita Rokovereni.
The Young Female and Male Athlete of the Year Awards was scooped up by weightlifter Maciu Valentine and gymnast Robyn Eastgate.
Sera Vugakoto of Basketball Fiji is the Volunteer of the Year while Sophie Ralulu took home the Photograph of the Year Award.