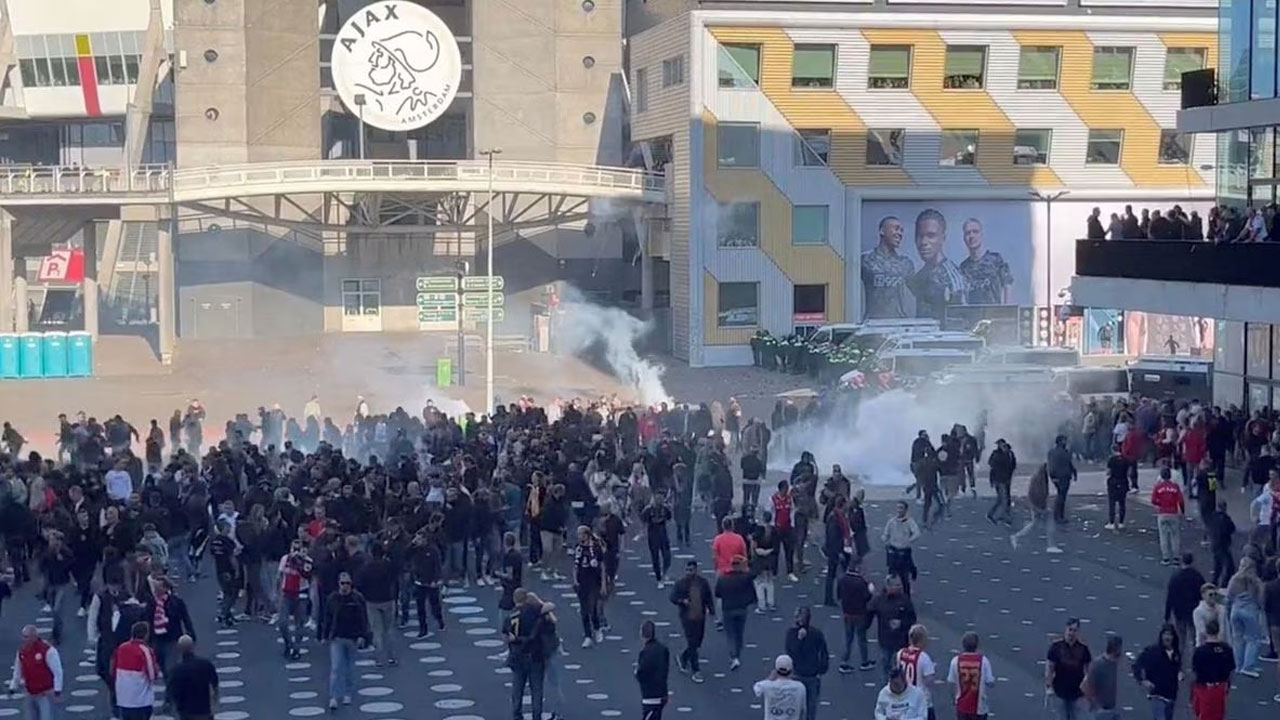 [Source: Reuters]
Ajax Amsterdam's home Eredivisie game against defending champions Feyenoord was abandoned on Sunday as fans threw flares onto the pitch, and mounted police used tear gas to disperse rioting fans outside the stadium.
A group of angry Ajax fans tried to force their way into the stadium after the game was halted leading the police to disperse them with tear gas, Amsterdam police wrote on social media platform X.
"After the stopped game supporters broke into the main (stadium) entrance. Order has since been restored," the police said.
Article continues after advertisement
"It is a jet black day, this makes it even worse," Ajax coach Maurice Steijn told broadcaster NOS.
Ajax were 3-0 down in the second half when the game was first suspended in the 56th minute.
Ajax, who have had a poor start to the season with just one win, sit 13th in the 18-team league and they conceded all three goals in the first half.
When flares were thrown onto the pitch for a second time, with many landing near the goal, the referee stopped the match and directed the players down the tunnel.
Fans paid no heed as the club displayed the message "Lighting of fireworks is prohibited" on the big screen at the Johan Cruyff Arena.
"De Klassieker has been permanently suspended after repeated fireworks on the field," Eredivisie said in a statement.
"More information on playing out this game will follow later."
Feyenoord manager Arne Slot said it was "especially annoying" that his side were not able to finish what had been a superb performance.
"In this way the chance for something very beautiful is taken away from us," he said on the club website.
"We understand the decision that has been taken, but we do not feel a sense of victory… And so we certainly won't get on the bus satisfied."
The Dutch football association (KNVB) told broadcaster NOS it hoped to make a decision regarding the match on Monday, but added it might take longer.
Slot said that no outcome would be ideal.
"The match will be played with or without an audience, or not and it will be a legal victory for us. Whatever the case, in all cases there is distortion of competition," Slot said.
"The question now is what the KNVB will do to keep this to a minimum."
Ajax finished third last season and failed to qualify for the Champions League for the first time in 13 seasons. They had finished champions seven times and runners-up another five over the previous 12 seasons.