Parliament
Don't become personal in parliament AG tells Niko
May 16, 2019 12:43 pm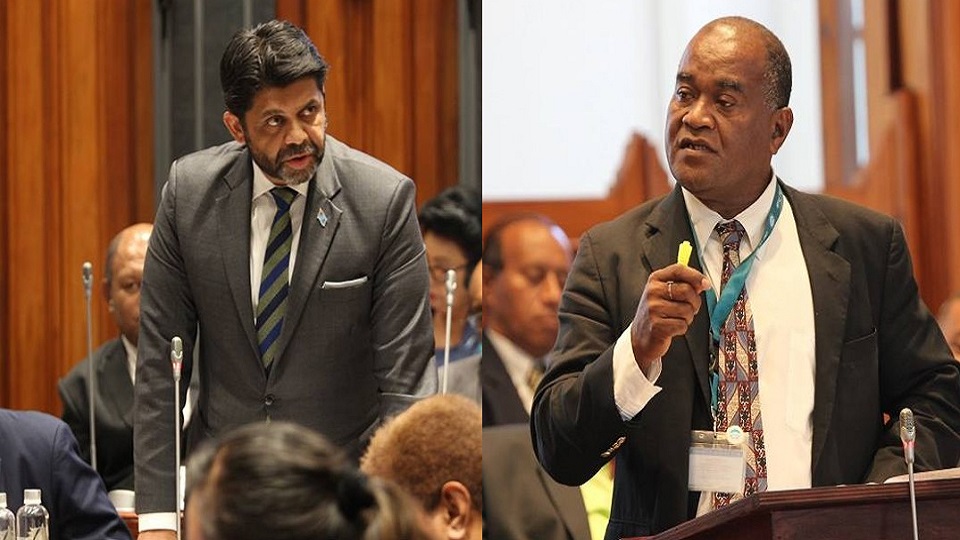 Aiyaz Sayed-Khaiyum and Opposition MP Niko Naiwaikula
The Public Enterprise Minister has lashed out at the Opposition to avoid becoming personal in Parliament and rely on the facts that are present.
Minister, Aiyaz Sayed-Khaiyum made these comments while addressing the Fiji Broadcasting Corporation's 2010-2015 annual reports.
Sayed-Khaiyum says Opposition MP Niko Naiwaikula has a personal beef with the FBC.
"I think a lot of these issues have risen on the targeting of FBC is because – I have to declare this and you all know this, let's talk about the elephant in the room, the CEO is my brother and I think this is where a lot of this coming from and I just wish that when we come to this sessions and debate that at least we need to look at facts, we need to look at what are the ground realities that are taking place in these organizations."
MP Naiwaikula claims the broadcasting house has no ethics.
Article continues after advertisement
"We all know that FBC is a bad institution, it has diverted from its role, it should be a media and it doesn't follow media ethics to propagate the government. It is very political and we are wasting our money – I pay tax and this is what it is used for."
The Minister setting the record straight.
"The standards of journalism is guided by the Media Industry Act and you have the right to lodge a complaint about any media organization that is not adhering to the standards set out in MIDA. I think Naiwaikula is very aggrieved with a recent story done by one of FBC journalist's Aliki Bia and that is what he said in the end and that is what the problem is."
The Minister says Opposition MP's need to put aside their personal agenda and focus on their roles in parliament.
Keep Connected With The Latest News, Weather, And Sports on Fiji's Best Radio stations.