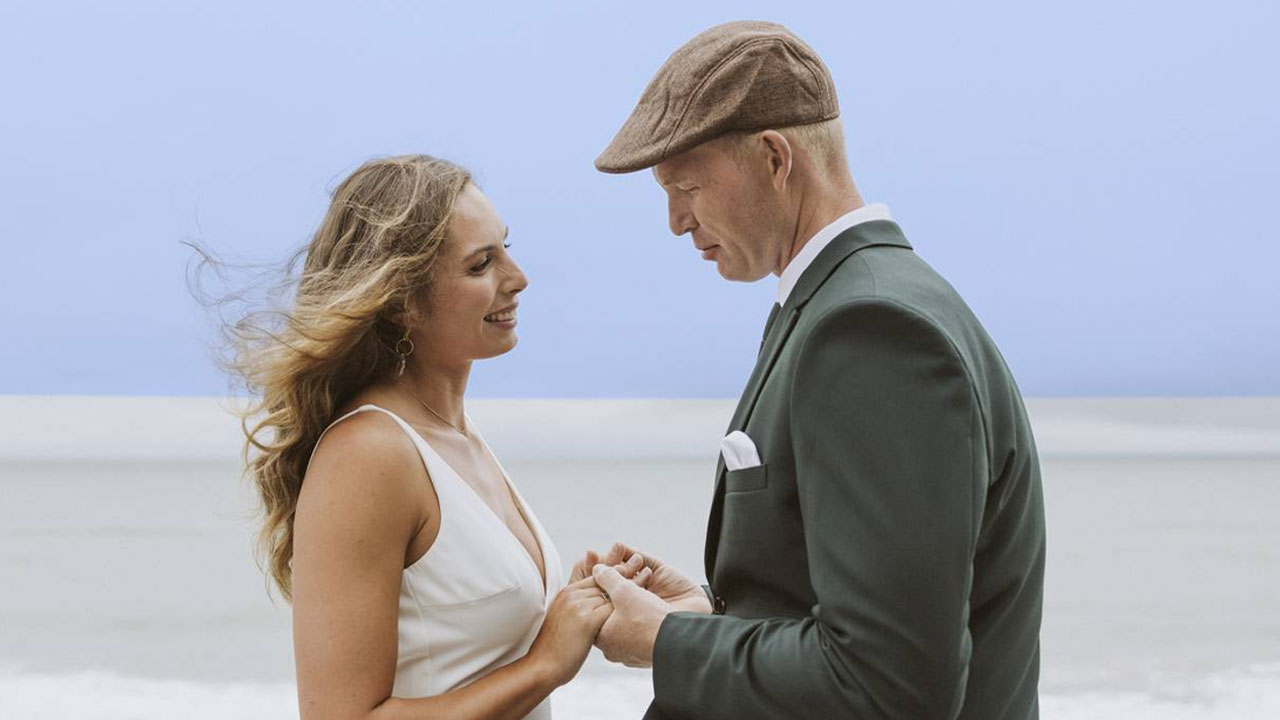 Hannah Osbourne and Anthony Allen tied the knot in Te Puke. [Source: NZ Herald]
As a rower, Hannah Osborne was never going to be fazed by a little water.
So as a light drizzle comes down on the morning of her wedding to longtime love and fellow athlete Anthony Allen, the Olympic silver medallist is completely nonplussed as she looks out at the hills of Te Puke's Old Forest School.
"A bit of rain never killed anyone," she says with a wide grin as she steps into her gorgeous bridal gown.
Article continues after advertisement
The couple's wedding has been eight years, one Olympic campaign and a whole lot of hard work in the making, and as she prepares to walk down the aisle, the bride is a picture of calm.
"I'm excited. I'm ready!"
It's a fairy-tale ending for the stunning sportswoman and her strapping beau, who first met at a rowing camp, "although I don't really remember that", laughs Hannah.
Their "official" meeting – well, the one Hannah recalls – was on social media while she was studying in the United States. Some cheeky banter followed, with Hannah eventually throwing caution to the wind and inviting Anthony to the US to visit.
"And that was that, really. Here we are!"
Anthony, 29, popped the question during a trip to the South Island in 2020.
"It was so special," recalls Hannah, 28. "The West Coast is amazing – it's like being on the set of Jurassic Park! Anthony had found a beach called Hannah's Clearing, which was so amazing.
"He drew me into a really big hug and then just kind of fell down onto one knee in front of me. As soon as I realised what was happening, I burst into tears. I never thought I would be that person who would cry, but it was such a big thing. I said 'yes', of course!"
The pair has been enjoying planning their laid-back outdoor wedding ever since, and as Hannah gets ready with the help of bridesmaids Adelle Stead, Colette Lucas Cornwell, Amy Mills and Kirstyn Goodger, plus her maid of honour, sister Ngaire, she says having a relaxed vibe for her and Anthony's special day was important.
"I grew up in the middle of nowhere, surrounded by hills, so I really wanted all of this around today," Hannah tells, gesturing toward the stunning scenery.
As the girls get her into her Made With Love Bridal gown, created from French crepe and featuring a low-cowl back, Hannah admits she never thought she'd like the frock until she tried it on.
"I thought I wanted something lacy, not something sexy," she laughs. "It's all about the curves, but hey, why not?!"
And now it's time to meet her groom before the vows. Tapping her soon-to-be-husband on the shoulder, Anthony turns around to see his bride for the first time and is overwhelmed with emotion.
"I was in awe of her," he later tells Woman's Day, smiling. "She was the most beautiful bride and the dress was absolutely stunning. It was very emotional!"
Hannah adds: "We definitely did the right thing in doing a 'first look' – the walk down the aisle is emotional enough without adding the fact you're seeing your husband or wife for the first time!"
Ducking a few pesky showers, it's finally time for the big moment.
The song Kusanagi by Odesza plays from the speakers surrounding Hannah and Anthony's gathered friends and family, and Hannah's bridesmaids slowly make their way up the aisle to join Anthony and groomsmen Lewis Hollows, Nick Renton and Josh Earl.
Then the bride is gliding down the aisle on the arm of her dad Kim, with Hannah surprised at how emotional she was. "I nearly burst into tears when I saw everyone," she confesses.
"So many people were already crying, so that just made me want to cry!
"But someone mouthed to me, 'It's going to be OK!' and I managed to pull it together. I'm used to pressure when it has to do with rowing and things like that, but this was so new and overwhelming!"
Joking, Anthony adds, "I was getting terrible 'hay fever' – my eyes were watering as she just looked so beautiful. Again, it was very emotional!"
Celebrant Samantha Tweedle welcomes guests with a light-hearted take on how the pair met and their journey so far.
"They've travelled the world together after each world championship event," she says.
"They've supported each other through the highs and lows of professional sports. They've bought a house together and gained an Irish setter called Pippa.
"Hannah, Anthony loves that you are well out of his league! You're beautiful, caring and supportive. Your smile lights up his world – your free spirit and your generosity with your love. He is both in awe and incredibly frustrated with the ease at which you pick up artistic endeavours as he still sucks …
"Anthony, Hannah loves how you make her feel. Your love feels unwavering. It makes her feel so safe. You can make her laugh no matter what mood she starts out in. She appreciates how well you know what she needs – a treat here and there, a cuddle, a walk with Pippa or a giggle."
Hannah's granny Margaret then delights everyone with her readings of Kahlil Gibran's poem On Marriage: "Love one another, but make not a bond of love. Let it rather be a moving sea between the shores of your souls. Fill each other's cup, but drink not from one cup … Sing and dance together, and be joyous, but let each one of you be alone, even as the strings of a lute are alone, though they quiver with the same music."
Fellow Olympic rower and How We Got Happy author Eve Macfarlane then reads passages from classic novel The Velveteen Rabbit, before Anthony and Hannah get down to business with their self-written vows.
"I promise as we walk through the journey of life, I will be by your side, holding your hand, making you feel you are never alone," says Anthony, choking up at one point but pulling himself back on track with a little humour.
"I promise to let you believe you have better music than me and I promise to always try to be on time. I promise to share every sunrise and sunset, knowing you are mine and I am yours."
Hannah, who wrote her vows just that morning, then says that loving Anthony is "the easiest thing".
She tells her groom: "Your love is something I had only dreamed about. Something magic allowed us to find each other. I am so proud to call you my husband and I love you beyond belief."
The pair are then pronounced husband and wife, sharing a kiss to cheers and applause, before walking back down the aisle to Odesza's Higher Ground.
A raucous reception follows, with the hilarious MC David Allen making Anthony the centre of every joke, followed by good food, flowing drinks and hours of dancing.
Hannah's homemade wedding favours, personalised pieces of pottery, are a highlight for guests, as are the delicious carrot and lemon wedding cake layers made by Anthony's mum Lyn.
"I think I danced for four hours nonstop," Hannah says, with Anthony adding that while it was the wedding of his dreams, his favourite part was still seeing his beautiful bride walk down the aisle.
"We're just so incredibly happy," he says. "It truly has been the most perfect day."