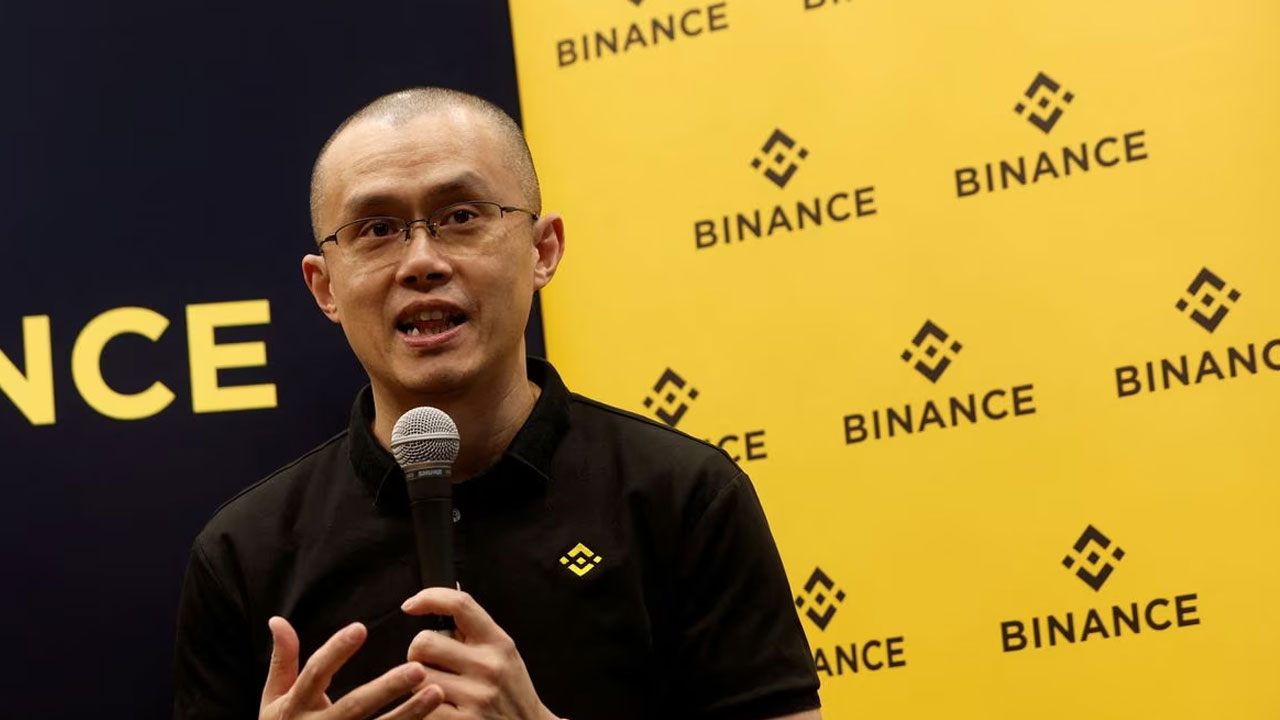 Zhao Changpeng, founder and chief executive officer of Binance attends the Viva Technology conference dedicated to innovation and startups at Porte de Versailles exhibition center in Paris, France.
Global cryptocurrency exchange Binance had secret access to a bank account belonging to its purportedly independent U.S. partner and transferred large sums of money from the account to a trading firm managed by Binance CEO Changpeng Zhao, banking records and company messages show.
Over the first three months of 2021, more than $400 million flowed from the Binance.US account at California-based Silvergate Bank to this trading firm, Merit Peak Ltd, according to records for the quarter, which were reviewed by Reuters. The Binance.US account was registered under the name of BAM Trading, the U.S. exchange's operating company, according to the records. Company messages show the transfers to Merit Peak began in late 2020.
Reuters couldn't determine the reason for the transfers or whether any of the money belonged to Binance.US customers. The exchange's public terms of use at the time said its customers' dollar deposits were held at Silvergate and a Nevada-based custodian firm called Prime Trust LLC. Prime Trust made $650 million in wire transfer deposits into the Binance.US account during the quarter, the bank records show.
Article continues after advertisement
A Binance.US spokesperson, Kimberly Soward, did not address Reuters' questions about the transfers detailed in the bank records. In a statement, she said Reuters' reporting used "outdated information" without elaborating further. She added: "Merit Peak is neither trading nor providing any kind of services on the Binance.US platform" and "only Binance.US employees have access" to the bank accounts of the U.S. company. Soward didn't specify when Merit Peak's activities ceased.
The Binance global exchange, Binance CEO Zhao and Prime Trust did not respond to detailed questions about the transfers. A Silvergate spokesperson said the bank does not comment on individual customers.
Binance.US's executives were concerned by the outflows because the transfers were taking place without their knowledge, according to messages reviewed by Reuters. The CEO of Binance.US at the time, Catherine Coley, wrote to a Binance finance executive in late 2020 asking for an explanation for the transfers, calling them "unexpected" and saying "no one mentioned them."
"Where are those funds coming from?" she wrote in one message.
In a response to Coley, seen by Reuters, the Binance executive, Susan Li, did not explain the transfers. Li wrote that Merit Peak was a "vendor that facilitated trading" on Binance.US and also provided loans and capital injections to the American exchange.
Coley, who left Binance.US later in 2021, didn't respond to questions sent via her legal representatives. Li also didn't respond.
Reuters was unable to trace what became of the $400 million. An unspecified portion of the money was subsequently sent to the Silvergate account of a Seychelles-incorporated firm called Key Vision Development Limited, according to a person with direct knowledge of the transfers. A 2021 corporate filing by another Binance unit identified CEO Zhao as a director of Key Vision. A former Silvergate executive confirmed that Key Vision held an account at Silvergate at the time.
Key Vision's local registered agent did not respond to requests for comment.
The money transfers suggest that the global Binance exchange, which is not licensed to operate in the United States, controlled the finances of Binance.US, despite maintaining that the American entity is entirely independent and operates as its "US partner." The Department of Justice and the Securities and Exchange Commission have sought information from Binance and Binance.US about their relationship as part of ongoing investigations into potential breaches of financial rules, including whether Binance is using the American exchange as cover for doing business in the U.S. The SEC and the Justice Department declined to comment for this article.
Reuters reported last year that Binance created Binance.US as a de facto subsidiary in 2019 in order to draw the scrutiny of U.S. regulators away from the global exchange. Binance.US's operator, California-based BAM Trading Services, is registered with the U.S. Treasury as a money services business, a category that includes foreign currency traders and money transmitters. BAM's beneficial owner is Zhao.
Binance.US's chief financial officer, Jasmine Lee, told the Wall Street Journal on Feb. 8 that "the extent of our relationship" with Binance.com is a shared name and a licensing agreement for technology. "We do not transfer our funds back and forth," Lee said.
Susan Li, the Binance finance executive, had access to the Binance.US Silvergate account, however, along with several senior Binance.US employees, according to the messages and the person with direct knowledge of the transfers. In one message, a Binance.US finance manager asked Li to give another Binance.US employee authority to approve payments from the account. A 2021 Binance.US document that described the American exchange's technology architecture identified Silvergate as a payment channel controlled at the time by Binance.com.
The Binance.US account records reviewed by Reuters detail each transaction between January and the end of March 2021. Reuters has not reviewed account records for other periods.
The transfers to Merit Peak took place on the bank's proprietary Silvergate Exchange Network (SEN), which Binance.US joined in November 2020 to serve its corporate clients. SEN allows these clients to transfer dollars between their accounts at the bank. Silvergate's investor prospectus says SEN transfers are "push only," which means they must be authorized by the account's controller.
The former Silvergate executive told Reuters the movement of funds from a company account without approval of that firm's management would be a breach of the bank's compliance rules. Silvergate's prospectus says "multiple steps are required to create, authorize and approve a SEN transfer." The Silvergate spokesperson didn't address the transfers in their response to Reuters.
Over the January-March 2021 quarter, the Binance.US account received $1.3 billion in SEN transfers from corporate clients trading on Binance.US, along with the $650 million in wire transfer deposits from Prime Trust.