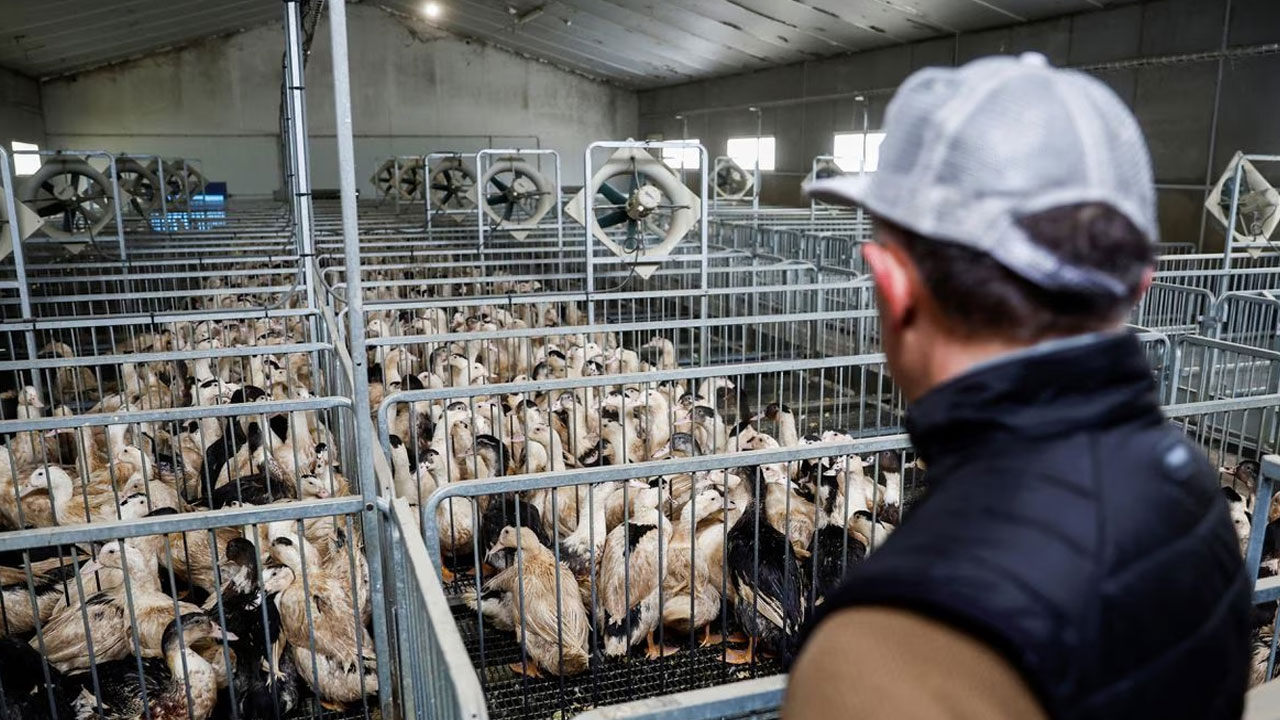 A French farmer looks at ducks in their enclosure at a poultry farm in Castelnau-Tursan, France, January 24, 2023. [Source: Reuters]
French duck farmer Herve Dupouy has culled his flock four times since 2015 to stop the spread of bird flu but as a wave of deadly outbreaks nears his farm once again, he says it's time to accept a solution once considered taboo: vaccination.
Like Dupouy, more and more governments around the world are reconsidering their opposition to vaccines as culling birds or locking them inside has failed to prevent bird flu from returning to decimate commercial flocks year after year.
Reuters spoke to senior officials in the world's largest poultry and egg producers, along with vaccine makers and poultry companies. They all said there had been a marked shift in the approach to vaccines globally due to the severity of this year's bird flu outbreak, though the biggest exporter of poultry meat, the United States, told Reuters it remains reluctant.
Article continues after advertisement
Besides the cost of culling millions of chickens, ducks, turkeys and geese there is also a growing fear among scientists and governments that if the virus becomes endemic, the chances of it mutating and spreading to humans will only increase.
Most of the world's biggest poultry producers have resisted vaccinations due to concerns they could mask the spread of bird flu and hit exports to countries that have banned vaccinated poultry on fears infected birds could slip through the net.
But since early last year, bird flu, or avian influenza, has ravaged farms around the world, leading to the deaths of more than 200 million birds because of the disease or mass culls, the World Organisation for Animal Health (WOAH) told Reuters.
The mass culls last year also sent the price of eggs skyrocketing, contributing to the global food crisis.
Mexico started emergency vaccinations last year while Ecuador said this month it planned to inoculate more than two million birds after the virus infected a 9-year-old girl.
France is on track to start vaccinating poultry in September, agriculture minister Fesneau told Reuters, before the return of migrating wild birds that can infect farms.
The EU, meanwhile, agreed last year to implement a vaccine strategy across its 27 member states.
Brussels has also normalised its poultry vaccination rules, which are due to come into force next month. They will ensure poultry products and day-old chicks can be traded freely within the bloc, a European Commission spokesperson told Reuters.
China, which consumes most of its poultry production domestically, has been vaccinating against avian influenza for nearly 20 years and has managed to sharply reduce outbreaks.
But the biggest producer of poultry meat in the world, the United States, is holding out for now.
The United States has been hit hardest worldwide in the latest outbreak with a toll of more than 58 million birds in the past year, followed by Canada, while France has suffered the most within the EU, WOAH data showed.
But the fear of trade restrictions remains centre stage for countries reluctant to vaccinate poultry against bird flu.
While vaccines can reduce death rates, some vaccinated birds could still contract the disease and transmit it, effectively masking the spread of the virus.
That's why some big buyers of poultry meat and live birds have banned imports from countries where vaccines are permitted, for fear of bringing in the virus as well.
Bird flu can also mutate rapidly and reduce the efficacy of vaccines while programmes are costly and time consuming, as shots often need to be administered individually. And even once birds have been vaccinated, flocks need to be monitored.
"The use of a vaccine at this time would have detrimental impacts on poultry trade while still necessitating response activities such as quarantine, depopulation, and surveillance testing," the U.S. Department of Agriculture (USDA) told Reuters.
Given trade restrictions on vaccinated poultry, bilateral negotiations would be needed to clear exports to those markets and avoid unfair competition, Philippe Gelin, chief executive of France's LDC (LOUP.PA), one of Europe's largest poultry firms.
French minister Fesneau told Reuters that Paris was negotiating with its non-EU trade partners to allow exports of vaccinated poultry while there were also bilateral talks at the EU level with countries outside the bloc.