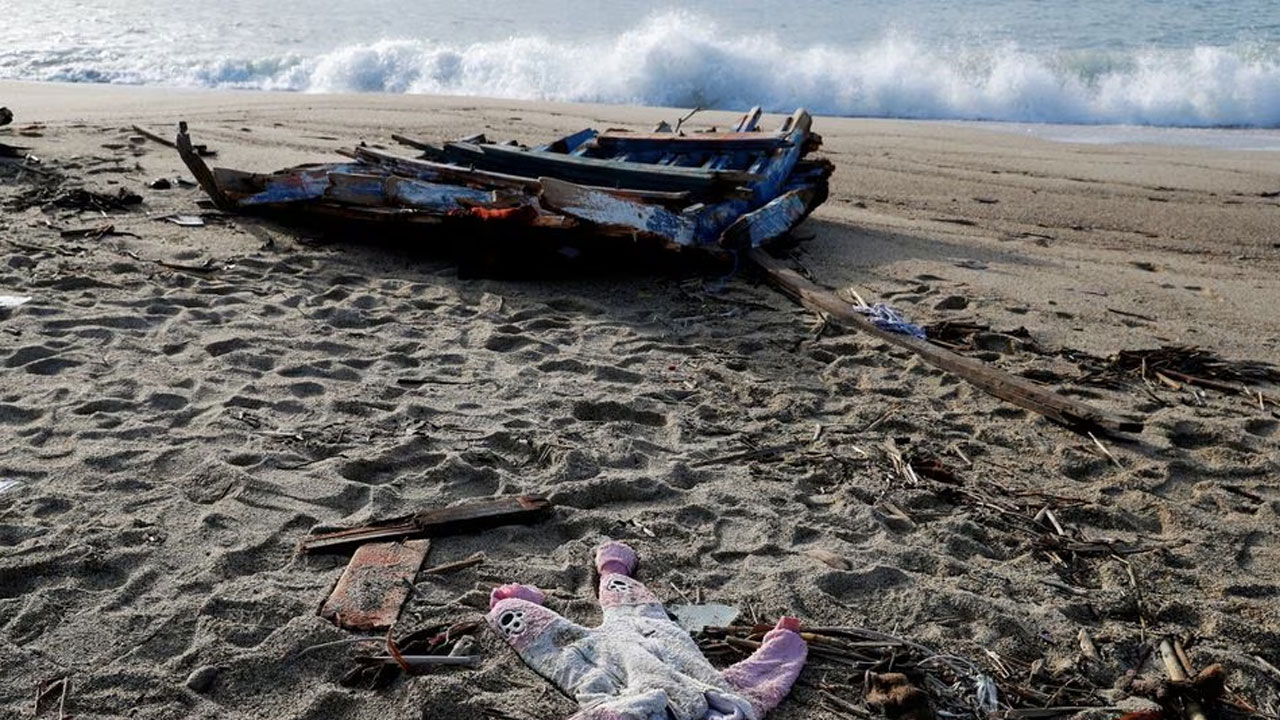 A piece of the boat and a piece of clothing from the deadly migrant shipwreck [Source: Reuters]
Italian authorities arrested three people and were looking for a fourth suspect who they believe trafficked up to 200 migrants aboard a wooden boat that smashed apart on rocks off southern Italy, killing at least 65 people.
The coffins of the victims found were laid out in an indoor sports arena in the southern city of Crotone, with small white caskets for the youngest of them and brown wooden ones for the others.
All had flowers on top, and some had engraved name tags. A toy police rescue vehicle had been placed on one of the children's coffins.
Article continues after advertisement
Relatives of the victims arrived in Crotone from northern Europe to mourn the dead and try to trace survivors. Rescuers said most of the migrants came from Afghanistan, with others from Pakistan, Iran, Somalia and Syria.
Afghanistan's Taliban-led foreign ministry said on Tuesday that 80 Afghan citizens, including children, had died in the shipwreck.
However, the local Italian provincial government office put the toll at 65, including a man aged around 30 found on Tuesday, and 14 minors. It said 25 Afghan victims had been identified. Other identified victims included a Palestinian, a Syrian and a Pakistani citizen.
Pakistan's foreign office spokesperson said instead in a statement that two Pakistani citizens were confirmed dead. One person originally thought missing had been found, taking the total number of Pakistani survivors to 17.
Lieutenant Colonel Alberto Lippolis said a Turkish man and two Pakistani nationals had sailed the boat from Turkey to Italy despite the terrible weather, and were identified by survivors as "the main culprits of the tragedy".
"According to initial investigations, they allegedly asked the migrants for about 8,000 euros ($8,485) each for the deadly journey," said Lippolis, commander of a finance police team in the region of Calabria. "All three have been arrested."
One of the Pakistanis was a minor, a judicial source said, and police were looking for a fourth suspect, who is Turkish.
The boat hit rocks and broke up early on Sunday in heavy seas near the town of Steccato di Cutro on the toe of Italy.
Rescuers pulled a dead man from the sea on Tuesday, bringing the number of bodies retrieved to 64, including 14 children. There were 80 survivors, who said the boat had been carrying between 150 to 200 migrants.
"We will carry on searching … the sea until we are certain that we have found everyone," said Rocco Mortato, a member of the underwater diving team of the fire brigade.
The boat had set sail from the port of Izmir in western Turkey towards the end of last week.