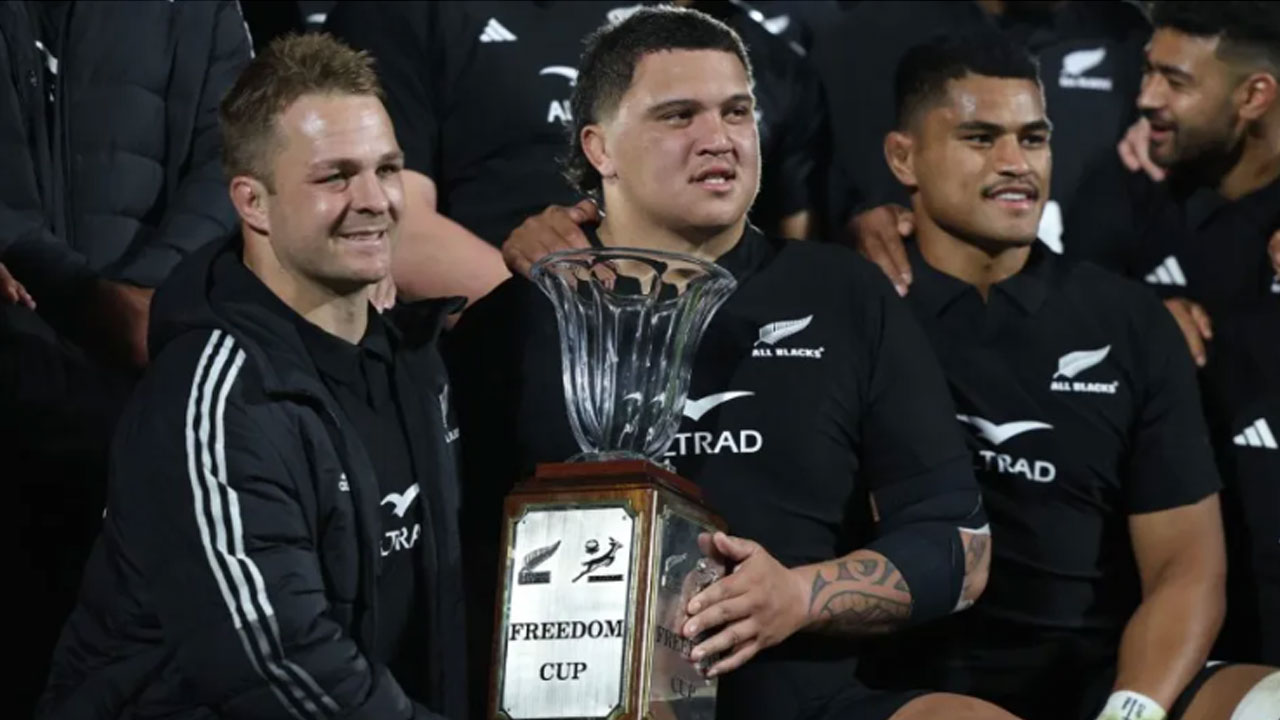 Tamaiti Williams and Sam Cane pose with the Freedom Cup after the All Blacks win [Source: Rugby Pass]
In what is a must-win match for the team, the All Blacks will name a Rugby World Cup debutant to feature in the front row against Italy.
Tamaiti Williams debuted for the All Blacks during the Rugby Championship this year and currently boasts just three Tests of experience in an All Blacks jersey, with two appearances off the bench and one underwhelming start.
With the absence of the suspended Ethan de Groot, Williams and veteran Ofa Tu'ungafasi are the two loosehead props available for front row duties in round four.
Article continues after advertisement
Clocking in at 140kg, the former No 8 brings a considerable upside to the squad with monumental physicality and silky distribution skills in tight.
"He's been training incredibly well," forwards coach Jason Ryan said in Lyon. "He's ready.
"He's been putting the work in off the grass as well as on it. He's been learning a lot from the experienced props.
"With (Ethan de Groot) obviously being out it's no secret he's going to get a crack, isn't it? It's just what the mix will be. I'm looking forward to him putting into place what he's been working hard at at training."
While under the mentorship of the older team members, Williams has made his presence felt in the heated training sessions during the bye week.
Players and coaches reported a bit of "push and shove" in an intense training session as the forward pack looks to respond to problematic performances against the brutal packs of South Africa and France.
"There's good niggle and over-the-top niggle and I think we've had a bit of both at times," hooker Codie Taylor said.
"Old mate next to me (Williams) got stuck into it a little bit himself. I suppose that's a good sign, you've got a young, first-year All Black that's willing to put his hand up and get stuck in. He's not afraid of it, that's a good sign in itself I think."
Sitting second in Pool A after losing their first-ever pool game against the tournament hosts in Paris, the All Blacks face elimination if they are to fall to the Italian side.
Having won every pool match up at a Rugby World Cup up until 2023, New Zealand have never failed to make the knockout stages and only once failed to make it beyond the quarter-final.
Tasked with ensuring the team only adds to their famous record, the pressure on young Williams' shoulders is immense.
That doesn't appear to phase him though, as the Super Rugby champion enjoys living out his dream.
"We had a good week last week in Bordeaux, connected really well, trained really hard so I'm just happy to be in a Test week," Williams said.
"It's been fun, eating some of the food and exploring around but it's time to got to work now and we're here for a reason.
"Like I said, it's a dream to play for the All Blacks but to play at a World Cup is another dream."