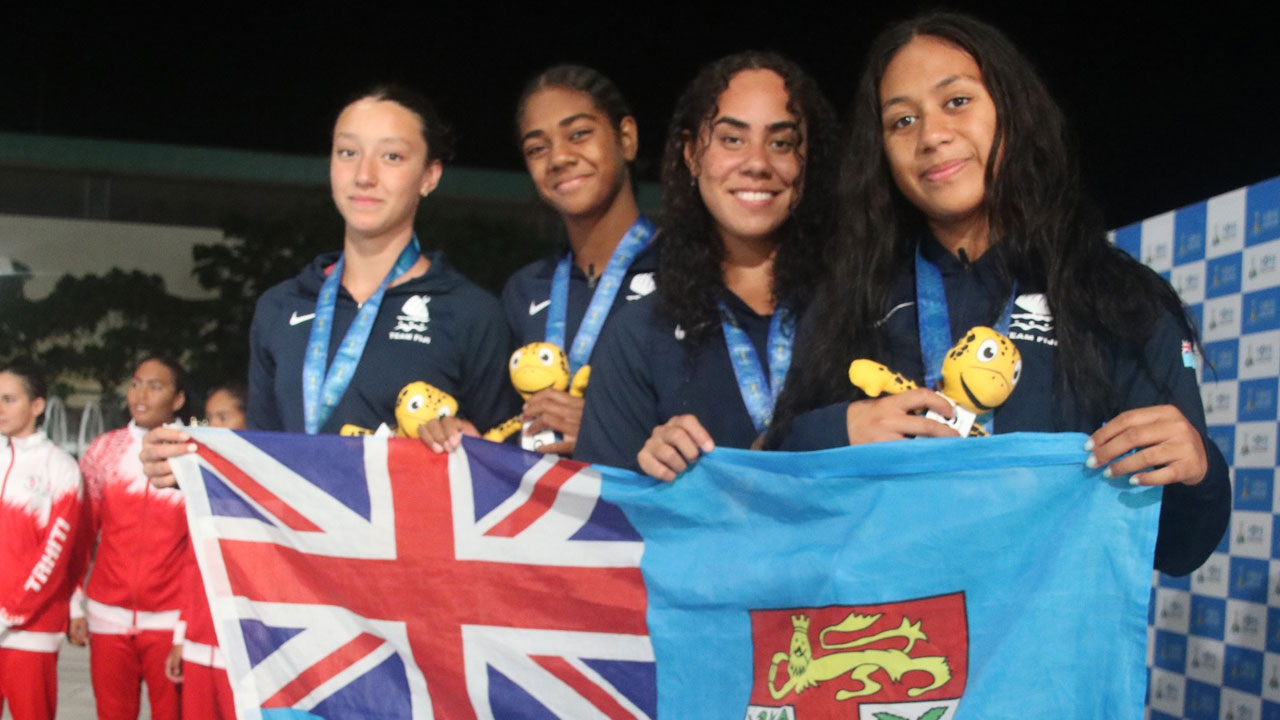 The women's 4x100 meters freestyle relay team after winning bronze [Source: Team Fiji/Facebook]
Fiji is now on the officially medal tally of the Pacific Games in the Solomon Islands after day one of competition.
This is after our swimmers won a silver and bronze last night.
Kelera Mudunasoko won the first medal for Team Fiji at the Games.
Article continues after advertisement
Mudunasoko settled for silver in the women's 200 meters breaststroke in Honiara.
The Levuka villager from Lakeba in Lau with maternal links to Volivoli in Nadroga had a strong 150 meters and kept up with the pace in the last 50.
Mudunasoko clocked 2:46:09 secs in the heats and improved her time in the final to 2:41:98 secs.
The year 10 student of Swami Vivekananda College in Nadi says she wasn't expecting a medal.
'I'm really proud of myself and honoured to represent Fiji and really greatful, you know I have my expectations but my main goal was to have a personal best in my event, this is like a bonus, I'm still really grateful and happy."
Our women 4×100 meters freestyle relay team won bronze this time compared to the gold they took out in Samoa four years ago.
One of the survivors from the 2019 team was Rosemary Rova who swam again last night with three Pacific Games first timers.
One of them is Marseleima Moss who says it's a memorable moment for her.
'It's a very special medal being my first ever Games definitely sometimes I wasn't expecting but yeah I'm very happy with the results, I'm very happy with the girls they perform really well tonight yeah I'm stoked that we came away with a medal."
The other two swimmers are Anahira McCutcheon and Matelita Naisara.
They finished third in 4:10.74 secs.
New Caledonia won gold and Tahiti picked up silver.
More pacific games:
Click Here for more on Pacific Games