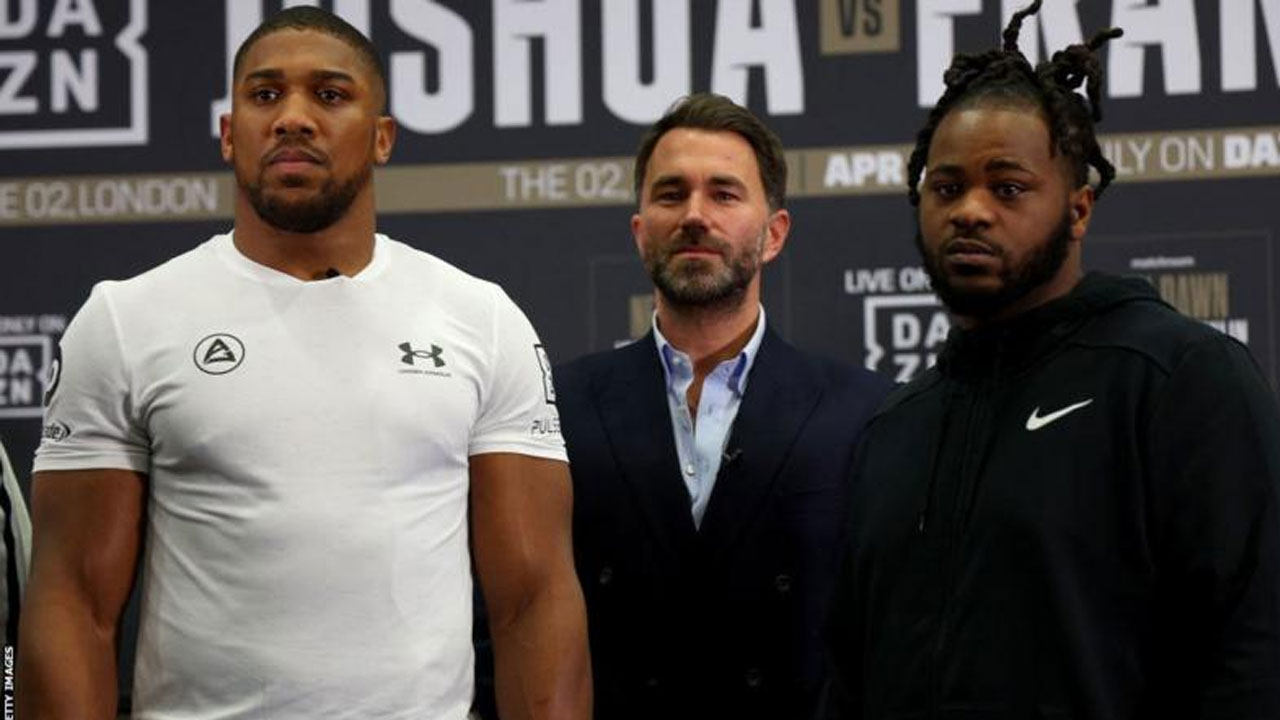 Anthony Joshua's last win was in 2020 against Kubrat Pulev - two defeats by Oleksandr Usyk have followed since [Source: BBC]
Heavyweight Anthony Joshua says he has put his heart back in boxing as he prepares to face Jermaine Franklin at the O2 Arena in London on 1 April.
The Briton, 33, looks for his first win since 2020 after successive defeats by unified champion Oleksandr Usyk.
Joshua said he was more serious than ever before about his boxing career.
Article continues after advertisement
"I've always tried to make an empire but I made a conscious decision last year to put my heart into boxing and nothing else," he said.
"Throughout my career, this is probably the most serious time I've taken it."
Joshua was joined by his new coach Derrick James, with both men flying from Texas to London to attend the news conference.
The two-time heavyweight world champion fights at the O2 Arena for the first time since 2016, and the first time in eight years he will not be fighting for a world title.
Since his last bout at the O2, where he has fought seven times, Joshua has had the majority of his bouts at major outdoor stadiums.
American Franklin, 29, is the clear underdog, just as he was when he lost to Dillian Whyte on points last December.
But two demoralising defeats by Usyk have left Joshua at a crossroads in his career.
"Everything I've been through – positive, negative – I'm using it to fuel my camp now," he said.
Franklin is an opponent many think beneath Joshua – but has been drafted in with the intention of boosting the Briton's confidence.
Joshua won his first world title at the O2 Arena in 2016. Seven years and 11 world championship fights later, he returns a changed man.
The aura of the ferocious finisher has slowly been eroded in defeats by Andy Ruiz and Oleksandr Usyk.
Joshua needs a win. Promoter Eddie Hearn described April's contest as "perhaps the most important chapter so far" for his star man.
The Watford fighter stopped short of promising fireworks and cut a sullen figure until he was called upon by Hearn to speak.
Asked about his motivations he said, "money, money, money", but also said he had rid himself of "distractions" in the past year and was feeling "no pressure" before the crucial encounter.
A win over Franklin may tell us nothing new about a fighter who almost single-handedly ushered in a modern era of interest for British boxing, but it may give a clue as to whether the old Joshua, the once unstoppable freight train, can return.