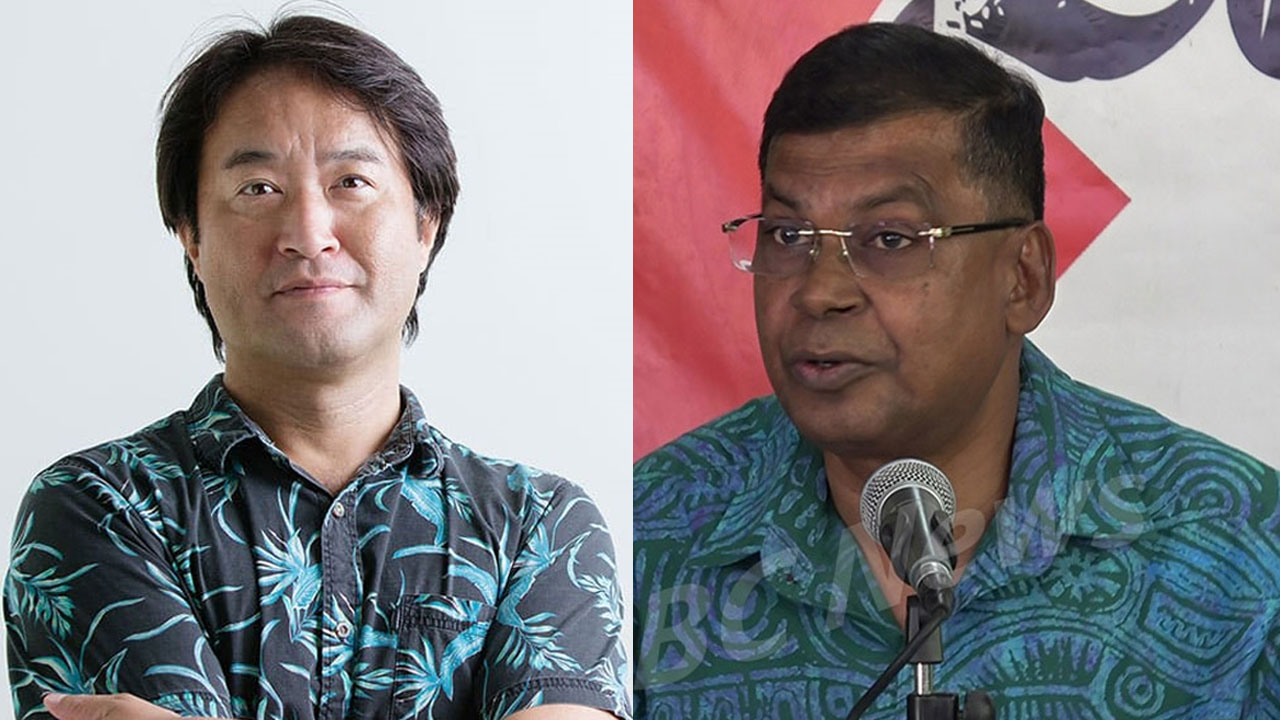 [File Photo]
Effects of the controversy regarding accusations made by a former National Federation Party candidate against the NFP leader Biman Prasad seem to be running deep within the party.
In the latest twist to the saga, the General Secretary of the party has allegedly advised all prospective and reserve candidates in an email not to talk about Hiroshi Taniguchi if approached by the media.
Taniguchi who was fired from the party recently has accused Biman Prasad of allegedly sending what he calls shockingly disgusting WhatsApp messages to his wife and has also filed an official complaint about it to the elections office which he alleges is evidence against Biman Prasad.
Article continues after advertisement
The latest development in the story has suddenly got many usually vocal politicians becoming very quiet.
Hiroshi Taniguchi is very upset and he's not letting this issue go, even if it means taking on political heavyweights.
"I was very shocked when I saw messages and my wife showed me and asked me what to do. Luckily she didn't go to his house."
But it's an issue that everyone associated with the leader of the national federation party seems to want to be ignoring.
PA leader Sitiveni Rabuka, PA MP Lynda Tabuya, NFP president Pio Tikoduadua and NFP MP Lenora qereqeretabua, have all disregarded requests by FBC news for comments about the controversy that threatens to rock the very foundation of the country's oldest political party.
Even Nalini Singh of the Fiji Women's Rights movement hasn't responded and the usually very vocal Shamima Ali has declined to comment about Taniguchi's allegations against Biman Prasad, suggesting that she will only comment if she sights the alleged messages from Biman Prasad to Taniguchi's wife.
Meanwhile, FBC news has obtained an email allegedly sent by the NFP General Secretary Seini Nabou to all prospective and reserve NFP candidates, in which she allegedly pleads especially with the female candidates not to talk to the media about Taniguchi and specifically not to talk to the Fiji Sun and the FBC.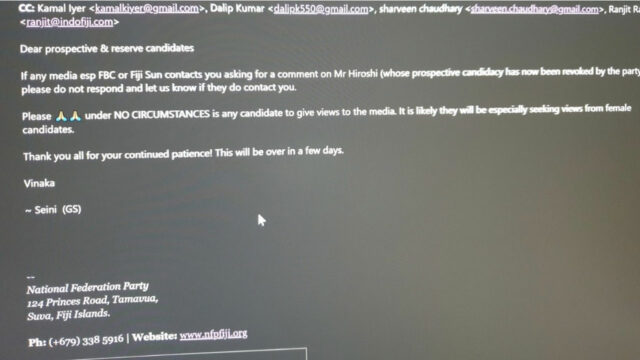 Seini Nabou also allegedly tells the prospective candidates that "this will be over in a few days".
Biman Prasad has neither admitted nor denied that he sent the messages to Taniguchi's wife but has threatened the FBC with legal action when the screenshots of his alleged messages were put to him for his comments.
While the NFP, PA and the women's rights activists continue to remain mum on this issue, it is clear that Taniguchi is in no hurry to end this controversy in a few days.
"I lodged to the elections office. I have submitted all documents which are evidence regarding what Biman has done to my wife."
Taniguchi claims that Biman Prasad is not capable of being a political party leader.
He also says that in the last few days he has received almost seven thousand messages of support.