News
Fiji Police learn more about Korea's technological advances
October 23, 2019 8:35 am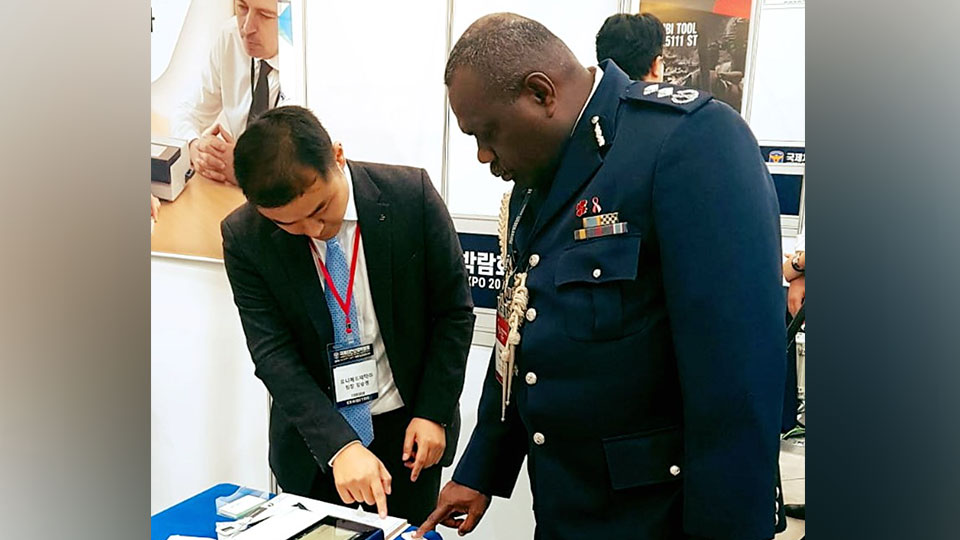 DCP Rusiate Tudravu tries the latest drug testing technology
The Fiji Police has been given the opportunity to share ideas on global partnership and smart policing.
This is as more policing jurisdictions move towards the use of technology to serve the public better.
Fiji's Deputy Commissioner of Police, Rusiate Tudravu and Director Corporate Services Senior Superintendent of Police (SSP) Juki Fong are attending the International Police Summit in Seoul, South Korea where Ministers, vice-ministers, chiefs and executives of police from twenty-nine countries shared their ideas on global partnership for smart policing.
Article continues after advertisement
Often termed as the Fourth Industrial Revolution in which many ways of our lives are evolving, police services have implemented this trend by introducing high-tech police equipment and resources – and the Korean National Police Agency is one of the leading policing agencies strengthening partnerships with other international police agencies.
Deputy Commissioner Tudravu says the Summit is a great opportunity for Fiji to share ideas and listen to others on best practices on global partnership for smart policing.
"The Korean National Police's K-Cop Wave initiative is recognized worldwide for strengthening partnerships and international cooperation to cope with cross-border crimes, and we were fortunate to have been given this opportunity to attend this global summit".
The theme of the summit is Global Partnership for Smart Policing and Fiji's delegation had the opportunity to witness and learn about the how the Korean Police systems and expertise through various forms of policing cooperation initiatives have assisted more than 100 countries.
"The multilateral forum gave us the perfect opportunity to network with other major policing jurisdictions and while the introduction of new technologies would greatly assist policing efforts, challenges noted were in terms of legislation and internal processes which in most cases would need an overhaul and this is a time-consuming exercise".
As policing turns to the new innovative methods so do the criminals, so while one policing jurisdiction tightens up its monitoring the spillover into the next policing jurisdiction is a real threat, and this was an issue discussed at length during the three-day summit as to how the network of police executives can enhance cooperation to prevent cross-border crimes.
The two senior Fijian officers also held bilateral talks with the Korean National Police Agency's Commissioner General Min Gab Ryong and Fiji's Ambassador to South Korea Peniana Lalabalavu and First Secretary Joreti Dakuwaqa.
The Summit which began on Monday ends today.
Keep Connected With The Latest News, Weather, And Sports on Fiji's Best Radio stations.