Crime
Attacks on Police mount overnight
November 9, 2019 8:18 am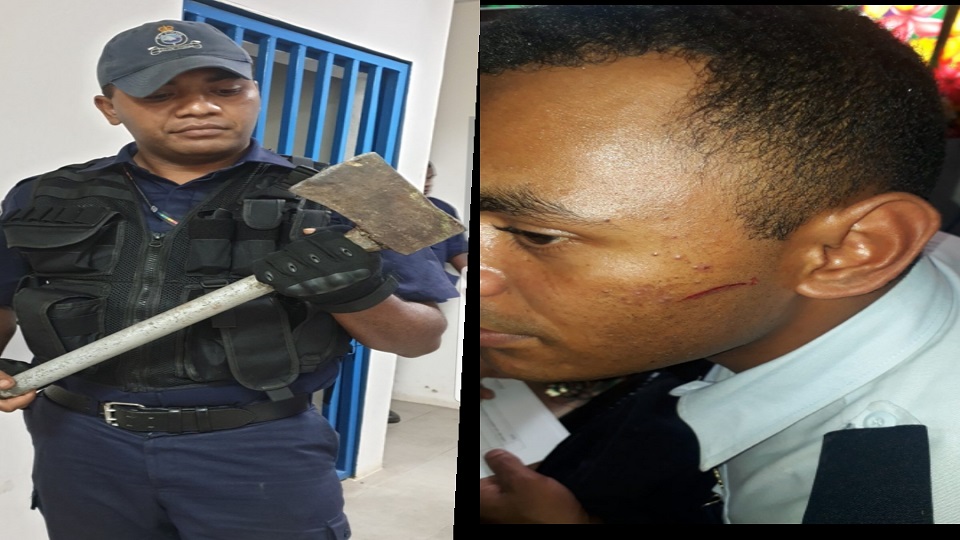 Three separate incidents of attacks on Police Officers, one of which involved an axe
Three people are in custody for separate attacks against Police officers in the last 24 hours.
The latest incident occurred after 3am this morning whereby a man entered the Cunningham Community Post and attacked the Police Constable on duty with an axe.
The quick response from the Valelevu Taskforce team led to the arrest of the suspect and he is currently in custody at the Valelevu Police Station.
Article continues after advertisement
The Police Constable was unharmed during the incident.
In the second incident a 52-year-old taxi driver in Sigatoka was taken into custody for allegedly threatening a Police Officer who was conducting a booking for illegal parking along Duabale Road in Sigatoka.
The Police Constable saw the suspect's taxi allegedly parked illegally and while in the process of issuing a ticket, the taxi driver allegedly out of frustration uttered the words to the effect that the killing of the Police officer in Lautoka can also happen to the officer in Sigatoka and that he better watch out.
The suspect was arrested at the scene and taken into custody.
In the third incident a 29-year-old man residing at Vuci Road is in custody at the Nakasi Police Station for allegedly assaulting an officer during an arrest.
The suspect was brought in to the Station for an alleged case of drugs and while being searched had tried to escape when he was stopped by the Police Constable.
In the process the suspect allegedly assaulted the officer causing injuries to his face.
Acting Commissioner of Police Rusiate Tudravu says continued attacks on Police officers will not be condoned and the organization is not going to take the matter lightly.
"If you want to do the crime then be man enough to face the consequences".
"Threatening the lives of any of our officers who are executing their duties will not be taken lightly".
ACP Tudravu said it was fortunate that no officer was seriously injured or worse killed, as this is the reality of policing where officers are risking their lives every day and night.
"If you're not happy with the conduct of any of our officers let us know, but if you break the law, don't take your frustrations out by threatening to kill them just because they're doing their job which is to enforce the law".
The Acting Commissioner of Police adding that they have faced situations recently where communities have rallied together to protect those who have attacked Police officers and the force will not hesitate to arrest those who are perverting the course of justice.
Keep Connected With The Latest News, Weather, And Sports on Fiji's Best Radio stations.