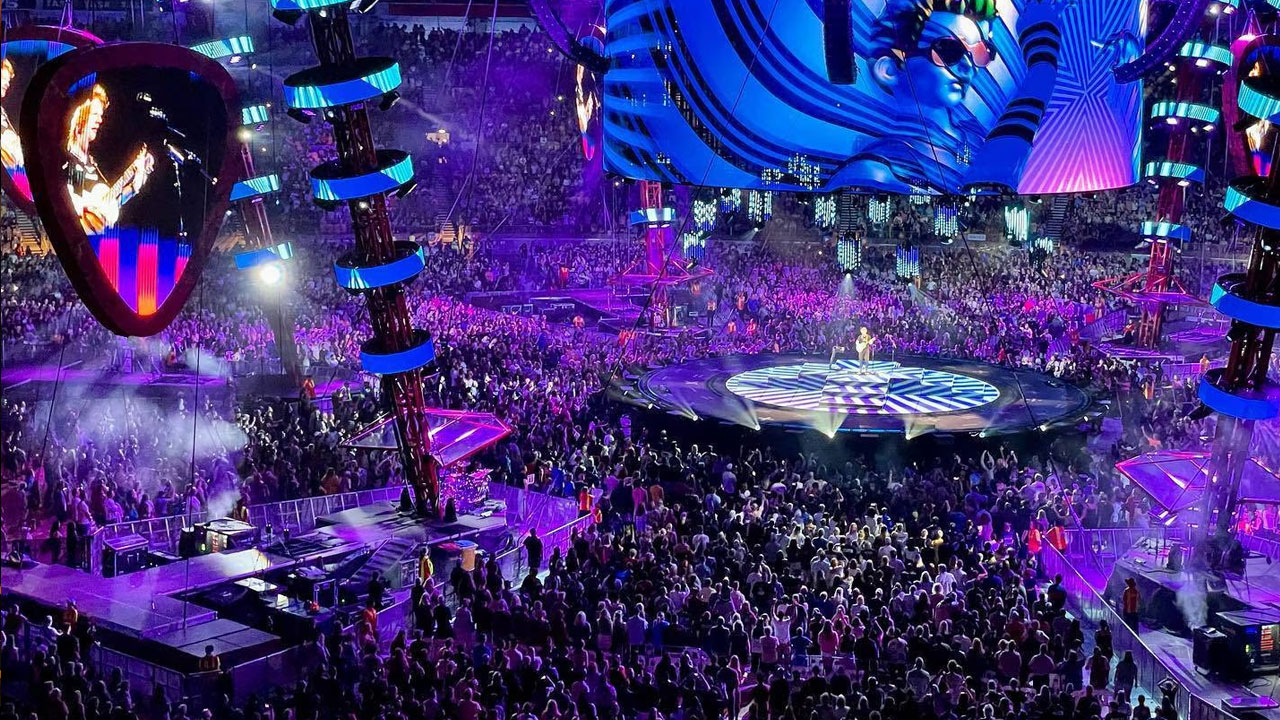 Ed Sheeran performs to 48,000 fans at Wellington's Sky Stadium. [Source: NZ Herald]
There's something unusual about Ed Sheeran.
Hailing from the working-class streets of Suffolk, he's sold 150 million records, brought stadiums across the globe to the brim, and appeared in films and TV shows playing himself.
He carries with his status and prestige only some of the world's most successful performers will ever possess, being one the biggest artists of the 2010s.
Article continues after advertisement
Yet, even in a crowd of 47,999 others, he still manages to maintain a degree of intimacy.
It was the largest event Sky Stadium has ever seen, and by extension, likely one of the largest gatherings of people in the city's history. But it didn't really feel like it.
Kicking off with relatively lesser-known hits such as Tide, Sheeran slowly worked his way through the various hits of his 12-year career, the crowd in the palm of his hands through every note, also listening intently to his commentary that came afterwards.
The rotating circular stage no doubt played a part in the intimate vibe, making the cheap seats, at least every two minutes, feel like the best in the stadium.
It felt high-budget too. Five towering constructions of lights and LED screens gave everyone a view of the action. It felt like no matter where you were sitting, it was the same experience.
Rolling through hits such as Shape of You, Castle on the Hill, Photograph and Bloodstream, Sheeran proved you don't need generated effects or autotune in the age of modern music.
What you hear on Spotify is what you get live. The authenticity of his music was plain for all to see.
Forgetting the lyrics to your own song, in what would typically be a red flag to any music reviewer, was salvaged in the most beautiful way possible.
Stumbling just one verse into the fast-paced 2017 single Galway Girl, Sheeran stopped and readily admitted he had forgotten the lyrics. No boos, just laughs.
Not to worry. Young Pippa, no older than 15, was plucked from the crowd and introduced to Sky Stadium, handed a mic and told to go for it.
The weight of a stadium on her shoulders, she stumbled through a few lines before she really got into it, seemingly guiding Sheeran through the lyrics of his own song in what was the most special moment of the night.
With Ed, there's no questioning his love for Aotearoa.
For an A-list artist, he's spent an unusually extensive amount of time in the country.
There was no Gulfstream touching down in Wellington three hours before the show – he's been here exploring for nearly two weeks, staying "two hours out of the city", presumably in the beautiful Wairarapa.
Since his assumption of stardom, he's spent cumulative months in New Zealand – and it shows.
Short of Los Angeles or London, I doubt there are many places Sheeran has performed where he can proudly boast he wrote a hit there.
Wellington, where Sheeran wrote I See Fire for Peter Jackson's second Hobbit film, was a highlight for the crowd.
He also proudly announced he's been digging into Kiwi treats such as Whittaker's chocolate.
Sheeran rounded out the show in an encore with two of his biggest hits – Shape of You and Bad Habits, switching his 'Wellington' tee for an All Blacks jersey.
There's no doubt Sheeran is entering the quieter end of his career. His most recent album, =, struggled in comparison to the previous three, managing just two charting hits as opposed to a decent handful. He's also running out of mathematical symbols.
But there's equally no doubting his universal appeal, perfectly demonstrated by the group of three couples in their late seventies, one or two with hearing aids in operation, sitting a row back.
For Wellington, it was a night to remember. Especially for Pippa.